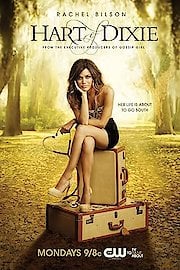 Watch Hart of Dixie
TV-14
2011
4 Seasons
Hart of Dixie is a television series that premiered on The CW in 2011 and ran until 2015. The show stars Rachel Bilson as Dr. Zoe Hart, a young woman from New York City who dreams of becoming a heart surgeon. After failing to secure a prestigious fellowship, Zoe is offered a position at a small medical practice in the small town of Bluebell, Alabama. Initially reluctant, Zoe decides to give the town a chance and soon finds herself embroiled in the lives of its quirky and charming residents.
Over the course of the series, Zoe navigates her new life in Bluebell, gains friends and allies, and finds unexpected romance. The town's eccentricities often provide the backdrop for the show's storylines, ranging from rivalries with neighboring towns to elaborate town festivals. The series is equal parts comedy, drama, and romance, with characters who are endearing and relatable.
One of the key themes of Hart of Dixie is the concept of finding oneself. Zoe moves to Bluebell uncertain of who she is and what she wants in life. She initially resents the town's slower pace and small-town mentality, but over time comes to appreciate the community and warmth it provides. Through her experiences in Bluebell, Zoe grows and evolves as a person, coming to better understand herself and the important things in life.
Another important element of the show is its focus on family. Although Zoe's own family is not a major presence in the series, the various relationships between the show's characters demonstrate the importance of family and the lengths people will go to protect their loved ones. Many of the show's storylines center around issues such as estranged parents, long-held grudges, and reconciling with past mistakes. The show's emphasis on the strength of familial bonds is sure to resonate with viewers.
One of the most endearing aspects of Hart of Dixie is its characters. The residents of Bluebell are a unique and colorful bunch, each with their own quirks and eccentricities. Whether it's Lavon Hayes, the charming former football player turned mayor of Bluebell, or Lemon Breeland, the flawless Southern belle with a heart of gold, the characters in Hart of Dixie are sure to win over viewers with their charm and humor. The show is also notable for its feminist undertones, with many of the female characters challenging traditional gender roles and taking control of their own lives.
Ultimately, Hart of Dixie is a heartfelt and engaging series about finding oneself, the importance of family, and the enduring bonds of community. With its charming characters, hilarious situations, and touching moments, it's no wonder the series quickly gained a dedicated fan base during its run on The CW.
Hart of Dixie is a series that is currently running and has 4 seasons (76 episodes). The series first aired on September 26, 2011.