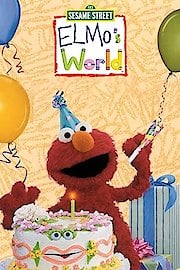 Watch Elmo's World
TV-Y
2007
1 Season
Elmo's World was a children's television show aired on PBS from 1997 to 2010. The show was centered around the character Elmo, a curious and adventurous red monster. Elmo's World was created as a spin-off of the popular Sesame Street series and was aimed at younger audiences. The show was hosted by Kevin Clash, who voiced and operated the Elmo puppet, and featured several celebrity guests throughout its run.
The format of each episode was simple and playful, with Elmo exploring different themes such as pets, music, and birthdays. The show was divided into segments, including a recurring 'Elmo's Question' segment where Elmo would ask a child-related question and then discuss it with his guests. Each episode also featured a variety of sketches, songs, and animations designed to educate and entertain young viewers.
The show's supporting cast included several veteran performers, including Michael Jeter and Bill Irwin. Jeter played the role of Mr. Noodle, a silent character who would help Elmo demonstrate different concepts through physical comedy. Irwin played the role of Mr. Noodle's brother, who would also interact with Elmo and his guests.
Elmo's World was known for its bright and colorful visuals, whimsical music, and upbeat energy. The show was also praised for its ability to teach important lessons in a fun and engaging way. Many parents and educators appreciated Elmo's World for its ability to promote early childhood learning and development.
Despite its popularity, Elmo's World did receive some criticism and controversy over the years. In 2012, Clash resigned from his role as the voice of Elmo following allegations of sexual misconduct. The controversy led to a hiatus in the production of Elmo's World, and the show was eventually replaced with a new Sesame Street spin-off, The Furchester Hotel.
Overall, Elmo's World was a beloved children's television show that captured the hearts of young viewers around the world. Its colorful and cheerful atmosphere, along with its educational focus, made it a favorite among parents and educators alike. While the show is no longer on the air, it remains a beloved part of Sesame Street's legacy and continues to be available for online viewing.
Watch Elmo's World Online today and relive the magic of this beloved children's show. With its joyful energy and educational focus, it's no surprise that Elmo's World remains a favorite among young viewers and their families.
Elmo's World is a series that is currently running and has 1 seasons (12 episodes). The series first aired on August 12, 2007.