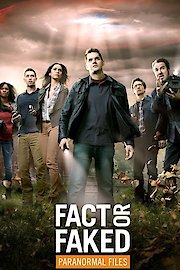 Watch Fact or Faked: Paranormal Files
Open
2010
2 Seasons
Fact or Faked: Paranormal Files was a television show that aired on the Syfy network from 2010 to 2012. The show was hosted by former FBI special agent Ben Hansen and consisted of a team of skilled investigators who sought to uncover the truth behind various paranormal phenomena. Among these investigators was Lanisha Cole, a model and television host who served as the team's equipment operator.
The show followed a format in which Hansen and his team investigated reported sightings of ghosts, UFOs, and other paranormal events. In each episode, the team would select a case to investigate and would utilize a range of high-tech equipment and cutting-edge technology to document and analyze the evidence. The team would then review the evidence to determine whether the sighting was real or whether it could be explained by more conventional means.
Throughout the course of the series, Cole played a key role in the team's investigations. As the equipment operator, Cole was responsible for operating and controlling many of the team's high-tech instruments, including thermal-imaging equipment, electromagnetic field detectors, and night-vision cameras. In addition, she would often assist in the setup and staging of various tests and experiments to evaluate the evidence and establish its authenticity.
One of the most notable aspects of the show was its commitment to realism and authenticity. Unlike many other paranormal investigation shows, Fact or Faked: Paranormal Files was known for its rigorous scientific approach to investigating the paranormal. The show's producers and investigators went to great lengths to ensure that all of the equipment used on the show was authentic and effective, and that all of the tests and experiments conducted were designed to accurately evaluate the evidence.
Over the course of the show's three seasons, Hansen and his team encountered a wide range of paranormal phenomena. They investigated everything from haunted houses and abandoned asylums to reports of UFO sightings and government cover-ups. In each case, the team was committed to uncovering the truth and accurately reporting their findings to the public.
Despite the show's commitment to science and authenticity, it was not without its criticisms. Some skeptics argued that the show's investigations were not truly scientific, as they often relied on anecdotal evidence and subjective testimonies. Others criticized the show's hosts and investigators for being too credulous and accepting of paranormal explanations.
Despite these criticisms, Fact or Faked: Paranormal Files remains one of the most popular paranormal investigation shows on television. It has inspired a legion of fans and has been the subject of countless discussions and debates in online forums and social media platforms. While the show may have ended in 2012, its impact on the paranormal investigation genre continues to be felt to this day.
Fact or Faked: Paranormal Files is a series that is currently running and has 2 seasons (36 episodes). The series first aired on July 15, 2010.