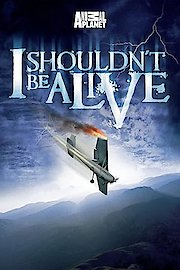 Watch I Shouldn't Be Alive
TV-PG
2005
6 Seasons
I Shouldn't Be Alive is an exhilarating and suspenseful television show that aired on Animal Planet from 2005 to 2012. The series tells the true stories of people who have survived deadly situations against all odds. Each episode features interviews with the survivors, their friends and family members, and experts in the fields of medicine, psychology, and wilderness survival. Using a combination of dramatic reenactments and actual footage from the events, the show provides an immersive experience that will leave viewers on the edge of their seats.
The series is hosted by a talented cast that includes Aaron Taylor-Johnson, Les Stroud, Noah Huntley, Todd Boyce, Amy Bailey, Jonathan Phillips, Pete Sullivan, and Joseph May. Their expertise and experience make them the perfect guides for this thrilling and often harrowing journey through tales of survival against all odds.
Throughout the course of the series, viewers will witness incredible stories of endurance and survival. From lone hikers stranded in the wilderness to families lost at sea, each episode presents a unique and compelling account of human resilience in the face of danger.
Some of the most memorable stories include that of a young man trapped in a remote canyon with a broken leg, a mother and daughter fighting for their lives against a massive bear attack, and a group of firefighters who miraculously survived the collapse of the World Trade Center on September 11, 2001.
The series also features some of the world's most treacherous environments, including the scorching deserts of Africa and the frigid arctic tundra. Viewers will be amazed by the sheer tenacity and resourcefulness of the survivors as they face everything from hunger and thirst to extreme cold and heat.
Despite the sometimes-grim subject matter, I Shouldn't Be Alive is ultimately a celebration of the human spirit. The show highlights the courage and determination of those who have faced unimaginable challenges and lived to tell the tale. It is a testament to the resilience of the human spirit and a reminder that anything is possible when we believe in ourselves and refuse to give up.
In short, I Shouldn't Be Alive is a thrilling and inspiring television show that is sure to captivate viewers young and old. With its gripping stories, stunning visuals, and exceptional cast, it is a must-see for anyone who loves tales of adventure and survival. So sit back, buckle up, and prepare to be amazed.
I Shouldn't Be Alive is a series that is currently running and has 6 seasons (62 episodes). The series first aired on October 28, 2005.