Fat Albert and the Cosby Kids
Fat Albert and the Cosby Kids is an animated children's television series that aired in the United States during the 1970s and 1980s. The program was created and hosted by comedian Bill Cosby, who based the characters on those he described in his stand-up routines.
The series centers around Fat Albert, voiced by Cosby. A rotund and generally happy teenager, Albert is the moral center of a group of childhood friends doubling as a musical band. Included in this group are the sharp-dressed Rudy (Eric Suter), the large-tooth Bucky (Jan Crawford), Dumb Donald (Lou Scheimer), who wears a face-fitting cap, and the unintelligible Mushmouth. Cosby also included younger versions of himself and his little brother in the series.
Each episode of Fat Albert and the Cosby Kids starts with Bill Cosby appearing in a live action sequence to introduce the episode. It's followed by a situation one of the Kids or the entire gang gets involved in. The remainder of the episode involves the resolution of the issue from a solution Albert or one of the friends devises. Toward the end, the episode is summed up by a musical number featuring the Kids on instruments cobbled together from items they found in the nearby junkyard.
Tweaks to Fat Albert and the Cosby Kids were made as the show continued. After being retitled The New Fat Albert Show in 1979, a segment was introduced where the gang would get together to watch The Brown Hornet - a show-within-the-show featuring a space-faring superhero (voiced by Cosby) assisted by his companions Stinger and Tweeterbell. When the series moved to syndication as The Adventures of Fat Albert and the Cosby Kids, more mature themes such as drugs and gangs were introduced.
Produced by Filmation and directed by Hal Sutherland, Fat Albert and the Cosby Kids made its Saturday morning premiere in September of 1972 on the CBS television network. It remained on the schedule for 12 years, then moved into syndication for the 1984-85 season.
1 Season,

60

Episodes

September 9, 1972

/

10

Cast:

Bill Cosby, Gerald Edwards, Erika Scheimer, Lou Scheimer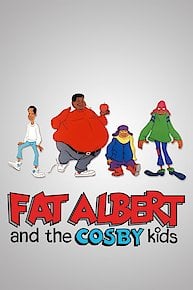 Fat Albert and the Cosby Kids Full Episode Guide
Episode

24

-

Watch That First Step

Fat Albert and the Cosby kids are excited about the upcoming father and son baseball game. Marcus, a friend of the kids, is upset that his dad won't be able to make the game. When Marcus's dad shows up at the game drunk, Fat Albert suggests Marcus and his sister Michelle go to a support meeting to help them deal with their situation.

Episode

23

-

Water We Waiting For?

Fat Albert and the Cosby kids go on a swimming trip to Cedar Lake. Even after being explained the safety rules, Rudy decides to play a prank on Russell while he is in the lake. Fat Albert and lifeguard Jeanine rescue both boys from the water and Rudy learns humility and the importance of obeying 'safety' rules.

Doreen and Cosgrove are overjoyed when their parents buy them a dog. However, they both neglect their responsibility and leave their dog Freddy tied up in the kitchen. Freddy escapes through an open window and they all find him in the middle of a busy freeway. The kids realize the importance of responsibility.

Episode

20

-

The Double Cross

Baron and Arden, friends of Fat Albert and the Cosby kids, are in love and are considering dropping out of school to get married. Fat Albert is concerned about their decision as they are both very young and haven't finished their education. Fat Albert takes Baron to see Mudfoot for advice and they then decide to wait to get married.

Episode

18

-

The New Father

Buffy, a friend of Fat Albert and the Cosby kids has become very close to her mom since her father's death. However, Buffy's mom enters into a relationship with a man named Ken, and they decide to get married. On the day of the wedding, Buffy runs away. When Ken rescues her she realizes that her mother has enough love for them both.

Episode

17

-

Habla Espanol

Roisita, a new classmate at the kid's school, speaks both Spanish and English. When Roisita sees a distressed lady speaking Spanish, Roisita translates for her and realizes that the lady's house is on fire! Fat Albert and Roisita help her and in the process the kids learn the importance of other languages.

Fat Albert and the Cosby kids are worried about their friend Patti's behavior. She seems to be spending a lot of time with a boy named Herb. The kids find out that the root of Patti's behavior is that she is smoking marijuana. When Patti carelessly wanders into a busy highway under the influence of the drug, the kids step in to help her.

Episode

14

-

Heads or Tales

Episode

13

-

Good Ol' Dudes

Richard, a friend of the Cosby kids, has been taking them on a lot of joy rides in a 'borrowed' car lately. Richard's reckless driving makes Fat Albert nervous. When the kids get into a car accident they realize how dangerous driving too fast can be.

Episode

12

-

Easy Pickin's

Steve and Claudia seem to always have money from selling things they no longer need. The bargains seem too good to be true! Fat Albert and the Cosby kids soon find out that they have been shoplifting and selling the goods. Everyone learns that when you steal you hurt others as well as yourself.

Kim, a friend of the Cosby kids, is a boy who comes from interracial parents. Elissa is having trouble understanding why Kim's parents both have different skin tones. When Elissa goes to the old factory to avoid Kim, she ends up in a dangerous elevator shaft and is saved by two unexpected people.

Episode

9

-

Pain, Pain Go Away
Episode

47

-

Little Girl Found

Greta is a teenage runaway who steals the gang's television and sells it to get what little money she can. Fat Albert tries to help Greta change her ways and Mudfoot tells her the story of Hansel and Gretel in hopes she'll return home to her family. Greta eventually runs afoul of a gang who plan on stealing some bicycles. Fat Albert comes to her aid at the train yard despite the odds. Luckily, Weird Harold gets the police at the scene to rescue them in the nick of time. After her close call, Greta makes a much-needed phone call to her mother, eventually taking the first steps to return home.

Episode

46

-

The Gunslinger

The gang's friend Shawn thinks he's cool by carrying around his father's gun. All are impressed except Fat Albert, who goes to his parents in an effort to stop him. Though the gun is usually unloaded, Rudy finds a bullet which enables Shawn to use it for target practice. But a near tragedy occurs when the gun backfires, severely injuring his hand. Fortunately, his father had medical training which helps to save his son. As a result, the gang learns a valuable lesson.

The gang's friend, Darrell, has been feeling tired and sickly, but doesn't think he needs to see the school nurse or a doctor. A concerned Fat Albert speaks to Darrell's parents, who make him go to the hospital. It's discovered he has Hodgkin's disease, a form of cancer of the lymph nodes. But because it's in a localized area and it was detected early, it can be treated easily. Afterward, he and his parents express their gratitude to Fat Albert.

Rudy's friend Dustin gives Fat Albert and his friends the wrong sources on sex education.

Dumb Donald starts cheating in school to get better grades. He soon finds out the consequences.

Episode

42

-

The Mainstream

A neighborhood band challenges Fat Albert and his friends to a competition, the winner gets the clubhouse.

2 Candidates in the school election, Hugo and Baron, both of different color, play race politics until Fat Albert and the gang come up with an alternative

Episode

40

-

Sweet Sorrow

Episode

39

-

Spare the Rod

Mr. Tyrone wants to sell the junkyard, which could spell the end for Fat Albert and the Gang's clubhouse. Can they convince him to keep it.

Episode

37

-

In My Merry Busmobile

The gang is bussed to an integrated school, finding it difficult to make new friends.

Episode

35

-

The Shuttered Window

When Fat Albert and the guys need helping raising money for a sports program, their friend Udine is the first to offer her help. But when tragedy suddenly strikes Udine's family, the Cosby kids wind up helping Udine through her grief.

Episode

34

-

TV or Not TV

The Cosby Kids' friend, Monroe, spends so much time watching TV, that he misses out on everything else. Will Monroe's TV obsession keep him from the big concert too?

Episode

33

-

Little Business

After their response to a comic book advertisement for a free bike leads to a lot of work and no wheels, the Cosby kids begin to realize they may have been scammed!

Episode

32

-

Suede Simpson

Suede Simpson may dress well, but he sure does smell bad! Will Fat Albert be able to persuade Suede to stop and smell the soapsuds?

Episode

31

-

Readin', Ritin' and Rudy

When a new teacher, Miss Johnson, arrives at school, it's up to Fat Albert to show everyone that change can be good.

Despite the other kids opinion that Shana is weird and snobby, Fat Albert isn't convinced. When an ear exam reveals surprising results, the guys realize that Shana wasn't ignoring them she just couldn't hear them!

Episode

29

-

Smoke Gets In Your Hair

Things get heated when Fat Albert catches a classmate taking smoke breaks in the janitor's closet at school. Will he be able to convince the puffing pupil to give up his bad habit?

Episode

28

-

Little Tough Guy

Fat Albert and the guys befriend the new kid in school, Duane. Despite having a disability, Duane and his golden toe might be just what the doctor ordered for an upcoming football game.

Episode

27

-

The Animal Lover

When Dulci's leashless dog becomes a nuisance for the neighborhood, the Cosby kids take action. Will the police track down the chaos-causing canine before there's it's too late?

Episode

26

-

Take Two, They're Small

Fat Albert's cousin, Justin, introduces the Cosby kids to his friend, Harlow. But when they learn about the new guy's enthusiasm for shoplifting, they'll need to choose between friendship and what's right.

Episode

25

-

Fat Albert Meets Dan Cupid

When Fat Albert's secret crush on the new girl is revealed, the guys dare him to ask her out. The only problem is that Fat Albert isn't so sure she likes him back.

Episode

24

-

Ounce Of Prevention

Quick in mind and slight of hand, Lucius' outgoing, showy behavior has the Cosby kids in awe. Fat Albert, on the other hand, can't quite put his finger on what's bothering him about Lucius' act.

Parker, an older boy with a tough track record, begins teaching the kids how to resist authority. Will the guys go along with Parker's rebel ways or will Fat Albert talk some sense into his friends?

Cool Roy and his street sign graffiti cause havoc with Pee Wee's dad, the city sign-maker. Will Fat Albert and the guys be able to resolve the situation or will they hit a dead end?

Episode

21

-

How the West Was Lost

When Johnnie, a Hopi Indian boy, moves to town, Fat Albert and the guys learn there's a lot more to Native American culture than what they've seen in Western movies.

When Fat Albert and the guys take on the task of cheering up Flora, they discover what's making her so sad. Will the kids be able to make this gloomy girl smile again?

Episode

19

-

What Does Dad Do?

Dumb Donald imagines his father is a professional animal trainer, Bill's dad is a secret agent and Harold's is a submarine captain until Mrs. Bryfogel organizes a Bring Your Son to Work Day project that reveals their true professions.

Episode

18

-

The Newcomer

When Dumb Donald learns that he's going to be a big brother, he comes down with a nasty case of sibling rivalry. Will Fat Albert and the kids convince him that brothers and sisters aren't so bad?

Episode

17

-

Mister Big Time

Thanks to his big brother, Muggles, Frainey always has lots of loot to share with the other kids. But when Fat Albert discovers the dishonorable source of Muggles generosity, his gifts no longer sound so good.

Taking advantage of Fat Albert's gullible goodness, bullies Slappy and Fungo terrorize the smaller kids behind his back. When push comes to shove, will these troublemakers learn their lesson?

When the "Fat Albert Repertory Company" stages a performance of Moby Dick, things quickly become a whale of a disaster. Have the junkyard players bitten off more than they chew this time?

When a new girl, Penny, starts beating the guys at all their games, Fat Albert decides to showcase his own skills in the school baking contest. Will his sweet idea turn out to be a recipe for disaster?

Class clown, Heywood, isn't ready to admit he needs glasses more than he needs his clumsy jokes. When a school vision test exposes Heywood's poor eyesight, will the jester lose his audience?

Episode

11

-

The Prankster

When neighborhood prankster, Otis, gains popularity for his practical jokes, things go from fun to making fun of. Will Fat Albert and the guys put an end to Otis' mean-spirited antics or end up with egg on their faces?

For Fat Albert and the kids, there's nobody hipper than "Scrap Iron" Yates. He rides a motorcycle, plays the guitar and shoots pool like a champ. But is this leader of the pack too cool to be true?

Episode

9

-

Begging Benny

Things get muddy when Fat Albert's needy cousin, Benny, comes to town. Will the kids be able to bear his constant mooching or will Fat Albert's family visit be cut short?

When Russell and Bill discover they have tonsillitis, they begin preparing for the worst. Will the ailing duo pull through or will Fat Albert and the rest of the kids inherit their "fortunes"?

Episode

7

-

Playing Hookey

After successfully skipping a day of school, Fat Albert and the kids run into a pair of hobos that teach them an important lesson about hitting the books.

Fat Albert finds out that his family is moving just before the big "Buck Buck" match. Will the Cosby kids lose their team captain and their title as "Buck Buck" champions?

Episode

5

-

Fish Out Of Water

While bunking at Camp Greenlane for the summer, Fat Albert and the guys have trouble with some neighboring cabins. Will counselor Gonzalez be able to rally the troops and avert a camp crisis?

Trash becomes treasure when Rudy convinces Fat Albert and the kids to start a junkyard band. With no money for real instruments, oil barrels, shoestrings and rubber tires will do the trick!

Friendship turns to friction when Dumb Donald's cousin, Betty, moves to town. Will this southern belle be able to win over the rest of the guys?

When Edward starts telling wild stories from his alligator wrestling days, Bill becomes skeptical. And when the kids begin reenacting Edward's fictional--and dangerous--feats, Bill's skepticism turns to outright fear.