Firsthand
Firsthand takes an up close look at pro athletes that are not well known, yet risk their lives on a daily basis for the love of their sports. These action athletes include surfers, skaters, bikers, snowboarders, motocross bikers and more. While Firsthand follows these athletes to tournaments and events, it also chronicles the obvious downsides of the sports, such as physical injuries and the mental stress of constantly being away from home.
13 Seasons,

171

Episodes

March 28, 2004

/

10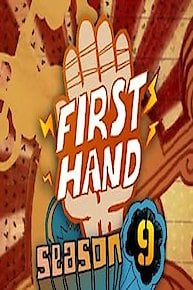 Firsthand Full Episode Guide
Episode

18

-

Jeremy McGrath

Legendary moto champion, Jeremy McGrath gives us a behind the scenes look at his private ranch/ training facility near San Diego, a TORC off road truck race in Michigan and a road trip to the Powder Mountain Motocross in Utah.

Episode

17

-

Preston Strout

Episode

16

-

Jamie Thomas

"The Chief" Jamie Thomas looks back on his career in skateboarding and looks forward to the future as he recovers from an injury.

Episode

15

-

Chas Guldemond

Coming off of a long off-season, professional snowboarder Chas Guldemond reflects on what it's like to manage his pro-riding career while still shredding as he heads to HCSC & Mt. Hood, Oregon for a summer of hard work.

Professional BMXer Cameron White wraps up summer on the farm in Australia with one last Australian road trip before heading to Las Vegas to start his summer in the USA . In Las Vegas he prepares for a serious summer of travel and competing in the USA.

Professional skateboarder Paul Shier wears many hats. Pack your bags for Europe and get a glimpse of what makes one of London's native sons tick.

Travel to the great Northwest for the Rally America Tour stop in Mt. Hood, Oregon. Next, it's a trip to Park City, Utah to spend some time at home and talk about the history of DC Shoes. And finally, head east to the Motor City to test the new Ford Fiesta Gymkhana at a secret track outside Detroit.

Episode

11

-

Stephen Murray

Three years after becoming paralyzed from the neck down in a horrific Dew-Tour accident, BMX pro Stephen Murray's rehab has him closer to possibly walking, and his new company STAY STRONG has him staying positive no matter what life throws his way.

Making his Supercross Class debut, Ryan Dungey attempts to be the first rookie to take the title since Jeremy McGrath.

Episode

9

-

Kenny Anderson

Kenny Anderson is a busy man being pulled in a thousand different directions. Considering his life at home with his wife and 3 kids and his business converting cars to bio-fuel, Kenny already has his hands full. But add to that his professional skateboarding career, his soon-to-launch Converse signature shoe and filming for the up-coming Chocolate video, and you have a plate that barely any human could handle on their own. We meet Kenny at his home in California and then follow him on an insane filming trip through the Amazon rain forest of Brazil, mixing his passions of skateboarding and environmental causes.

Episode

8

-

Raimana Van Bastolaer

Tahiti is his home, and he prefers to stay there and be part of its culture. Except for the rare occasion when he needs to leave to Tahiti to fulfill certain obligations like promoting his latest film, Ultimate Wave Tahiti 3d.

Episode

7

-

Kenny Anderson

Kenny Anderson is a busy man being pulled in a thousand different directions. Considering his life at home with his wife and 3 kids and his business converting cars to bio-fuel, Kenny already has his hands full. But add to that his professional skateboarding career, his soon-to-launch Converse signature shoe and filming for the up-coming Chocolate video, and you have a plate that barely any human could handle on their own. We meet Kenny at his home in California and then follow him on an insane filming trip through the Amazon rain forest of Brazil, mixing his passions of skateboarding and environmental causes.

Embarking on his rookie year on the ASP professional surfing tour for 2010, Owen Wright prepares mentally and physically for the first event on tour, the Quiksilver Pro, Snapper Rocks Gold Coast Australia and then travels to his favorite place on earth - Indonesia.

Episode

5

-

Ashley Fiolek

Straight off the high of her 2nd National AMA Women's Motocross Championship Title, professional Motocross rider Ashely Fiolek rebounds from a broken collarbone with high performance training with family and friends at her personal track in Florida, is quickly en route to compete in the FIM Race in the Netherlands, then jets back to New York for her book release.

Episode

4

-

Jeff Weatherall

Traveling from Oceanside to various locations professional Wakeboarder and New Zealand Native Jeff Weatherall tries to get editorial coverage and segments in up and coming video/DVD releases as well as prepare for the up and coming wakeboard competition season.

Episode

3

-

Chris Del Moro

Ride along with all board surfer, sketchpad artist and full time human Chris Del Moro as he experiences life from the outside looking in during this episode of Firsthand.

Professional skateboarder Chris Cole won't let up as he continues to redefine what is possible on a skateboard.

Episode

1

-

Donavon Frankenreiter

From his dream house in Kauai and restaurant in Maui, all the way to El Salvador to visit his own surf camp, Donovan Frankenreiter shows us the good life of an iconic surfer and musician.
"In this episode of Firsthand, Australian born world SX Champion, Chad Reed, takes us behind-the-scenes of what it takes to stay on top. Chad claims his first National MX title before changing sponsors and heading home to Australia to catch up with his family and friends and compete in his very own Australian Supercross Series.

"It's autumn in Salt Lake City and professional snowboarder Laura Hadar is getting ready for the upcoming snow season. First, Laura fulfills her sponsor obligation and heads to New Orleans for a Nikita photo shoot. Then, she heads home to SLC and puts in the hours at her clothing boutique, Fice. While at home, she trains, bikes and hits the local gym to prepare for a winter of brutal snowboarding. Next up is a road trip for Laura and her friends -- they load up the car and head to Colorado. At the local resorts they find fun, early season parks and rails along with sweet man-made powder. After a few days in CO, Laura heads back to SLC to tend to some last minute business before committing to the winter season. With snow in the forecast, she must turn her attention to the rails, photo sessions, and all the hype that comes with being a pro shredder..."

Episode

14

-

Anthony Napolitan

Tag along with BMX game-changer, Anthony Napolitan, the first rider to ever land a Double Front-flip, as he travels the world in search of maximum shreddage. The adventure begins in Sao Paulo, Brazil where Anthony goes big on the Megaramp. Next up is a filming mission to the buttery cement parks of Portland, Oregon. Follow that up with a trip to Vegas to session TJ Lavin's dirt jumps and you've got the recipe for an epic episode.

Episode

13

-

Mike Mo Capaldi

"So. Cal. ripper and New Pollution Alum, Mike Mo Capaldi, stars in this episode of Firsthand. Follow Mike Mo as he skates his hometown of Simi Valley, California and visits one of his sponsor's private skateparks. Then watch as he joins Brandon Biebel and Jeron Wilson on the Matix Recession Session east coast tour that goes through Philadelphia, New York and Massachusetts."

Craig Mast steps into adulthood as he moves a 50' ramp from his family's farm in Ohio down to his new home in Greenville, NC. He pays a visit to Camp Woodward where he got his start and ends the episode with a full-blown music video for a song he wrote about his Firsthand appearance.

Episode

10

-

Marie France Roy

Professional snowboarder, Marie-France Roy, relaxes during the off-season with a session at Camp of Champions, a surf trip to her Vancouver Island retreat, and some big wild mountain lions in the Andes.

FUEL TV catches up with the winningest wakeskater in the world, Brian Grubb, as he spends his summer traveling and playing in-between contests. We'll meet his roommate Brandon Thomas, and wakeskate prodigy Chris Kallis at their home in Orlando. Then, Grubb travels to Seattle, WA to check in on his new line of Catalyst wakeskates at the Hyperlite factory. While there, Grubb does some freeriding, then bungee jumps bridges with the world famous Vertigo crew, as well as wakeboard legends Parks Bonifay & Scott Byerly. Grubb wraps up his summer freeriding in beautiful Lake Tahoe and joins the Red Bull Wake Team for a moto excursion through the Sierras.

Episode

6

-

Torey Pudwill

Nineteen-year-old professional skateboarder Torey Pudwill is on a mission. That mission is quite simple, skateboard as much as possible and make sure someone is there to document it. In this Firsthand we're invited along for the ride as Torey makes the most out of his summer and juggles his way through multiple projects and events. Already knee deep in filming for the upcoming Almost video, Torey adds to his laundry list of obligations when he accepts the offer to film a featured segment in the newest Transworld video. Growing up a fan of the Transworld videos, Torey is enthusiastic about the prospect and immediately sets to work. In an effort to keep his Transworld part distinctive from his Almost part, Torey enlists friends, photographers and Transworld filmer Jon Holland to show him new spots to film at. Next, we head to Copenhagen, Denmark with Torey and some of his DVS Shoe Company teammates. Once there, Torey enters the third annual CPH PRO contest. Competing against top European skaters as well as pros like Eric Koston and Zered Bassett, Torey's nerves almost get the best of him. But by the end of the weekend it's Torey who's atop the podium as the winner of his first pro contest. Upon his return from Europe, Torey heads to the Orange County Fair Grounds to compete in the invite-only, high stakes contest known as the Maloof Money Cup. Riding the wave from his 1st place finish at the CPH PRO, Torey goes all-in against P Rod, Chris Cole, Ryan Sheckler and a veritable who's who of today's top pros. At the end of a grueling three-day battle Torey walks away with a respectable 4th place finish and $10,000 in prize money. Finally, Torey travels to St. Louis, Missouri to experience a once in a lifetime opportunity and skateboard inside of a museum. Torey along with a few of his fellow Matix clothing team riders and a handful of other skaters are given permission to film and shoot photos inside of St. Louis' "City Museum". A museum unlike any other, it'

Episode

5

-

Keala Kennelly

Keala Kennelly is one of the premiere Big Wave women surfers in the world and proves this every time she goes out to surf. Hailing from the north shore of Kauai, Keala spends some time at home with the family and entertaining friends that are on vacation on the island. Keala also does a bit of stand up paddling in front of her current home on the south shore of Oahu, after which she shows us why she loves living in the city. Finally Keala heads off to Tahiti to do what she does best, catch big waves at the famed Teahupoo. She is warm and energetic and loves to surf!

Episode

3

-

Damien Hobgood

We've got the goods on this one. Damien Hobgood that is... Wonder twin number two, the younger brother of CJ, lets us into his life in this episode of "First Hand". Visit Teahupoo in Tahiti and Jeffery's Bay South Africa as we follow Damo to two of the most spectacular surfing destinations in existence. See what tour life is like for the traveling professional surfer. Fittingly, it all wraps up back at home in California for the pro surfing veteran as this family man welcomes a new addition to the Hobgood clan, all this and more in this episode of Firsthand.

When people think of FMX they generally think of Switzerland. At least they might once they hang out with Swiss freestyle rider Mat Rebeaud. In Mat's Firsthand, he takes us on a tour through his home in the idyllic Swiss countryside, complete with a visit to his own training area -- a piece of land that he rents from a local farmer, and maintains by himself. We also learn that Mat is rehabbed and ready to ride after having a surgery to remove an array of metal rods and pins that were holding broken bones together. Mat travels to southern california where he meets up with fellow FMX riders Levi Sherwood and Lance Coury to train at the Red Bull compound for the upcoming season of competition. After that we're off to Calgary, Canada with Mat as he competes in the X-Fighters competition with top riders such as Robbie Maddison, Nate Adams, and Jeremy "Twitch" Stenberg. One last trip brings us out to the beautiful sand dunes of Glammis, CA for Mat's first visit to this mecca of moto. Good times are had by all of his fellow Red Bull team riders including longtime terrain standout Ronnie Renner.

Episode

1

-

Lance Mountain

In this episode of First Hand we meet up with legendary Pro Skateboarder Lance Mountain. At 45 he has been pro for 28 years and he is still going strong. We followed him around during a typical month in his life. From hanging out with skating icon Tony Alva at his skate shop/ art gallery to discussing skate park design at the newly minted P-Rod park Lance designed for pro skater Paul Rodriguez to a behind the scenes look at filming for his part in the highly anticipated video from his sponsor Flip skateboards, Lance stays busy and involved in the world of skateboarding. This is a rare glimpse into the life of a true skateboard icon.