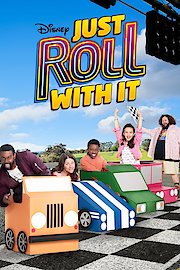 Watch Just Roll with It
TV-G
2019
2 Seasons
Just Roll with It was a family-friendly sitcom that originally aired on Disney Channel in the US from 2019 to 2021. The show's unique format featured a mix of scripted scenes and live improvisation, making it a one-of-a-kind viewing experience for the audience. The story centered around the Bennett-Blatt family, who lived in Akron, Ohio. The parents, Byron Blatt (Tobie Windham) and Rachel Bennett-Blatt (Suzi Barrett), were a fun-loving couple who enjoyed goofing around with their kids. The children, Owen (Ramon Reed) and Blair (Kaylin Hayman), were typical siblings who often bickered but also had each other's backs.
Each episode of the show began with a spinning wheel containing various scenarios, and the cast would spin the wheel to determine which scenario they would act out. The scenarios varied from simple situations (like a family dinner) to more complex ones (like a mystery that needed to be solved). The catch was that the actors had no idea what the scenario would be—they were given a basic outline of the scene, but the actual dialogue and actions had to be improvised on the spot.
This led to some hilarious and unexpected moments in each episode, as the actors had to think on their feet and come up with creative solutions to whatever scenario they were given. Some scenarios required them to break out into song and dance, while others required them to perform crazy stunts or wear silly costumes.
One of the other unique aspects of the show was its inclusion of a laugh track...kind of. The show's creators wanted to make the audience feel like they were part of the live studio audience, so they would randomly cut to shots of the audience laughing and applauding. This made the show feel even more interactive and gave it a fun, playful vibe.
In addition to the improv scenes, the show also featured some more traditional scripted moments. These scenes tended to focus on the family's relationships and struggles, and they helped to ground the show in reality. For example, there was an ongoing storyline about Owen struggling to make friends at his new school, and another about Blair wanting to become a fashion designer despite her parents' disapproval.
Overall, Just Roll with It was an entertaining and unique show that blended scripted scenes with live improv in a way that had never been done before. The cast was talented and charismatic, and they brought a lot of energy and humor to each episode. While the show may not have been a massive hit during its short run, it definitely stood out as a fresh and innovative addition to the Disney Channel lineup.
Just Roll with It is a series that is currently running and has 2 seasons (44 episodes). The series first aired on June 14, 2019.