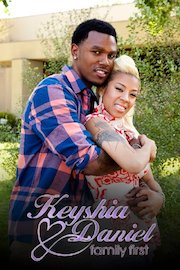 Watch Keyshia & Daniel: Family First
Keyshia & Daniel: Family First is a reality show that premiered on BET in 2012. It follows the lives of R&B singer Keyshia Cole and her husband Daniel Gibson, a former NBA player, as they navigate the ups and downs of their personal and professional lives. The show chronicles the couple's journey as they balance their careers, parenting their young son, and dealing with the many challenges that come with being in the public eye. They offer viewers an inside look at their relationship, revealing both the joys and the struggles of their marriage.
Throughout the series, Keyshia and Daniel try to find a balance between their work and personal lives, while also struggling to overcome the obstacles that threaten to tear them apart. From arguments over finances and infidelity rumors to struggles with addiction and coping with loss, the couple faces many challenges, but always strives to come out stronger on the other side.
One of the highlights of Keyshia & Daniel: Family First is the couple's dedication to their young son, DJ. While they both have demanding careers, they always make time to be present for their son's many milestones, from his first steps to his first day of school. Viewers get a glimpse into their family life as they navigate the joys and challenges of parenting, providing a heartwarming and relatable look at the struggles of modern parenthood.
Another standout aspect of the show is the couple's commitment to giving back to their community. Both Keyshia and Daniel are passionate about using their platform to make a positive impact on the world around them, working with organizations that support disadvantaged youth and victims of domestic violence. Their efforts to make a difference in the lives of others are inspiring and encouraging, making for some of the most heartwarming moments of the series.
Overall, Keyshia & Daniel: Family First is an engaging and entertaining reality show that offers viewers an intimate look at the lives of two talented and inspiring individuals. Whether they're facing personal struggles, celebrating milestones, or working to make a difference in the world around them, Keyshia and Daniel approach everything they do with passion and dedication, making for an inspiring and heartfelt series that viewers won't want to miss.