Keyshia & Daniel: Family First
Keyshia & Daniel: Family First reveals the inner workings of their marriage, family and careers. Keyshia Coles is a multi-platinum selling R and B singer which has been in the spotlight for many years. When she married NBA Basketball player Daniel Gibson point guard for the Cleveland Cavaliers the magic of their union began. We watch as they try to balance it all, with this reality show by inviting us into their world one peek at a time. Together they plan on raising up their child as normal as possible, even though they are both very famous. This fun loving cute couple has one child, with a possibility for more in the future. Their sons' name is Daniel Gibson Jr and is as lovely as his parents. We see the trials that come when both parents are stars as well as how they work it out. Marriage alone is a trying experience but, they show us how to make it. By putting their family first; hence the title of their TV show.
While her 5th studio album "Woman to Woman" is in production, we see Keyshia pouring her heart into this project, with Daniel right by her side. He maybe not always be there in person but, he is always there in spirit. Yes, there is friction because as with any new couple he wants to protect Keyshia's best interest; which is obviously new to Keyshia. There show lets us see how they work things out in the best and worst of situations. The love that oozes from their union is apparent in every episode and leaves you wanting more and more.
This weekly reality show is unique as they are very honest and it looks very authentic with no scrips. Whatever comes out or their mouths comes across as the truth and very sincere. With so much on their plates it is refreshing to see that these young people really have it together. They are grounded and have not let fame go to their heads. Enjoy the laughs, cries and family times with this great couple. Everyone in your family will love to sit down and watch Keyshia and Daniel doing what's best, to make sure family comes first.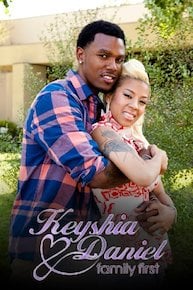 Keyshia & Daniel: Family First Full Episode Guide
Episode

8

-

Trust and Believe

The private life and professional world of singer Keyshia Cole are charted in this reality series.

Keyshia is on top of the world while Daniel faces an identity crisis.

Episode

6

-

Where This Love Could End Up

Keyshia and Daniel participate in a photo shoot that soon ends up in an argument.

Episode

5

-

Two Sides to Everything

Keyshia and Daniel attend intense marriage counseling, where heartbreaking issues are revealed.

Episode

4

-

Thought You Had My Back

Keyshia is caught between her sister and her mother and later Keyshia and Daniel disagree over private matters.

The couple's relationship is strained by the demands of life.

The couple's wedding in Hawaii is a smashing success, but harsh reality strikes when Daniel suffers a career-jeopardizing injury.

The private life and professional world of singer Keyshia Cole are charted in this reality series. In the premiere, Keyshia and her paramour, hoops player Daniel Gibson, prepare for their private Hawaii wedding, but a family issue soon comes into play.
If You Like Keyshia & Daniel: Family First, Then Try...