Life with La Toya: Extra Giggles
Life With La Toya: Extra Giggles is a television reality show. The Life With La Toya show followed La Toya Jackson through life. This is a version of that show with more views and information. Reality shows follow real people through life. Some parts of reality shows end up on the cutting room floor or they are archived. This show has archived footage which has been added to the original reality show. It is a more realistic and expanded version of the life of La Toya Jackson.
This reality show is the life of one woman and the extra footage not previously shown.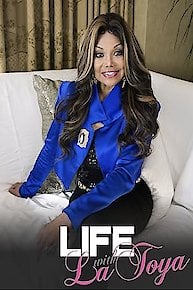 Life with La Toya: Extra Giggles Full Episode Guide
Episode

6

-

The Crying Game

La Toya thinks about adopting.

Episode

5

-

A Message From Michael

La Toya asks a psychic to help her answer questions about the death of her brother Michael Jackson.

Episode

4

-

La Toya's Gentleman Caller

La Toya goes out with a fireman.

La Toya begins shopping for a dream house and considers whether she's emotionally ready for a new relationship

Episode

2

-

La Toya on Top

La Toya wants to experience life on her own terms.

Episode

1

-

Adventures in Babysitting (Pilot)

La Toya babysits to see if she's ready to adopt a child.