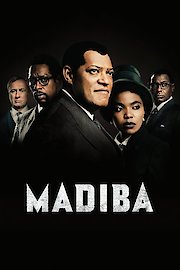 Watch Madiba
TV-PG
2017
1 Season
Madiba is a six-part miniseries produced by BET in 2017. The show chronicles the life of Nelson Mandela, from his early years as a lawyer to his political activism against South Africa's apartheid regime, and his eventual imprisonment and release. Laurence Fishburne plays the lead role of Mandela. Fishburne delivers an excellent performance, capturing Mandela's undeniable charisma and unwavering determination. Fishburne superbly portrays Mandela's evolution from a young lawyer to a committed revolutionary, and his eventual transformation into a global statesman.
Alongside Fishburne, the cast includes well-known actors Orlando Jones and David Harewood. Jones is cast in the role of Oliver Tambo, Mandela's long-time friend and colleague, who played a significant role in the anti-apartheid movement. Harewood plays Walter Sisulu, one of the founding members of the African National Congress (ANC) alongside Mandela.
The show provides a detailed account of Mandela's life and the history of apartheid in South Africa. It takes the viewer on a journey through some of the most significant events in South African history, from the Sharpeville Massacre in 1960 to Mandela's release from prison in 1990.
One of the most impressive aspects of the show is how it handles the different phases in Mandela's life. It touches on his early years as a lawyer, where he fought against the injustices suffered by black South Africans under apartheid. It also explores his time in prison, where he spent 27 years before being released. It is here where the show delves deep into Mandela's character, highlighting his unwavering resolve, resolve, and commitment to change.
In terms of production design, the show is impressive, and modern audiences will find the portrayal of mid-twentieth-century South Africa informative and engrossing. The show does an excellent job of bringing the story to life, from the bustling streets of Johannesburg to the stark isolation of Robben Island.
Despite the seriousness of the subject matter, the show does not shy away from moments of levity. This humanizes some of the characters and adds depth to their portrayal. One example is when we see Elmina, Mandela's first wife, berate teenage Mandela for his ignorance of African culture.
Overall, Madiba is an entertaining and informative show. It provides a compelling portrayal of Nelson Mandela's life, struggles, and achievements. The show is well-directed, beautifully shot, and well-acted, and captures the essence of Mandela's legacy. It is a must-watch for any history buff or anyone interested in learning more about one of the great figures of the twentieth century.
Madiba is a series that is currently running and has 1 seasons (3 episodes). The series first aired on January 31, 2017.