Men Behaving Badly
Men Behaving Badly is a British sitcom that featured the male protagonists indulging in the drunken, often loutish behavior categorized as the male lad culture in the 1990s U.K. The series is based on a novel of the same name by the writer of the sitcom, Simon Nye, published in 1989; the first two seasons of the sitcom were produced for and broadcast by the British network ITV1, and the four later seasons were broadcast on BBC1. Initially created as a sitcom vehicle for comedian Harry Enfield, the comic left Men Behaving Badly after the first season and allowed Niel Morissey to join Martin Clunes as the iconic characters of Tony Smart and Gary Strang.
During the first season of Men Behaving Badly, Gary Strang is sharing an apartment with Dermot Povery; both are in their 20s, although Gary has a job as an office manager and Dermot is unemployed. Gary is in a relationship with Dorothy, a nurse who is often annoyed by Gary and Dermot's immature behavior. Dermot spends the majority of his time attempting to find a way to begin a relationship with neighbor Deborah.
At the beginning of the second season, Gary reveals Dermot will no longer be coming home and allows Tony to take the spare room previously occupied by Dermot; the characters of Dermot and Tony are similar in their lack of employment and their decision to chase the character of Deborah romantically. When not working, Tony and Gary spend the majority of their time discussing Deborah and Dorothy, drinking beer at home and in bars where they also discuss the attributes of various female celebrities. Dorothy and Gary share a relationship in which they cheat on each other and often split up; Tony and Deborah become romantically entangled in the final season of the show. Men Behaving Badly was one of the most popular television sitcoms in the U.K. and Australia in the 1990s.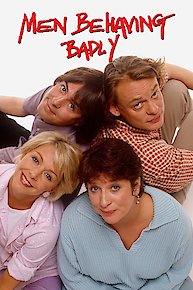 Men Behaving Badly Full Episode Guide
Deborah, Tony and Dorothy join Gary for a weekend in Worthing. Tony and Gary get drunk and smuggle a municipal landmark back to their hotel. Dorothy thinks she is pregnant, and Gary thinks he is falling in love with Wendy.

Sex is beautiful and natural, until Gary and Dorothy decide they want to make a baby. Tony is about to move in with Deborah when she goes into hospital with a bad leg. Tony faces up to the dilemma: Could he live with a one-legged woman?
Episode

7

-

Merry Christmas

Christmas Day at Gary and Tony's is a bit like sex: lots of delicious anticipation and excitement building up -- then it's over. Why does Gary think their first Christmas together away from their families will be different from any other year?

Gary has to get rid of his beloved sofa. Tony reminisces along with Gary but is distracted -- he bought a snake last night from a bloke in the pub, and what do you do with a snake?

Dorothy has persuaded Gary to see a relationship counselor. Tony is having less success convincing Deborah to make love in unusual places and no luck at all impressing her mother. Meanwhile, Tony and Gary worry when Dorothy's nephew comes to stay.

A cramped weekend away in a small caravan could spell disaster for the two couples -- made worse when Tony becomes obsessively jealous and Gary is just, well, obsessive. The tranquil beauty of the English countryside will never be the same again.

The big day has arrived, but doubts linger all around. Gary doesn't feel he's slept with enough women, while Dorothy imagined more on her wedding day. But Tony is determined that all go according to plan -- Deborah has agreed to sleep with him.

Gary's finally bitten the commitment bullet, but before the happy day itself, there's the tedious chore of enduring a stag night. Meanwhile, somewhat to his surprise, Tony delivers a baby.
If You Like Men Behaving Badly, Then Try...