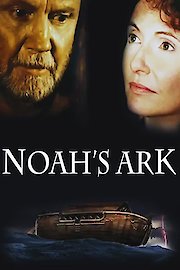 Watch Noah's Ark
Unrated
1999
1 Season
Noah's Ark is a made-for-television movie that aired in 1999. The film was produced by Sonar Entertainment and RHI Entertainment and starred a talented cast featuring Jon Voight, Mary Steenburgen, F. Murray Abraham, and Carol Kane. The story of Noah's Ark follows the biblical tale of Noah, whom God selects to build an enormous vessel that will save him, his family, and two of every kind of animal from a worldwide deluge. In this retelling, Noah (played by Jon Voight) is a wise and determined man who sees the sin and wickedness that surround him in his community. He is saddened by the corruption he witnesses and pleads with God to help him redeem humanity.
Noah's faithfulness is rewarded when God appears to him in a prophetic dream, instructing him to build a massive ark that will carry him, his family, and the animals to safety. Noah labors tirelessly to construct the vessel, and his efforts are aided by his loyal wife Naamah (Mary Steenburgen) and his three sons, Shem (Mark Bazeley), Ham (Jonathan Cake), and Japheth (David Threlfall).
As the floodwaters begin to rise, Noah and his family hurry to gather the animals and board the ark. They face many obstacles and challenges along the way, including sabotage from Noah's jealous neighbors and fierce storms that threaten to capsize the ship. But Noah remains steadfast in his faith, trusting that God will guide him through the perilous journey.
The film also explores the complex relationships between Noah's family members as they cope with the stress and uncertainty of the floods. Shem is torn between his love for his fiancé and his family, while Ham rebels against his father's authority and tests the limits of his freedom. Japheth, the youngest of the brothers, struggles to find his place in the family and prove himself to his father.
The ensemble cast delivers powerful performances that bring depth and emotional resonance to the story. Jon Voight exudes gravitas as the prophetic and righteous Noah, while Mary Steenburgen adds warmth and compassion to her portrayal of Naamah. F. Murray Abraham brings a nuanced complexity to his role as Lot, a fellow survivor of the flood who faces his own struggles with faith and morality.
Overall, Noah's Ark is a visually stunning and emotionally engaging retelling of a timeless biblical tale. The film offers a rich and thought-provoking exploration of themes such as faith, family, redemption, and the human capacity for good and evil. With its compelling storytelling and talented cast, Noah's Ark is sure to captivate audiences of all ages and backgrounds.
Noah's Ark is a series that is currently running and has 1 seasons (2 episodes). The series first aired on May 3, 1999.