Ravenswood
Ravenswood is the newest teen drama that is being shown on the ABC Family Network. It is a spin-off of the popular Pretty Little Liars series and premiered on ABC Family right after the Halloween special of Pretty Little Liars. The show is named because the plot of the show is based in the town of Ravenswood, Pennsylvania. The show follows the lives of several young strangers in the town and how their lives become influenced by a well known curse that has affected the town for years. The strangers eventually become friends and together go through the town's past to find out if they are able to bring an end to the well known curse.
Some of the strangers are named Caleb, Miranda, Luke, and Olivia. Caleb ends up meeting Miranda on a bus trip to Ravenswood while visiting his girlfriend. Miranda is visiting Ravenswood because that is where her uncle lives, and he was the one who gave her up for adoption ten years earlier due to both of her parents passing away. It is during this time that the group find death records and start to come across a very eerie past that even involves their own deaths.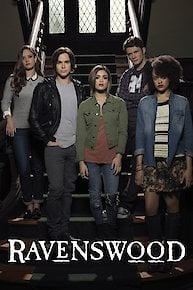 Ravenswood Full Episode Guide
Episode

10

-

My Haunted Heart

Caleb is forced to provide answers when Hanna shows up to see Miranda. Luke and Olivia finally learn what really happened to their father and who was responsible. With the walls closing in around him, Dillon makes a bold move.

Episode

9

-

Along Came a Spider

Mr. Price accidentally sends Caleb and Miranda on a quest to investigate a secret Collins has been harboring, but it leads them to a shocking discovery about the pact.

Episode

8

-

I'll Sleep When I'm Dead

When Remy goes to a sleep clinic in the hopes of getting answers and sleep, she learns her dreams about the mysterious pact may have started long ago. However, it soon becomes apparent that the clinic could put her in danger.

Episode

7

-

Home is Where the Heart Is

The police arrive at Luke and Olivia's upon the discovery of something with ties to both the past and present. Meanwhile, Caleb's dad is determined to find out what his son is up to in Ravenswood.

In the aftermath of his trip to Rosewood, Caleb struggles with the brief time spent with Miranda on the other side. Remy realizes her dreams may be the best clue they have into understanding the pact, but she unknowingly attracts something that is determined to make sure she never wakes up.

Episode

5

-

Scared to Death

When Caleb finally feels like he is making headway in his investigation of Ravenswood, things come to a screeching halt. Meanwhile, Remy uncovers a major clue on how to break the curse.

Episode

4

-

The Devil Has a Face

In the aftermath of the seance, Luke is still unsettled and searches for a distraction, but soon realizes there may be no escape from what's haunting the group.

Caleb and Remy try to convince Luke that Ravenswood is being tortured by the supernatural. They contact the "other side" in an effort to change his mind.

Episode

2

-

Death and the Maiden

Remy begins connecting the dots from recent events and painful chapters in Ravenswood history. Caleb is met by the last person he ever expected to see.

In the series premiere, Caleb decides to stay in Ravenswood to help his new friend Miranda. But after meeting Miranda's uncle, he begins to question his decision.
Ravenswood News
'Ravenswood' Cancelled; Caleb Goes Back to 'Pretty Little Liars'?
"Ravenswood" only got 10 episodes to prove itself, but ABC Family thinks that was enough, and the network decided not to renew the spin-off of "Pretty Little Liars" for a second season. That leaves about half of "PLL"'s audience upset and the other half hoping that the cancellation means Caleb will come home to Hanna.
'Ravenswood' Season 1, Episode 6: 'Revival' Recap
Remy's historical nightmares give some insight into the Ravenswood curse, and Caleb's break up with Hanna removes one obstacle between him and a romance with Miranda. Unfortunately, there are still some major hurdles still in the couple's way.