Sid the Science Kid, Fun Pack
Sid the Science Kid, Fun Pack is collection of entertaining science-based shows for kids. The Jim Henson Company show provides a look at science in a way that appears to preschoolers. The school takes science and applies it to everyday life experiences. Many kids that watch this show will see a plethora of things that they do in everyday life being used on this show. That is what makes the show appeal to a crowd of small children. The show covers topics like germs and insects. The characters talk about things that most preschool kids would typically be curious about.
1 Season,

5

Episodes

June 20, 2011

/

10

Cast:

Drew Massey, Victor Yerrid, Mia Ella Mimica, Alice Dinnean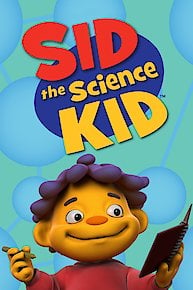 Sid the Science Kid, Fun Pack Full Episode Guide
Episode

5

-

Sid's Healthy Day

Sid wonders what is the best way to always stay healthy? At school, Sid and his friends discover that there's lots of ways to stay healthy: washing hands to avoid germs, eating nutritious foods, brushing teeth and exercising!

Episode

4

-

Halloween Spooky Science Special!

It's Halloween time and Sid and his friends have dressed up in the spookiest and scariest costumes possible. Sid is a bat with big fangs. May is a spooky black cat. Gabriela is a furry, yucky spider. And Gerald is a super spooky skeleton that goes boo! Susie (dressed as a silly mad scientist) loves their costumes, and helps the kids discover that Halloween can be spooky and scientific!

Episode

3

-

Sid the Weatherman

Sid wants to be a weatherman so he can decide what the weather will be every day. Sid and friends investigate weather and learn that weathermen don't control the weather, but they do have to know all about rain, sun, wind, and hot and cold temperatures!

Episode

2

-

No School Sing-Along Special!

Sid wonders what he could possibly do on his day off from school. But when all his friends come over for a play date, they quickly put their science minds together and decide to put on a show in the backyard! They each take turns rocking out as they sing their favorite science songs for a very appreciative audience of Mom, Dad, and Zeke!

Episode

1

-

Sid's Backyard Campout

Pack some food and bring your backpack because Sid, Gerald, and Dad are gearing up for a big adventure! They're setting up tents for a campout in the backyard! Dad is eager to share his love of nature and demonstrates how to have a great time outside with the simplest of necessities. They look for animals, cook their own dinner, marvel at the stars in the sky, roast marshmallows, and sing songs around the campfire. And here's the best part, the viewer is invited to join the adventure and sing along!