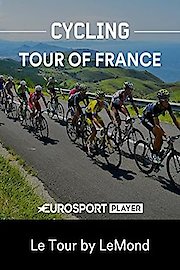 Watch That's Tough
That's Tough is a fascinating television series produced by the G4 network in 2010. Filled with never-seen-before conceptual exploration, the series targets a younger demographic but has welcomed viewers of all ages due to its informative and engaging content. It adopts a unique and charming assurance that learning can be fun and engaging, much to the delight of its audience.
Effectively executed as a reality-documentary style show, That's Tough challenges certain perceptions about the most robust, extreme and influential phenomenon in history, be it natural, artificial or man-made. Capitalizing on elements of popular culture, the show features the most "tough" objects and concepts in a dynamic, entertaining and bold format inviting viewers on an educational odyssey every episode.
Adopting a quirky and energetic tone, each episode primarily endeavors to provide a comprehensive view of some toughest things on earth and beyond. These range from the toughest animals and vehicles to the most robust natural phenomenon and man-made wonders, effectively making it a series that appeases to the curiosity of the science- and tech-savvy.
Each episode is typically split into segments. The first segment is a list countdown of the top 10 "toughest" items in a specific category. These top 10 lists cover a wide range of topics, with examples such as the toughest jobs, toughest buildings, toughest prisons, and even quirky topics like the toughest video game bosses. The premise for the show is largely unrestricted, allowing for a broad scope of exploration and expansion.
In the second segment, the show brings in experts for opinion and sometimes a demonstration, which adds an enriching layer of depth and scientific validation to the discussed topics, adding gravity to their toughness claims. These subject matter experts thoroughly dissect these tough features or concepts, offering delightful insight into scientifically complex yet mind-bogglingly cool aspects of life, human achievement, and the natural world.
The final segment builds on the first two but takes a left turn. Instead of focusing purely on the facts, it dives into the hypothetical realm. What-ifs, hypothetical scenarios, and imaginative concepts, each of them challenging and extreme in their way, are regularly featured in this segment. However, it doesn't disturb the factual richness of the show. Instead, it naturally stirs up intrigue and feeds the fascination of the viewers.
The host serves as the show's centering anchor, smoothly navigating the viewer's journey through the massive reservoir of awe-inspiring information imbued with smart humor. The host's quick wit, enthusiasm, and charisma play a pivotal role in tuning the viewer's mood, setting the pace and maintaining interest throughout the episode.
In its core essence, That's Tough stands out as an exciting blend of education and entertainment, a junction where fact meets fiction, the known encounters the unknown, and mind-blowing curios intertwine with hard scientific reasoning. The show captures viewer curiosity by balancing the toughness of life, both on Earth and in the outer universe, with the toughness of explanations behind them.
Another factor that makes the show special is its impeccable ability to cater to a wide spectrum of viewers. That's Tough won't leave anyone feeling excluded, it's equally intriguing for kids, teenagers, young adults, and older audiences. Drawing its strength from the depths and breadth of its content, it is unrestricted by cultural, geographical, or age limitations, thus making it a universal gateway to learning, understanding, and appreciating toughness.
In line with the G4 network's proclaimed commitment to popular technology, That's Tough could be considered a vivid representation of that commitment brought to visual life. Its delightful balance of education and entertainment successfully appeal to viewers who appreciate intellectual content and yet crave the thrill of something unique and exciting.
In summary, That's Tough is a fun-filled, engaging, and enlightening show that invites you to discover and appreciate the marvels of toughness in diverse, unexpected ways. It's a thrilling ride filled with intriguing countdowns, expert insight, and mind-bending hypotheticals – all with the common theme of celebrating toughness in all its glory.