The Flintstone Kids: Rockin' In Bedrock
The Flintstone Kids: Rockin' In Bedrock is a ten episode collection from the first season of The Flintstone Kids. The Flintstone Kids is a fun spin on the classic Flintstones animated series, featuring all of the original, main adult characters, Fred, Barney, Wilma, Betty, and even their pet Dino, as children. The Flintstone Kids go on all kinds of fun adventures through Bedrock in this stone age, animated, children's series. Anybody who loved the original Flintstones is sure to want to watch this cute little spin on the original.
1 Season,

10

Episodes

March 27, 1987

/

10

Cast:

Tress MacNeille, Hamilton Camp, Peter Cullen, Jim Cummings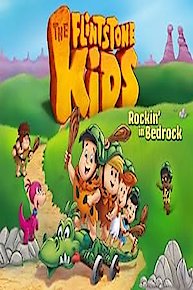 The Flintstone Kids: Rockin' In Bedrock Full Episode Guide
Episode

10

-

The Rock Concert That Rocked Freddy

Ed repairs rock star Brick Stonespring's equipment, so Freddy brags that he can obtain tickets to the sold-out concert. When Rocky gives fake tickets, Freddy's got a lot of explaining to do.

Episode

9

-

The Little Visitor / Grandpa For Loan

Fred reaches a wrong conclusion when he hears his parents talking about a "little visitor." The Bedrock kids and parents compete in the parent-kid games.

Episode

8

-

The Fugitives

When Dino takes a valuable prehistoric pillow from the Bedrock Museum, Freddy and Barney fear that they'll be arrested.

Episode

7

-

The Bad News Brontos

Edna Flintstone volunteers to coach Freddy's perennially losing baseball team, the Bad News Brontos. After Edna transforms the kids into a winning team, Rocky challenges them to a game.

Episode

6

-

Poor Little Rich Girl

It's rich Dreamchip's birthday, but her snooty parents won't allow her to have a party. Freddy and the gang secretly go to her mansion to help her celebrate.

Episode

5

-

Heroes For Hire

While visiting Freddy, Barney (voice of series star HAMILTON CAMP) answers the phone and wins a trip to Hollyrock. A feud over the prize nearly wrecks Freddy and Barney's friendship.

Episode

4

-

Freddy's First Crush

Freddy's attracted to his shapely substitute teacher. His friends try to cure his distraction before he competes in the Grammar School Games.

Episode

3

-

Dusty Disappears

When the carnival arrives in Bedrock, Fred and Barney baby-sit Barney's brother Dusty to earn money for tickets. But they have to take Dusty to the carnival, where the little boy disappears.

Episode

2

-

Curse of the Gemstone Diamond

At her Halloween party, Dreamchip wears the Gemstone Diamond, a valuable bauble that carries a curse. When a thief snatches the diamond, Philo tracks down the criminal.

Episode

1

-

Barney's Moving Experience

When a big city car dealer comes to town, he buys Bob Rubble's car lot. The Rubbles plan to move out of Bedrock.