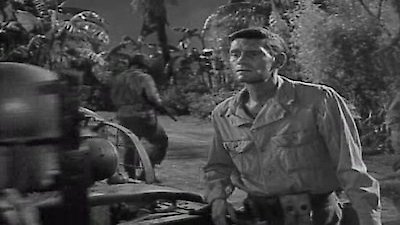 Ep 19. The Purple Testament
TV-PG
February 12, 1960
25 min
In The Twilight Zone season 1 episode 19, titled "The Purple Testament," we follow the story of Lieutenant William Fitzgerald, a soldier stationed in the Philippines during World War II. Fitzgerald is a talented and highly skilled soldier, known for his incredible accuracy with a rifle. However, he begins to experience strange visions in which the faces of his fellow soldiers appear to glow a bright purple color.
The visions come to him at seemingly random times, and he is unable to explain their meaning. At first, he keeps them to himself, but as they become more frequent, he confides in his close friend, Sergeant Joseph Paradine. Paradine is sympathetic but thinks Fitzgerald is simply under a lot of stress and encourages him to seek medical help.
Despite his friend's advice, Fitzgerald continues to experience the visions and soon discovers that they are a sign of imminent death. Every time a soldier whose face he has seen in his visions is sent out on a mission, they are killed in action. Fitzgerald's gift becomes a curse as he struggles to cope with the burden of knowing who will die next and the guilt of being unable to prevent their deaths.
As the war rages on and more of Fitzgerald's comrades meet their demise, he begins to feel isolated and alone. He becomes increasingly obsessed with his visions and begins to distance himself from his fellow soldiers, afraid that he will inadvertently cause their deaths. However, when he receives a new commanding officer, Captain Riker, he finds that the burden of his gift may become too much to bear.
Captain Riker is skeptical of Fitzgerald's visions and dismisses them as superstition. He encourages Fitzgerald to focus on his duties and not let his mind wander. However, when the two are sent on a reconnaissance mission together, Fitzgerald's vision comes true once again, and Captain Riker is killed.
Now, Fitzgerald must come to terms with his gift and the responsibility that comes with it. He realizes that the visions are not a curse, but a warning, and he can use them to save lives instead of just predicting deaths. In the end, Fitzgerald is hailed as a hero, and his gift becomes a valuable tool in the war effort.
"The Purple Testament" is a haunting and thought-provoking episode of The Twilight Zone that explores the psychological toll of war and the power of intuition. The episode is beautifully shot and features powerful performances from the cast, particularly from lead actor, William Reynolds, who brings a depth and vulnerability to his portrayal of Fitzgerald. Overall, "The Purple Testament" is a must-watch episode for fans of The Twilight Zone and anyone interested in exploring the cost of conflict on an individual level.