Watch The Wendy Williams Show
The Wendy Williams Show is a daily hour long talk show based in New York City that is hosted by Wendy Williams, an outspoken African American woman with a burst of energy. On the show, Wendy interviews both celebrities and everyday people with interesting issues. The show also features a segment called
Daily on Syndicated

6 Seasons,

523

Episodes

July 14, 2008

10

/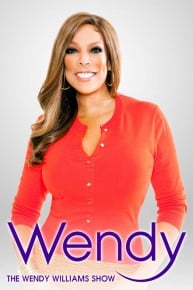 The Wendy Williams Show

Full Episode Guide
Season
7
394 clips available
Episode

168

-

Kathy Griffin

Episode

167

-

Ali Wentworth, Castro

Episode

166

-

Kandi Burruss

Episode

165

-

Caitlyn Becker, Mary Alice Stephenson

Episode

164

-

Bevy Smith, Robert Verdi, Lloyd Bosto...

Episode

163

-

Episode 163

Episode

162

-

Episode 162

Episode

161

-

Episode 161

Episode

160

-

Episode 160

Anderson Cooper discusses the latest headlines; the year's most stylish celebrities.

Episode

159

-

Episode 159

Episode

157

-

Gwendolyn Woods & Fifi Bell, Alicia Q...

Gwendolyn Woods & Fifi Bell, Alicia Quarles

Episode

156

-

Michael Ealy, Katrina Szish

Michael Ealy, Katrina Szish

Episode

154

-

Nicole Lapin, Shallon Lester

Nicole Lapin, Shallon Lester

Episode

153

-

Episode 153

Episode

152

-

Episode 152

Episode

151

-

Episode 151

Episode

150

-

Episode 150

Episode

149

-

Episode 149

Episode

148

-

Siggy Flicker, Robyn Moreno

Episode

147

-

Eva Longoria

Episode

146

-

Lori Bergamotto, Rob Shuter

Episode

145

-

Nicole Byer

Episode

144

-

Jennifer Peros, Milly Almodovar

Episode

143

-

Kenneth "Babyface" Edmonds, Brian Bal...

Kenneth "Babyface" Edmonds, Brian Balthazar

Episode

142

-

Lance Bass, Jackie Miranne

Lance Bass, Jackie Miranne

Episode

141

-

Christina Milian

Episode

140

-

Jill Kargman

Episode

139

-

Jordi Lippe-McGraw, Chef Nikki Dinki

Episode

105

-

Episode 105

Episode

104

-

Season Finale

Wendy dishes on "Hot Topics" and answers audience questions in "Ask Wendy." Also: Leslie Jones discusses "Ghostbusters" and Chef Ahki tells us about her cookbook "Electric: A Modern Guide to Non-Hybrid & Wild Foods."

Episode

101

-

Laurie Schacht

Episode

100

-

Vivica A. Fox

Episode

99

-

Tito Jackson, Chef Judy Joo

Tito Jackson talks about his single "Get it Baby;" chef Judy Joo prepares Korean dishes; and Wendy dishes on "Hot Topics."

Episode

98

-

Jordi Lippe-McGraw, Josh McBride

Episode

97

-

Fat Joe, DJ Khaled, Remy Ma, French M...

Episode

96

-

Marc Anthony

Dorinda Medley talks about "Real Housewives of New York City" and Wendy dishes on "Hot Topics."

Episode

95

-

French Montana, Pastor A.R. Bernard

Episode

94

-

Katie Lee, Ereka Vetrini

Episode

93

-

Alexandra Shipp, Eddie Jackson

Episode

92

-

Boy George, Nina Terrero

Boy George discusses his "Culture Club" tour; entertainment reporter Nina Terrero weighs in on Summer movies; and Wendy dishes on "Hot Topics" and takes questions in "Ask Wendy."

Paula Abdul; fashion stylist Mary Alice Stephenson gives a cancer survivor a head-to-toe makeover.

Episode

90

-

Andre Leon Talley, Desiigner

Episode

89

-

Loni Love, Kahlana Barfield

Loni Love talks about her movie "Mother's Day" and "Magnificent Makeover Week" concludes with fashion expert Kahlana Barfield.

Episode

88

-

Melissa Garcia

Episode

87

-

Chassie Post

Episode

86

-

Katie Couric, Johnny Wright

Episode

85

-

Mary Alice Stephenson, Sherri Shepher...

Episode

84

-

Maxwell, Jackie Miranne, Nick Stenson

Maxwell, Jackie Miranne, Nick Stenson

Episode

83

-

Piers Morgan, Jene Luciani

Piers Morgan, Jene Luciani

Episode

68

-

Brian Balthazar

Episode

67

-

Marcia Clark, Nina Parker

Episode

65

-

Bevy Smith, Robert Verdi, Lloyd Bosto...

Episode

63

-

Susan Sarandon

Episode

62

-

Bellamy Young

Episode

61

-

Tituss Burgess, Shallon Lester

Episode

60

-

Alfonso Ribeiro

Anderson Cooper discusses the latest headlines; the year's most stylish celebrities.

Episode

59

-

Melissa Garcia, Shae Wilbur

Episode

58

-

Brooke Shields

Episode

57

-

Adewale Akinnuoye-Agbaje

Episode

56

-

Rebecca Romijn

Episode

55

-

Zachary Levi

Episode

53

-

Donnie Wahlberg, Jenny McCarthy

Episode

52

-

Vanessa Williams, Elvis Duran

Episode

51

-

Vanessa Williams, Elvis Duran

Wendy serves up a dose of Hot Topics and Ask Wendy.

CNN's Don Lemon, motivational speaker Lisa Nichols and comedienne Susie Essman join Wendy to debate the biggest headlines of the week during Hot Talk.Plus, "Wendy Watchers" sound off in a new edition of Street Talk.Then, Kevin Gates performs his hit song, "2 Phones" from his new album Islah.

Fashion expert Robyn Moreno shows us the hottest holiday looks from Burlington this season!Then, Brandy Norwood tells us about her new BET sitcom, "Zoe Ever After."Plus, Wendy serves up a dose of Hot Topics and Ask Wendy.

Episode

46

-

The Perfect Match

The sexy Terrence J tells us about his new movie, "The Perfect Match."Plus, Chef Ahki joins Wendy in the kitchen.

Episode

45

-

Hot Topics Hour

"The Insider's" Michael Yo gives Wendy the latest news from Hollywood during the inside scoop.Plus, Wendy weighs in on the biggest Hot Topics of the day.

Episode

43

-

Jennifer Lopez

The beautiful and talented Jennifer Lopez dishes about her hit NBC drama, "Shades of Blue" and the final season of "American Idol."Plus, Wendy serves up a dose of Hot Topics and Ask Wendy.

Wendy's Fashion Panel breaks down the best and worst celebrity looks from The Oscars.Plus, don't miss a special at home spa edition of Trendy @ Wendy.And, a lucky viewer plays for a chance to win a trip to the Moon Palace Jamaica Grande in Ocho Rios during Wendy's Hot Tropics Giveaway!

Episode

39

-

Candace Cameron Bure

Action Bronson tells us about his new Viceland cooking show "F*ck, That's Delicious."Then, entertainment journalist Ellie Lee gives us the inside scoop on the latest news from Hollywood.And, Wendy's Hot Tropics Giveaway continues! Tune-in to find out how you can enter to win $5,000 or a 5 day/4 night stay at the Moon Palace Jamaica Grande.

Episode

36

-

Wendy Raquel Robinson

Episode

35

-

Ben Lyons, Chloe Melas

Episode

34

-

Ali Wentworth, Don Lemon, Judge Alex ...

Episode

33

-

Jason Sudeikis, Stephen James

Episode

32

-

Dave Mizejewski & animals, Ian Drew

Episode

31

-

Larry Wilmore, Chris Santos

Episode

30

-

Delaina Dixon, Christine Bibbo Herr

Episode

29

-

Billy Bush, Kit Hoover, Melissa Garci...

Episode

28

-

Brian Balthazar, Alfred Enoch

Episode

27

-

Vanna White, Jacques Torres

Episode

26

-

Seth Meyers, Nikki Dinki

Episode

24

-

Dr. Phil McGraw, Alex Guarnaschelli

Dr. Phil McGraw gives his take on the latest headlines; fall's must-see TV shows.

Episode

23

-

Antonio "L.A." Reid, Johnny Wright & ...

Record executive Antonio "L.A." Reid tells us about his revealing new memoir "Sing to Me."Then, Fashion Week is almost here and celebrity hairstylist Johnny Wright from Dark and Lovely shows us how to incorporate runway fashions and hairstyles into our every day style!

Episode

22

-

Courtney B. Vance, Shallon Lester & T...

Courtney B. Vance tells us about the highly anticipated FX mini series, "The People vs. OJ Simpson."Then, Star magazine's Shallon Lester gives us the inside scoop on the latest news from Hollywood.

Episode

21

-

Meagan Good, DeVon Franklin, Cesar Mi...

Episode

20

-

Deborah Norville, Christine Bibbo Her...

Episode

19

-

Ali Wentworth, Don Lemon, Sharon Carp...

Episode

18

-

Jennifer Lopez

Jennifer Lopez ("The Boy Next Door").

Episode

17

-

Wayne Brady, Dr. Doris Day

Episode

16

-

Wendy Raquel Robinson, Gesine Bullock...

Episode

15

-

Perez Hilton

Episode

14

-

Whitney Cummings

Episode

13

-

Marlon Wayans

Episode

12

-

Ray Liotta, Wolfgang Puck

Ray Liotta, Wolfgang Puck

Episode

11

-

Martha Stewart

Mogul Martha Stewart makes her "Wendy" debut and tells us about her new book, "Martha Stewart Weddings."Plus, Wendy weighs in on the latest Hot Topics.

The beautiful and talented Chloe Grace Moretz tells us about her new film, "The 5th Wave."Plus, Wendy weighs in on the latest Hot Topics!

Ice Cube talks about his role in the film "Ride Along."

Russell Simmons tells us about his book, "The Happy Vegan."Then, style expert Amy Goodman shows us the latest in Athleisure fashions!

The beautiful Eva Longoria tells us about her new NBC comedy, "Telenovela."Plus, Bahar Takhtehchian reveals this winter's top beauty picks!

Episode

5

-

Golden Globes

Wendy, Bevy Smith, Robert Verdi and Lloyd Boston break down the fashion hits and misses from the Golden Globes.Plus, Wendy weighs in on the latest Hot Topics.

Episode

4

-

Hoda Kotb, Matt Roush

Episode

3

-

Ellie Krieger

Episode

2

-

Alyssa Milano, Milly Almodovar

Alyssa Milano, Milly Almodovar

Episode

1

-

Big Daddy Kane, Caitlyn Becker

Big Daddy Kane, Caitlyn Becker
Season
6
230 clips available
Episode

156

-

Street Talk

Wendy Watchers sound off in the latest edition of Street Talk brought to you by MetroPCS.Then, Salt-n-Pepa make their "Wendy" debut and tell us about their new show, "Cookin with Salt-n-Pepa" on the Cooking Channel!Plus, you won't want to miss the last day of Wendy's Holiday Gift Grab!

Sexy R&B star Monica performs "Just Right for Me" off her new album, Code Red.Plus, PopGoesTheWeek.com's Brian Balthazar tells us what's Trending Now is the world of pop culture.And Wendy's Holiday Gift Grab continues! Tune-in for your chance to win one of this year's must-haves!

Episode

154

-

Holiday Fashions

Red carpet hits and misses at the Academy Awards; viewers can win a Walt Disney World vacation.

Episode

153

-

Holiday Gift Grab

The season of giving continues during Wendy's Holiday Gift Grab!Then, the cast of "Elf: The Musical" performs and Wendy serves up a juicy dose of Hot Topics.Plus, Entertainment Weekly's Nina Terrero gives us a sneak peek at this holiday's must-see movies!

Wendy serves up a dose of Hot Topics!Plus, Dr. Gadget is back with the hottest holiday gadgets and Ereka Vetrini gives us the inside scoop on the latest news from Hollywood.Then, Wendy's Holiday Gift Grab continues! Tune-in to find out how you can enter to win one of this year's must-have gifts!

Episode

151

-

Holiday Movies

The season's must-see movies; Wendy's Holiday Gift Grab.

Episode

150

-

Mr. Worldwide

The sexy Pitbull tells us about his New Year's Eve special on FOX, "Pitbull's New Year's Revolution." Plus, don't miss what happens when we put Pitbull in the Hot Seat.Then, members of our studio audience get one of the hottest gifts this year during Wendy's Holiday Gift Grab! Tune-in to find out how you can enter to win at home!

Episode

149

-

#WendyHSNCollection

Wendy showcases her HSN fashion collection. Also: Cedric the Entertainer and Niecy Nash talk about "The Soul Man."

Legendary actress Joan Collins tells us about her Julien's Auction and opens up about losing her sister, Jackie, to breast cancer earlier this year.Then, Wendy's Holiday Gift Grab continues! Tune-in to find out how you can win one of this year's must-haves!

The world famous Radio City Rockettes stop by to help Wendy kick off her annual Holiday Gift Grab!Then, Christine Bibbo Herr is back with the biggest holiday gifts at discounted prices for everyone on your shopping list in a new edition of Trendy @ Wendy.Plus, Wendy serves up a dose of Hot Topics and "Huff Post Live's" Alex Miranda gives us the inside scoop on the latest news from Hollywood.

Episode

146

-

Laurie Schacht, Ali Wentworth, Don Le...

Episode

145

-

Robyn Moreno, Brandy Norwood

Episode

144

-

Dita von Teese, Ian Drew

Episode

143

-

Lisa Edelstein

Wendy serves up a dose of Hot Topics and Ask Wendy.Then, Chef Kelsey Nixon tells us about her new Cooking Channel show, "Kelsey's Homemade" and shows us what to make using our Thanksgiving leftovers.

Episode

141

-

We love you for watching

Episode

140

-

The Wiz LIVE!

Shanice Williams, Ne-Yo, David Alan Grier and Elijah Kelley tell us about the highly anticipated NBC television event, "The Wiz LIVE."Plus, Ne-Yo dishes about his upcoming wedding and Shanice tells us how she landed her breakout role in "The Wiz LIVE."Then, "The Chew's" Carla Hall stops by to show us how to make some mouthwatering Thanksgiving side dishes!

Friend to the show Donny Deutsch weighs in on the latest headlines and dishes about his new USA show, "Donny!"Then, we hit the streets of NYC to find out what Wendy Watchers think about the latest Hot Topics during a new edition of Street Talk, brought to you by Metro PCS.

Episode

138

-

AMA Style Recap!

Sarah Jessica Parker. Also: Wendy dishes on the latest "Hot Topics."

Episode

137

-

Dennis Quaid

The sexy Dennis Quaid tells us about starring in the Crackle original series, "The Art of More."Plus, Chef Candice Kumai shows us how to make some vegan Thanksgiving dishes!

Music superstar Mary J. Blige dishes about her role in the NBC event, "The Wiz LIVE!"

The beautiful Teyonah Parris makes her "Wendy" debut to tell us about starring in Spike Lee's upcoming film, "Chi-Raq."Plus, People magazine's Zoe Ruderman reveals their "Sexiest Man Alive."

Robin Lord Taylor dishes about the new season of "Gotham" on FOX and tells us what it's like playing Penguin.

Episode

133

-

Trendy @ Wendy!

Boris Kodjoe; hot fall must-haves at discounted prices; a breast-cancer survivor gets a makeover.

Comedian Bill Engvall, CNN's Don Lemon and the hilarious Ali Wentworth join Wendy to debate the biggest headlines of the week!

Episode

131

-

A Wendy Event!

John Legend performs a song off his album "Love in the Future."

Episode

130

-

Christie Brinkley

Supermodel and beauty icon Christie Brinkley tells us about her new book, "Timeless Beauty."Plus, Food Network Chef Nancy Fuller heats things up in our kitchen and tells us about her new cookbook, "Farmhouse Rules: Simple, Seasonal Meals for the Whole Family."

Episode

129

-

Inside Scoop

HollywoodLife.com's Chloe Melas gives us the inside scoop on the biggest celebrity headlines!Plus, Shape magazine's Bahar Takhtechian reveals the best drugstore beauty products!

Episode

128

-

Hot Topics Hour!

Wendy weighs in on the biggest Hot Topics of the day and Julie Alexandria gives us the inside scoop on the latest news from Hollywood.Plus, don't miss Trendy @ Wendy where you can get exclusive deals on this fall's must-haves!

Episode

127

-

Episode 127

Episode

126

-

Episode 126

Episode

125

-

Episode 125

Episode

124

-

Episode 124

Episode

123

-

Episode 123

Episode

122

-

Ta'Rhonda Jones

Episode

121

-

Brian Balthazar

Episode

120

-

Joy Behar, K. Camp, Shallon Lester

Comic Joy Behar; Clinton Kelly ("The Chew") gives Thanksgiving advice.

Episode

119

-

Laurie Feltheimer, Carly Steel

Episode

118

-

Robyn Moreno, Rob Shuter

Episode

117

-

Whoopi Goldberg, Alex Martin, Lori Be...

Whoopi Goldberg stops by and Matt Roush looks at the Fall television premieres.

Episode

116

-

Follow the Rules

Kellan Lutz promotes his role in the film "The Legend of Hercules." Also: style expert Daisy Lewellyn showcases winter fashion accessories.

HLN's Dr. Drew stops by and shares his take on the biggest stories of the week!Plus, Jackie Miranne shows us this Fall's hottest accessories!

Friend to the show Jillian Michaels tells us about her new Spike TV show, "Sweat Inc."Plus, OMI performs "Hula Hoop" off his debut album, Me 4 U.

Episode

113

-

Hot Topics Hour!

It's an hour of Hot Topics and Wendy breaks down the biggest celebrity headlines.Then, Stacy London, Jay Manuel and David Meister join Wendy to debate the red carpet hits and misses from the Emmy Awards!Plus, Cosmopolitan for Latinas' Milly Almodovar shows us this fall's best beauty gadgets.

Episode

112

-

Ali Wentworth, Don Lemon, Amy Robach

Episode

110

-

Nicole "Snooki" Polizzi

Episode

108

-

Cheryl Kramer, Michael Yo

The hilarious Billy Eichner tells us about the new season of his must-see show, "Billy on the Street" on Tru TV.Plus, Wendy weighs in on the latest Hot Topics.Then, Siggy Flicker tells us about her new book, "Write Your Own Fairy Tale" and gives us the inside scoop on the latest celebrity relationship news during the Romance Report.

Episode

106

-

Politics Now

Episode

105

-

Dave Mizejewski, Don Lemon, Lisa Ever...

Episode

104

-

Chloe Melas & Jeff Lewis

Episode

103

-

Ian Halperin & Joe Morton

Episode

102

-

Diana Madison & Jene Luciani

Episode

101

-

Episode 101

Episode

100

-

Episode 100

Episode

92

-

Lisa Lampanelli & Melissa Garcia

Episode

91

-

Boris Kodjoe & Nicole Ari Parker

Episode

90

-

Stephanie Bauer

Episode

87

-

Kahlana Barfield & Rob Shuter

Episode

86

-

Win a Room in June

Wendy weighs in on the latest Hot Topics.Then, a lucky "Wendy Watcher" wins a new master bedroom thanks to our friends at Aaron's.Plus, beauty expert Rebekah George reveals this summer's hottest beauty products.

Episode

85

-

Lidia Bastianich & Tony Dovolani

Episode

84

-

Matt Roush & Rachel Maddow

Episode

83

-

Ereka Vetrini

The beautiful Chanel Iman tells us about her new movie, "Dope."Plus, Wendy shares her take on the latest Hot Topics!

Episode

81

-

Chassie Post

Episode

80

-

Laurie Schacht, Nikki Boyer, Sharon C...

Episode

79

-

Tom Bergeron

Episode

78

-

Lorraine Bracco

Episode

77

-

Melissa Rivers

Melissa Rivers talks about the Joan Rivers auction; chef Shannon Ambrosio prepares BBQ and discusses her show "Big Bad BBQ Brawl;" and Wendy dishes on "Hot Topics."

Episode

76

-

Harry Josh & Nick Axelrod

Episode

75

-

Mother's Day Show with Nicole "Snooki...

Episode

74

-

Hot Topics (12)

Episode

73

-

Alan Thicke & Ian Drew

Episode

72

-

Caitlyn Becker

Episode

71

-

Robin Roberts

"Good Morning America's" Robin Roberts makes her "Wendy" debut and tells us about her exclusive interview with Taya Kyle, the wife of "American Sniper" Chris Kyle.Then, Wendy spins the wheel and gives a "Wendy Watcher" a chance to win up to $5,000 during Wendy's Spring Cha-Ching sweepstakes.

Episode

66

-

Hot Topics (12)

Episode

61

-

Dave Mizejewski and endangered animal...

Dave Mizejewski brings endangered animals; hot topics.

Episode

60

-

Hot Topics (10)

Episode

59

-

Katie Lee & Rachel Maddow

Episode

58

-

Julie Alexandria, Dr. Paul Nassif & D...

Episode

57

-

Julie Alexandria, Dr. Paul Nassif & D...

Episode

56

-

Don Lemon, Heather McDonald, Siggy Fl...

Episode

55

-

Jodeci & Rosie Perez

Episode

54

-

Michael Ealy

Michael Ealy ("The Following"). Also: Wendy dishes on the latest "Hot Topics."

Episode

53

-

Bobbi Brown & Nancy Redd

Episode

51

-

Deborah Norville

Episode

50

-

Donny Deutsch
Season
5
329 clips available
Season
3
17 clips available
Season
2
8 clips available
Season
1
9 clips available
If You Like The Wendy Williams Show, Then Try...
Most Popular The Wendy Williams Show Episodes
The Wendy Williams Show News
What Did Wendy Say? Williams vs. Chris Brown: Multiple Choice and VIDEO RESPONSE!
Question: Earlier this week on the Wendy Williams Show, host Wendy Williams criticized Chris Brown for what of the following:
a. Flying into a fit of rage and breaking a window in his "Good Morning America" dressing room. b. Not preparing for the interview. c. Having girly arms. d. Wearing pants that are too tight
Answer: e. All of the above
Yeah….
Vivica A. Fox is Planning On Babies Now at Age 46
Vivica A Fox shared a lot with the viewers of Wendy Williams' show last week. Vivica gushed over her boyfriend – who is only 26 years old – and said in front of everyone she planned on marrying him. Gee, I wonder if he knew that? And does that mean he doesn't have to buy an engagement ring, since it seems she is pulling all of the shots?
Yes, Vivica is 46 years old now.