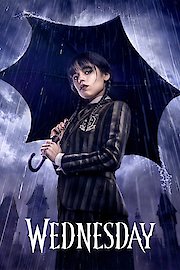 Watch Wednesday
TV-14
2022
1 Season
"Wednesday" is a captivating 2022 Netflix series that offers a fresh take and invigorating exploration into the intriguing life of the beloved character, Wednesday Addams, following her unforgettable appearance in the iconic Addams Family franchise. Netflix brings this moody teenage girl into the limelight, portraying her years as a student at Nevermore Academy, wrestling with her burgeoning psychic abilities, coping with the everyday struggles of adolescence, managing her wavering relationships, and solving a supernatural mystery that haunts her hostile hometown. Adelaide's little girl is now a grown woman fighting against strange and terrible forces in her quirky yet oddly normal world.
Helmed by the director Tim Burton, known for his unique visual style and a knack for storytelling with a dark comedic twist, "Wednesday" delves into the character's personal journey of self-discovery and the emotional roller coaster she goes through during her teenage years. He perfectly captures the essence of the original character and the macabre tone of the Addams Family while also infusing it with a modern and unique spin, making it appealing to not just old fans but new ones as well.
Embracing her iconic dark and uncanny charm, this show exhibits Wednesday's journey in dealing with her powers, her isolation from the commoners due to her eccentric family background, and her relentless pursuit for the truth that eventually leads her onto a path of becoming an unexpected and reluctant heroine. It explores her relationships, especially with her enigmatic parents who have raised her in their bizarre world. Despite its eerie setting and supernatural elements, the series is ultimately an exploration of teenage struggles and the gritty reality of self-discovery and self-acceptance.
Set in the eerie backdrop of Nevermore Academy, a boarding school not too distant from her haunted home, the series is an exciting blend of mystery, comedy, and the supernatural genre. The school exudes a gloomy ambiance yet is filled with relatable experiences, trials, and tribulations common to anyone who's navigated the choppy social waters of high school. Friendships, romances, rivalries, academics all coalesce with the spine-chilling mystery that bonds everyone together.
The alluring cast, lead by Jenna Ortega as Wednesday Addams, breathes life into this direction with their dynamic performances. Ortega exudes Wednesday's eerie elegance, intelligence, and sarcasm with great precision and adds depth to the enigmatic character. Her portrayal, along with the engaging ensemble cast, weaves their connections in a maze of thrilling storylines that keeps the viewers hooked till the end.
The creative writing showcases sharp dialogues with an excellent balance of humor and thrilling elements that make the narrative absorbing. The stark contrast between the mundane obstacles of high school life with the family's mysteriously dark lineage provides a unique perspective. The narrative has layers of outlandishness stacked upon relatable human experiences and emotions, which makes it a standout amongst other TV shows.
In its own darkly comedic and gothic fashion, "Wednesday" manages to tackle themes of identity, belonging, and the trials of adolescence, indicating that beneath its supernatural exterior lies a universal tale of navigating the complexities of youth and emerging identity. It keeps viewers on the edge of their seats, combining spine-chilling horror elements, arresting drama, and gothic humor in a way that's both exciting and emotionally profound.
"Wednesday" is a show for fans of the brilliant eccentricities of the Addams Family as well as for lovers of supernatural thrillers, mystery, and dark comedies. Anyone who has navigated the turbulent journey of self-discovery as a teenager will find a relatable agony in this twisted tale. From the engaging narrative and well-rounded characters to the dark comedic elements, this series is sure to captivate viewers all around.
In conclusion, Netflix's "Wednesday" is an intriguing reinterpretation of a beloved character through a modern, relatable, and chilling narrative. The series is a macabre journey through the adolescent years of the iconic Wednesday Addams and her struggle with her mysterious supernatural abilities, making it an exciting and unmissable ride.
Wednesday is a series that is currently running and has 1 seasons (8 episodes). The series first aired on November 23, 2022.