We're the Campbells
TV One is set to premiere its latest original docu-series, We're the Campbells. The nine episode docu-series will give viewers an intimate glimpse into the lives of Gospel entertainment power couple Warryn and Erica Campbell, as they tackle the everyday struggles that come with balancing family and work, nurturing their marriage, building their individual careers, and fostering their faith; all while raising their three children Warryn, Zaya and teenager Krista.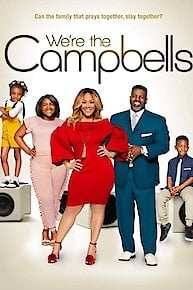 We're the Campbells Full Episode Guide
Episode

9

-

All Of My Life

Joi returns from touring and shows the family her Atlanta concert. Goo shares news about her potential clothing line. Erica and Warryn have to work on their 17 year anniversary when they perform together for the first time ever.

Episode

8

-

Hair Today, Gone Tomorrow

Erica's plans for a hair music festival to promote her wig line are put in jeopardy when she and Warryn decide to shoot a music video for their duet, "All of My Life." Warryn discovers Krista has been wearing makeup to school without permission.

Episode

7

-

There's A First Time For Everything

Warryn and Erica get in the studio to record a duet for the first time ever. Joi heads to Atlanta to perform on the PJ Morton Tour. Erica's switches up her plans for a room makeover when Krista and Zaya are ungrateful.

Episode

6

-

Birthday, Party Of Two

Erica and Wozy celebrate their birthdays together but Warryn misfires with a string of lame birthday presents to Erica or perhaps that's all part of the plan. Joi records a music video for her new single, Coco Butter.

Episode

5

-

Don't Judge A Book By It's Rough Draf...

Erica starts work on the first book she's writing by herself and struggles to find her voice as an author. Warryn and Erica's best couple friends, Lisa and Juan Winans, visit. Joi records a new song about self-acceptance.

Episode

4

-

Colour Me Blind

Erica's daughter, Krista, struggles with self-esteem because of her dark skin tone. Joi faces colorism in the music industry as well prompting her to question leaving the business altogether. Warryn asks Erica to co-preach with him at Church.

Episode

3

-

Get Up And Go

Erica flies to Dallas to do her radio show and goes a little too far on air with co-host Griff, and then she questions the higher-ups about policy; after talking to MC Lyte, Joi decides to leave Warryn's label; Goo gets some great news.

Erica performs at the Stellar Awards and then heads home only to discover Warryn needs surgery. Tension flair between them when she's back on the road and he's home recovering so they decide it's time for a love check-in when she returns.

Episode

1

-

A Stellar Weekend
If You Like We're the Campbells, Then Try...