Why Planes Crash
When you watch this program, you get to see a complete breakdown of how a plane crashes when it is in turmoil. You will see real computer simulations of some of the most famous plane crashes in history, and the commentator will explain how the plane went down. The show presents engineers and aviation experts who can show why planes crash, and you can learn what happens when planes are in the air. You will learn more about how planes work, and you will gain a greater respect for what pilots must do when they are behind the controls of the aircraft.
Monday 9:00 PM et/pt on Weather Channel

2 Seasons,

13

Episodes

August 12, 2013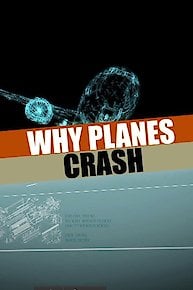 Why Planes Crash Full Episode Guide
Episode

8

-

Crisis in the Cockpit

Before Crew Resource Management, the Captain was viewed as a god. But before the program was enacted, many planes crashed.

Three catastrophic accidents that led to major changes in the aviation industry.

Technology has made flying safer, but it can fail; these tragic crashes illustrate how automation can never replace the skills of a good pilot.

Helicopters are the choice vehicle for remote rescues and rapid responses, but they have their own set of dangers.

Episode

4

-

Sudden Impact

Investigations into airplane crashes caused when the pilots inexplicably collided with mountains.

Episode

3

-

Severe Weather

Stories of airplanes and pilots who lost the battle with weather. A terrifying truth about weather is that thunderstorms, wind-shear and microbursts can bring down planes.

Episode

2

-

Brush With Death

Plane-crash survivors recall their frightening experiences.

Episode

1

-

Crisis in the Sky
Mistakes, oversights and distractions can have serious consequences.

Episode

4

-

Fire in the Sky

When fire or smoke diverts a routine flight.

Episode

3

-

Breaking Point

When a cargo door explodes 9 passengers were sucked out of a 747 flying over the Pacific, also on take off a DC-10 loses an engine.

Episode

2

-

Brace for Impact

Recounted plane incidents. Including the U.S. Airways Flight 1549, that made an emergency landing in the Hudson River; and a 767 that was hijacked and forced down in the ocean.

Episode

1

-

Collision Course

Why collisions happen mid-air.
If You Like Why Planes Crash, Then Try...