Watch African American History Online - Full Episodes
Series Length:
1 Seasons,

10

Episodes
Description:
African American History is a documentary television programs that tells the stories of famous African Americans throughout history. The series devotes time to subjects such as Martin Luther King, Jr., the famed civil rights leader. The show interviews many of his family members and fellow civil rights activists and lets them discuss the personal side of Dr. King not usually spoken about. The series also discusses Mohammed Ali, the famous boxer as well as noted author Zora Neale Hurston. For Ali, the series heads to Miami, Florida and shows how the city had a unique imprint on the boxer's career. Hurston grew up in the Caribbean and returned there many times to do research and gather inspiration for her books. The series heads there to interview many of the locales that knew her.
The series focuses on other topics besides biographies. A few episodes of the series detail what happens when the producers take DNA samples from famous African-Americans today and trace their ancestry. They discover that many of them were descended from slaves. One episode is devoted entirely to finding out the ancestors of famous talk show host Oprah Winfrey, while another details the past of comedian Chris Rock's family. Another episode focused on an African prince who was kidnapped from his tribe in Africa and transported to the new world to become a slave. The episode shows how the prince did his best to escape his surroundings. Another episode goes into the history of slavery in the British Empire. It focuses on one man who decided to appeal to people's religious convictions to help get slavery outlawed in the Empire.
The series also goes beyond historical events and focuses on current developments in African American history. One episode is devoted to a college lacrosse team comprised entirely of all black players. The episode focuses on the challenge the team faces, trying to compete in a traditionally all-white sport.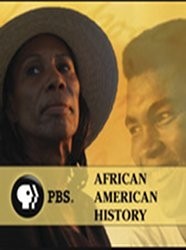 If You Like African American History, Then Try...