Watch Barbie: Life in the Dreamhouse
Barbie and her friends have received a makeover, and they are now in a television series about living in a dream house. It is similar to a reality television show in that it follows all of Barbie's friends and her around the house. There are old faces like Ken and Teresa as well as a few new friends including Midge and Ryan. The little sisters of Barbie, Skipper, Stacy and Chelsea, are included in the series, too.
This show is one that captures the daily activities of the friends as they are in the home and the neighborhood. One of the things that makes this show unique is that the dolls know they are not real people, so they use items that are a little too big for them. They also tell each other not to cut hair because it won't grow back and that they will melt if they don't use sunscreen.
1 Season,

9

Episodes

6/10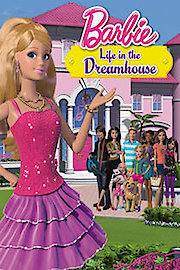 Watch Episodes
Clips & Extras
Barbie: Life in the Dreamhouse

Full Episode Guide
Season 1
(9 full episodes)
Episode 9 - Best of Fashion

Slip on your heels and dive tiara-first into the fabulous world of fashion adventures with the world's premier icon, Barbie!

Episode 8 - Best of Sisters

Laugh along with some of the most fun and memorable family moments between Barbie and her sisters as they prove there's no power like girl power.

Episode 7 - The Amaze Chase

Barbie competes with her friends and family on "The Amaze Chase," an exciting reality-TV contest that has them traveling and tackling fun challenges.

Episode 6 - Best of Barbie

Join Barbie and her friends in their most memorable and hilarious dreamhouse moments!

Episode 4 - Best of Family

Episode 3 - Best of Friends

Episode 2 - Shorts: Best Of

Episode 1 - Barbie Life in the Dreamhouse
Barbie: Life in the Dreamhouse Video Clips & Extras