Watch Black Sails
Created under the guidance of renowned executive producer Michael Bay, Black Sails is a television show designed to depict a grittier, true-to-life version of the often exaggerated tales surrounding the rise and fall of pirates during their historical heyday. Though swashbuckling and cannon fire have their place in the show, the main focus is in showing the less pleasant side of life as a pirate.
Set in the year 1715, the series follows the pirate Captain Flint as he battles against enemies both aboard his ship and off it. Within his own ranks, Captain Flint must struggle to keep his crew happy and thwart the plans potentially mutinous crew members. On the seas, he must battle rival pirates and even the might of the British Navy. All the while, Flint seeks out the ultimate prize, fighting against the impending extinction of the pirate way of life and desperate to protect New Providence Island, a notorious haven for the less savory denizens of the sea.
Saturday 9:00 PM et/pt on Starz

4 Seasons,

31

Episodes - Returning Series

January 25, 2014

10

/
Watch Full Episodes of Black Sails

Season 4, Episode 9
Trailer 2 (01:00:00)
Season 4, Episode 1
Creating New Worlds (03:00)
Season 3, Episode 10
XXVIII.
Season 3, Episode 9
XXVII.
Season 3, Episode 8
XXVI.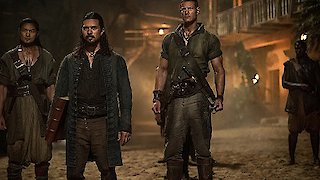 Watch Episodes
News
Clips & Extras
Black Sails

Full Episode Guide
The Final season of Black Sails returns on January 29th more dangerous and bloodier than ever.

Episode

1

-

Creating New Worlds

Go behind the scenes with the cast and crew to watch how they created the grandiose world of Black Sails. The final season returns on January 28th.
Season
3
10 full episodes, 20 clips available
Rogers and his forces pursue the pirates. Rackham and Bonny are at impossible odds. Silver insists on answers from Flint. Billy crowns a king.

Eleanor puts it all on the line in trying to rescue Rogers; Billy enlists allies to his cause; Flint and Silver prepare for war.

Rogers comes under attack while relocating a prisoner. Fighting erupts on the Walrus. Silver and Madi are tried. Billy views a new position for himself in the upcoming battle.

Captain Flint and Silver go back to Nassau to conclude what they started and a legend is born. With Rackham's future in the hands of Rogers, things look grim. Vane's future task comes about while Eleanor confides in Rogers.

Flint and Teach disagree about the future of piracy; Rogers takes someone into custody; Rackham discovers new meaning. Madi comes to Silver's assistance.

In the face of imminent death, Silver makes Flint take action. Teach shows Vane the way ahead. An evolving threat places Eleanor and Rogers on watch. Max carries out her plan.

Flint, Silver and Billy fight against a new foe; civilizations comes back to Nassau; Rackham takes a stand against the crew; and Scott discovers a part with the new regime.

Stranded at sea, Flint pushes Silver to his limit. As Nassau prepares to repel an invasion, Rackham takes the reins, while Max gets her house in order. To stave off defeat, Vane makes a difficult choice.

The Walrus gang immerses in the elements; Teach differs in opinions with Rackham; Rogers and Eleanor set terms for their partnership; and Bonny is concerned about her future with Max.

The world is afraid of Captain Flint because of Charles Town. John Silver tries to talk some sense into him when he goes too far. Also, Jack Rackham and Captain Charles Vane have a hard time securing Nassau for the ages. A new threat arises that will test everyone.
Season
2
10 full episodes, 14 clips available
Season
1
8 full episodes, 3 clips available
If You Like Black Sails, Then Try...
Most Popular Black Sails Episodes
Season 1 Episode 1

I.

1/25/2014

Season 3 Episode 1

XIX.

1/23/2016

Season 1 Episode 2

II.

2/01/2014

Season 3 Episode 2

XX.

1/30/2016

Season 2 Episode 10

XVIII.

3/28/2015
Black Sails News
Starz Cancels 'Black Sails'
The Michael Bay-produced pirate series has done well for Starz, but the network announced that Black Sails will air its final 10 episodes sometime in 2017.
Black Sails Video Clips & Extras
Black Sails | The Cast Reads Your Tweets | STARZ
Clip (01:47)
Black Sails | Rise of Silver: Confessing the Plan | STARZ
Clip (01:16)
Black Sails | Rise of Silver: Losing His Leg | STARZ
Clip (00:50)
Black Sails | Rise of Silver: Winning Over the Crew | STARZ
Clip (00:59)
Black Sails | Rise of Silver: Storming the Warship | STARZ
Clip (00:54)
Black Sails | Rise of Silver: Meeting Blackbeard | STARZ
Clip (01:19)
Black Sails | Say That Again | STARZ
Clip (01:40)
Black Sails | Silver | STARZ
Clip (00:56)