Watch Gata Salvaje
Gata Salvaje is a telenovela that was first broadcast on Venevision, a Venezuelan television network. The show first aired in Venezuala in May of 2002 after which it was released on Univision, a Spanish language television channel in the United States. It was later released in Mexico. The main characters of the show are played by Marlene Favela, an actress of Mexican Heritage, and Mario Cimarro, who hails from Cuba.
This telenovela was a first for Spanish language television in that there had been no other telenovela before it that had been shot on location in the United States then released in Mexico. The show was written by Omaira Rivero.
The plot, which revolves around Rosaura Rios, tracks the changing fortunes of her character and the events that surround them. Rosaura, who is played by Marlene Favela, is introduced to viewers as an impoverished young woman who works two jobs. Her day job as a lunch girl on the ranch of the well-to-do Arismendi family, connects her to Luis Mario Arismendi, the heir to this family's fortune. After a series of unfortunate events, Luis Mario, played by Mario Cimarro, ends up in a marriage to Rosaura. Luis Mario is initially motivated to seek this union to spite his sister rather than out of genuine love for Rosaura. This leads to a series of vengeful acts against Rosaura and Luis Mario by Luis Mario's sister and the bride she had intended for her brother. The repercussions of these actions serve as fodder for Rosaura's own revenge later in the show.
Another notable characters in the show is Eduarda Arismendi, Luis Mario's Sister, who is played by Mara Croatto. Eduarda possesses a passionate hatred for Rosaura. Eva Granados played by Carolina Tejera, also shares in this hatred. Eva is deeply in love with Luis Mario and this passion drives her to commit unthinkable crimes against Rosaura and her family. Other characters of note include Camelia Valente, who plays Luis Mario's wife early in the show, and her lover Patricio Rivera.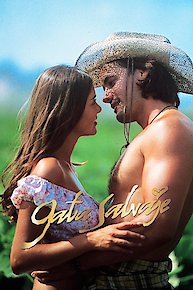 Gata Salvaje

Full Episode Guide
Episode

252

-

Capítulo 252

Larry le dice a Panchita que esta enamorado de ella.

Episode

251

-

Capítulo 251

Rosaura busca a Luis Mario.

Episode

250

-

Capítulo 250

Estrella le concede su perdón a Patricio.

Episode

249

-

Capítulo 249

Luisiana y Guillermo anuncian su noviazgo a los Arismendi.

Episode

248

-

Capítulo 248

Episode

247

-

Capítulo 247

Episode

246

-

Capítulo 246

Episode

245

-

Capítulo 245

Episode

244

-

Capítulo 244

Episode

243

-

Capítulo 243

Episode

242

-

Capítulo 242

Episode

241

-

Capítulo 241

Episode

240

-

Capítulo 240

Episode

239

-

Capítulo 239

Episode

238

-

Capítulo 238

Episode

237

-

Capítulo 237

Episode

236

-

Capítulo 236

Episode

235

-

Capítulo 235

Episode

234

-

Capítulo 234

Episode

233

-

Capítulo 233

Episode

232

-

Capítulo 232

Episode

231

-

Capítulo 231

Episode

230

-

Capítulo 230

Episode

229

-

Capítulo 229

Episode

228

-

Capítulo 228

Episode

227

-

Capítulo 227

Episode

226

-

Capítulo 226

Episode

225

-

Capítulo 225

Episode

224

-

Capítulo 224

Episode

223

-

Capítulo 223

Episode

222

-

Capítulo 222

Episode

221

-

Capítulo 221

Episode

220

-

Capítulo 220

Episode

219

-

Capítulo 219

Episode

218

-

Capítulo 218

Episode

217

-

Capítulo 217

Episode

215

-

Capítulo 215

Episode

214

-

Capítulo 214

Episode

213

-

Capítulo 213

Episode

212

-

Capítulo 212

Episode

211

-

Capítulo 211

Episode

210

-

Capítulo 210

Episode

209

-

Capítulo 209

Episode

208

-

Capítulo 208

Episode

207

-

Capítulo 207

Episode

206

-

Capítulo 206

Episode

205

-

Capítulo 205

Episode

204

-

Capítulo 204

Episode

203

-

Capítulo 203

Episode

202

-

Capítulo 202

Episode

201

-

Capítulo 201

Episode

200

-

Capítulo 200

Episode

199

-

Capítulo 199

Episode

198

-

Capítulo 198

Episode

197

-

Capítulo 197

Episode

196

-

Capítulo 196

Episode

195

-

Capítulo 195

Episode

194

-

Capítulo 194

Episode

193

-

Capítulo 193

Episode

192

-

Capítulo 192

Episode

190

-

Capítulo 190

Episode

189

-

Capítulo 189

Episode

188

-

Capítulo 188

Episode

187

-

Capítulo 187

Episode

186

-

Capítulo 186

Episode

185

-

Capítulo 185

Episode

184

-

Capítulo 184

Episode

183

-

Capítulo 183

Episode

182

-

Capítulo 182

Episode

181

-

Capítulo 181

Episode

180

-

Capítulo 180

Episode

179

-

Capítulo 179

Episode

178

-

Capítulo 178

Episode

177

-

Capítulo 177

Episode

176

-

Capítulo 176

Episode

175

-

Capítulo 175

Episode

174

-

Capítulo 174

Episode

172

-

Capítulo 172

Episode

171

-

Capítulo 171

Episode

170

-

Capítulo 170

Episode

169

-

Capítulo 169

Episode

168

-

Capítulo 168

Episode

167

-

Capítulo 167

Episode

166

-

Capítulo 166

Episode

165

-

Capítulo 165

Episode

164

-

Capítulo 164

Episode

163

-

Capítulo 163

Episode

162

-

Capítulo 162

Episode

161

-

Capítulo 161

Episode

160

-

Capítulo 160

Episode

159

-

Capítulo 159

Episode

158

-

Capítulo 158

Episode

157

-

Capítulo 157

Episode

156

-

Capítulo 156

Episode

155

-

Capítulo 155

Episode

154

-

Capítulo 154

Episode

153

-

Capítulo 153

Episode

152

-

Capítulo 152

Episode

151

-

Capítulo 151

Episode

150

-

Capítulo 150

Episode

149

-

Capítulo 149

Episode

148

-

Capítulo 148

Episode

147

-

Capítulo 147

Episode

146

-

Capítulo 146

Episode

145

-

Capítulo 145

Episode

144

-

Capítulo 144

Episode

143

-

Capítulo 143

Episode

142

-

Capítulo 142

Episode

141

-

Capítulo 141

Episode

140

-

Capítulo 140

Episode

139

-

Capítulo 139

Episode

138

-

Capítulo 138

Episode

137

-

Capítulo 137

Episode

136

-

Capítulo 136

Episode

135

-

Capítulo 135

Episode

134

-

Capítulo 134

Episode

133

-

Capítulo 133

Episode

132

-

Capítulo 132

Episode

131

-

Capítulo 131

Episode

130

-

Capítulo 130

Episode

129

-

Capítulo 129

Episode

128

-

Capítulo 128

Episode

127

-

Capítulo 127

Episode

126

-

Capítulo 126

Episode

125

-

Capítulo 125

Episode

124

-

Capítulo 124

Episode

123

-

Capítulo 123

Episode

122

-

Capítulo 122

Episode

121

-

Capítulo 121

Episode

120

-

Capítulo 120

Episode

119

-

Capítulo 119

Episode

118

-

Capítulo 118

Episode

117

-

Capítulo 117

Episode

116

-

Capítulo 116

Episode

115

-

Capítulo 115

Episode

114

-

Capítulo 114

Episode

113

-

Capítulo 113

Episode

112

-

Capítulo 112

Episode

111

-

Capítulo 111

Episode

110

-

Capítulo 110

Episode

109

-

Capítulo 109

Episode

108

-

Capítulo 108

Episode

107

-

Capítulo 107

Episode

106

-

Capítulo 106

Episode

105

-

Capítulo 105

Episode

104

-

Capítulo 104

Episode

103

-

Capítulo 103

Episode

102

-

Capítulo 102

Episode

101

-

Capítulo 101

Episode

100

-

Capítulo 100