Watch Liv and Maddie
Liv and Maddie is typical Disney Channel fare, geared toward a preteen audience. The show focuses on Liv and Maddie Rooney, 15-year-old identical twins with very different personalities. Liv is the well-known star of a popular television show that has just finished its final episode, while Maddie is a blossoming basketball phenom dealing with her recent popularity.
Coming back to a normal home life after being a television star is difficult for Liv Rooney. Coping with her sister's return is difficult for Maddie Rooney. Going to the high school where both of their parents work is difficult for both of them.
Liv and Maddie follows the lives of the girls as they wade through normal teenage life, boys, meddling younger brothers, and their own clashing personalities.
Watch Full Episodes of Liv and Maddie

Season 106 Episode 2
Secret-Admirerer-A-R... (23:00)
Season 101 Episode 10
Fa-La-La A Rooney (23:00)
Season 101 Episode 1
Twin-A-Rooney
Season 6 Episode 9
Falcon-A-Rooney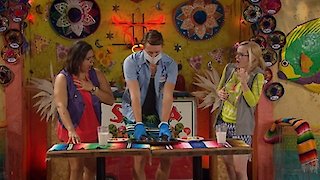 Season 6 Episode 8
Roll Model-a-Rooney (23:00)
Season 6 Episode 7
Standup-a-Rooney (23:00)

Watch Episodes
Clips & Extras
Liv and Maddie

Full Episode Guide
Season
106
1 full episode
Episode

2

-

Secret-Admirerer-A-Rooney

Josh makes up a reason to spend time with Maddie. Meanwhile, Joey and Parker believe the Voltage set is haunted!
Season
101
2 full episodes
Episode

10

-

Fa-La-La A Rooney

Liv is asked to sing a duet at the town's tree lighting with an aspiring young 9-year-old star.

Episode

1

-

Twin-A-Rooney

Twin sisters Liv and Maddie reunite when Liv returns home after starring in a hit television show.
Season
6
9 full episodes, 3 clips available
Season
5
20 full episodes, 1 clip available
Season
4
12 full episodes
Season
3
12 full episodes
Season
2
10 full episodes
Season
1
11 full episodes, 17 clips available
If You Like Liv and Maddie, Then Try...
Most Popular Liv and Maddie Episodes
Season 1 Episode 7

Dodge-A-Rooney

11/03/2013

Season 6 Episode 3

Scare-A-Rooney

10/14/2016

Season 6 Episode 8

Roll Model-a-Rooney

1/13/2017

Season 5 Episode 9

Joy To-a-Rooney

12/06/2015

Season 106 Episode 2

Secret-Admirerer-A-Rooney

2/21/2016
Liv and Maddie Video Clips & Extras
Power of Two Music Video | Liv and Maddie | Disney Channel
Clip (01:35)
Second Chance Music Video | Liv and Maddie | Disney Channel
Clip (02:11)
Cali Style Theme Song | Liv and Maddie | Disney Channel
Clip (00:51)
New Season! | Liv and Maddie: Cali Style | Disney Channel
Clip (01:00)
Liv and Maddie | Strum Sessions | Disney Channel
Clip (01:10)
Parker Rooney | Liv and Maddie | Disney Channel
Clip (00:30)
Voltage | Liv and Maddie | Disney Channel
Clip (10:13)
Season Finale | Liv and Maddie | Disney Channel
Clip (00:31)