Watch Make It or Break It
The television network ABC Family introduced viewers to the series Make It or Break It during the summer of 2009. The concept came from the movie Stick It, which featured a girl's gymnastics team. Holly Sorensen created the series along with John Ziffren and Paul Stupin. The show revolves around the Rocky Mountain Gymnastics Training Center, which is also nicknamed the Rock. Three of the center's elite gymnasts are training with the hope of making the 2012 Olympic team. The girls include Payson Keeler, portrayed by Ayla Kell, Lauren Tanner, played by actress Cassie Scerbo, and Kaylie Cruz, who is depicted by actress Josie Loren.
The three teenagers have been training together since they were children and have developed a close friendship. Emily Kmetko, portrayed by actress Chelsea Hobbs, begins training at the Rock when the gym's head coach, Marty Walsh, discovers her talent after Emily's mother convinces him to scout her skill at the YMCA. Emily's appearance at the gym creates jealously among the Rock's elite gymnasts.
At the end of the season, the girls compete at the National Gymnastics Championships. Sadly, Payson becomes injured during her routine on the uneven bars and her continuation in the sport is unknown.
Payson attempts to resume her life without gymnastics, but struggles. Fortunately, a doctor looks into her injury and performs a surgery to repair her damaged body. The medical treatment is a success, but the time away from the gym has caused her body to change.
During season two, Payson must change the way she competes and Emily loses her scholarship, which causes her family financial hardship. Emily's brother has a medical condition, and when the family is unable to pay for his prescription, he begins having seizures. Emily steals the medication for her brother and is arrested by the police. At this time, Kaylie develops an eating disorder and collapses after her beam routine during a competition.
Emily must leave the gym as she discovers that she is pregnant and Kaylie enters rehab to treat her eating disorder. The season ends with the girls winning the team gold at the Worlds competition.
In season three, Kaylie, Lauren and Payson, arrive to the Olympic Training Center to begin training for the London Olympics. While at the facility, they become friends with former rivals as they train harder than they ever have before to perfect their skills. The series ends on a high note with the three gymnasts from the Rock making the Olympic team.
Watch Full Episodes of Make It or Break It

Season 3 Episode 8
United Stakes (44:29)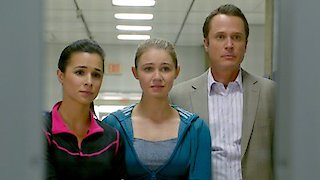 Season 3 Episode 7
Truth Be Told (43:36)
Season 3 Episode 6
Listen to the Univer... (43:42)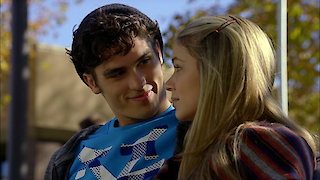 Season 3 Episode 5
Dream On (43:37)
Season 3 Episode 4
Growing Pains (43:44)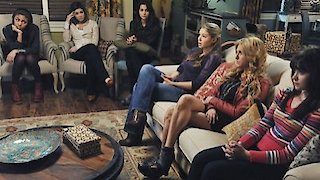 Season 3 Episode 3
Time is of the Essen... (43:33)

Make It or Break It

Full Episode Guide
Episode

8

-

United Stakes

In the series finale, Payson makes a bold decision that could threaten her spot on the team. Meanwhile, Kaylie's shocked by her drug-screening results; and Jordan refuses help from Kaylie.

Episode

7

-

Truth Be Told

Lauren undergoes an experimental procedure which will determine her future as a possible Olympic gymnast. Elsewhere, Jordan's world is rocked by the arrival of an unexpected visitor.

Episode

6

-

Listen to the Universe

Lauren is devastated to learn that her heart condition will require surgery. She wonders how this will affect her chances of making the Olympic team.

The girls compete in the semi-qualifications. Meanwhile, Kelly's mother tries to take down Kaylie; Payson defends Lauren's health issues; and a new curfew puts Payson's budding romance to a stop.

Episode

4

-

Growing Pains

The girls are visited by their families, and Payson's dad delivers bad news while Kaylie tries to keep her parents' fighting at bay by inviting Austin for dinner. Elsewhere, Lauren is advised to consult a doctor about her condition.

Episode

3

-

Time is of the Essence

Mac uses the same style of coaching for women's gymnastics as he used in men's gymnastics, and the results are unsuccessful. Meanwhile, Payson can't escape the lingering ramifications of her kiss with Sasha.

The girls get roommates assigned by the coaches. Payson and Lauren don't get along which makes Kaylie have to face the fact that she doesn't trust Kelly. Austin tries to have Kaylie look at her future after the Olympics.

Episode

1

-

Smells Like Winner

In the third season premier, the girls begin their tenure at the USA Training Center. As they adjust to new surroundings, Payson must deal with disappointing news, Kaylie tries to make time for her boyfriend and Lauren fears her custom-made perfume is making her ill.
Season
2
20 full episodes
Episode

20

-

Worlds Apart

On the night before the World Finals, someone is betrayed and Sasha is suspended indefinitely.

Episode

19

-

What Lies Beneath

The Rock girls compete for the prestigious World's title.

Lauren is irate with Steve for funding Emily's scholarship; Austin becomes concerned when Kaylie nearly faints; and Payson spends more time with Sasha.

Episode

17

-

To Thine Own Self Be True

Episode

16

-

Requiem for a Dream

Lauren witnesses Chloe leaving the Tanner house after spending the night with Steve and reports that Chloe is a poor example for them.

Episode

15

-

Hungary Heart

On their way to Hungary, the girls get a connecting flight to Romania to convince Sasha to come back to The Rock. Meanwhile, Kaylie finally begins the long road to recovery from her anorexia.

Episode

14

-

Life Or Death

The Rock girls prepare to compete against the Pinewood Club, the worst-ranked gym club in the country, and are concerned that the Pinewood Club won't give them enough competition for their international meet in Hungary. Meanwhile, Damon and Kaylie bond.

Episode

13

-

The Buddy System

Co-captains, Lauren and Payson, are at each other's throats. Steve discovers the altered video of Payson and Sasha's kiss and confronts Lauren about it. Emily finds out Chloe's new job is at a strip club.

Everyone questions the Rock's new coach's ability to lead them. While Lauren jumps at the opportunity to get off on the right foot with a new coach that doesn't know about her past.

Episode

11

-

The New Normal

Kaylie enters rehab for her eating disorder and meets Maeve, a model who has been in and out of rehab before. Sasha decides to leave The Rock and move back to Romania. Emily is on house arrest and is required to wear an ankle monitor.

Episode

10

-

At the Edge of the Worlds

Payson admits to her father that everything changed after the surgery except Sasha.

Lauren's mother returns to Boulder to forge a relationship; Damon takes Emily on a date.

Chloe gives Lauren an ultimatum; Emily wants to desperately help her brother.

Episode

7

-

What Are You Made Of?

Someone has a life or death secret that will be exposed.

Episode

6

-

Party Gone Out of Bounds

Austin throws a party at his lake house and invites the girls, but things get out of hand quickly that threaten their future at The Rock.

Episode

5

-

I Won't Dance, Don't Ask Me

The girls work on their new floor routines.

Episode

4

-

And the Rocky Goes To

Episode

3

-

Battle of the Flexes

When the men's Olympic champion, Austin Tucker, begins temporarily training at The Rock, egos clash when he tries to move the girls' equipment. To settle the matter between the male and female athletes, Sasha decides the two must compete for gym space, but there's a catch. Will they be able to beat the boys and have the gym they made famous remain theirs?

Episode

2

-

All or Nothing

After being allowed back on the U.S. National Team, the girls head to France where everything is left on the mat in order to get one step closer to achieving their dream. With cockiness, jealousy, sabotage and self-doubt at an all-time high, as well as Ellen Beals constantly looming over the girls, the pressure is almost too much to bear. For Kaylie and Lauren, the bickering continues, while Emily pines for Damon and Payson puts her Olympic future on the line. Will Emily be able to have it all - gymnastics and the boy she loves? And will Payson be able to defy the odds and qualify for the National Team?

Episode

1

-

Friends Close, Enemies Closer
Season
1
20 full episodes
If You Like Make It or Break It, Then Try...
Most Popular Make It or Break It Episodes
Season 3 Episode 8

United Stakes

5/14/2012

Season 3 Episode 3

Time is of the Essence

4/09/2012

Season 2 Episode 17

To Thine Own Self Be True

5/09/2011

Season 3 Episode 1

Smells Like Winner

3/26/2012

Season 1 Episode 13

California Girls

1/18/2010
Make It or Break It News
Just In Time For The 2012 Olympics, 'Make It Or Break It' To End
As with many an Olympic gymnast, ABC Family's "Make It Or Break It" is ending its career at a young age. The upcoming third season will be the show tracking Olympics gymnastics hopefuls' roads to the games will end the series, the network announced today. In the meantime, ABC Family is developing several new "unscripted" series that could take its place.