Watch P.D. James: A Taste for Death
Comm. Dalgliesh just got Scotland Yard's Sensitive Crime Squad up and running when he's chosen to investigate the mysterious and deadly world behind Government Minister Sir Paul Berowne's seemingly respectable facade.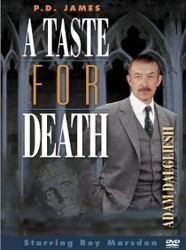 P.D. James: A Taste for Death

Full Episode Guide
A curious button that shows up in the church offering box could be the clue that Commander Dalgliesh has been looking for.

After talking with a woman who saw Sir Paul Berowne on the day he died, Commander Dalgliesh suspects Berowne's brother in law is the killer.

While continuing his investigation of Sir Paul Berowne's mysterious death, Commander Dalgliesh discovers his friend had a mistress.

As Commander Dalgliesh digs deeper into Sir Paul Berowne's death, he unearths a complicated web of suspects with sketchy motives.
If You Like P.D. James: A Taste for Death, Then Try...