Watch Piers Morgan Tonight
Piers Morgan Tonight is one of the premier sources of news and discussion on television. The talk show is hosted on CNN and ran between 2011 and 2014, drawing in expansive audiences for its time. Piers Morgan starred as the host and brought on guests in to the discussion format.
Part of the appeal of the show is that Piers Morgan Tonight will be rather unpredictable and surprising. This show has drawn in support from many different corners, adding to its overall appeal. The show originally debuted at 9 pm EST on CNN. This put it alongside many other popular prime time entries to this format as well.
Piers Morgan is British and was able to cultivate a distinctive air for his television series. Though it was canceled during the course of 2014, the show did have a sizable fan base. He was able to bring on board several prominent stars along the way. This included Glen Beck, Gloria Allred and Rudy Giuliani.
Weekdays 9:00 PM et/pt on CNN

3 Seasons,

34

Episodes - New Series

January 17, 2011

10

/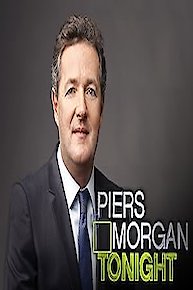 Piers Morgan Tonight

Full Episode Guide
Episode

63

-

March 28, 2014

Episode

0

-

And The Winner Is... A Piers Morgan L...

Celebrity interviews and moments from the Oscars from inside Hollywood's Roosevelt Hotel.
Episode

66

-

April 27, 2012

Episode

65

-

April 26, 2012

Episode

64

-

April 25, 2012

Episode

63

-

April 24, 2012

Episode

62

-

April 23, 2012

Episode

10

-

January 13, 2012

Episode

9

-

January 12, 2012

Episode

8

-

January 11, 2012

Episode

7

-

January 10, 2012

Episode

6

-

January 9, 2012

Episode

5

-

January 6, 2012

Episode

4

-

January 5, 2012

Episode

3

-

January 4, 2012

Episode

2

-

January 3, 2012

Episode

1

-

January 2, 2012
If You Like Piers Morgan Tonight, Then Try...
Piers Morgan Tonight News
Piers Morgan Confirms - He Has Left CNN
Despite attempts to keep him on the network after his show was canceled in February, Piers Morgan has announced that he is leaving CNN for "pastures new."
Ann Coulter Defends Her Slur
Coulter refuses to apologize for calling President Obama the "r" word despite the Special Olympics asking for her to discontinue its use.
Christine O'Donnell Walks Out of Piers Morgan Interview (Video)
Piers Morgan claims he's never had an interviewee walk out on him...until today. Former Delaware Tea Party candidate Christine O'Donnell walked out on her interview with Morgan on his show, "Piers Morgan Tonight," after the questions took a turn. O'Donnell thought that Morgan was being "a little bit rude" in asking her about issues that came up during her campaign, such as witchcraft and her views on sex.
George Clooney Disses Girlfriend Elisabetta Canalis on 'Piers Morgan Tonight'
George Clooney might have a little bit of apologizing to do after his little stint with Piers Morgan on Friday night. George went on his new talk show, discussed some projects that he was doing and then it turned personal. Piers asked George about marrying in the future and George said no way. Actually, he said this via Popeater: "'I hate to blow your whole news story, but I was married,' George told 'Piers Morgan Tonight' on Friday.