Watch The Bachelor
Since its debut in 2002, The Bachelor has captivated audiences across the country by intertwining the romantic escapades of several young women vying for the attention of one elusive bachelor. The premise of the show is quite simple: a sexy new bachelor is chosen each year, along with a pool of single women. In most seasons, there have been 25 women in the running, though occasionally more have been added to this pool. As the bachelor gets to know the women, he chooses who he would like to keep around by presenting each of those women with a red rose at a rose ceremony. Those who do not receive a rose must leave the show.
In order to get to know the women better, the bachelor goes on a series of dates with his different prospects. Initially, many of these are group dates, making it difficult for the women to make an impression. As more women are sent home and the number of prospective mates dwindles, more intimate dates are set up for each of the women and the bachelor. Audiences have watched these tales unfold again and again for more than ten years, riveted by the romantic plot lines and drama that often erupts amongst the ladies.
The show cumilates in the final selection of the woman the bachelor has chosen. The bachelor narrows down his options to two different women, generally heading with them to their hometown to meet their families and see where they grew up. After this segment of the show is complete, the bachelor reveals who he wants to date. In many seasons, the bachelor has even proposed. Although many of these couples have not lasted, some have gone on to marry and enjoy a happy life together.
The success of The Bachelor has led to several spin off series, including The Bachelorette, where the roles are reversed. Both shows have maintained followings with millions of men and women, all of whom are eager to weigh in on the action. The Bachelor concept has also been adapted for an international audience, with several different variations of The Bachelor in production across the globe.
Watch Full Episodes of The Bachelor

Season 21 Episode 4
Week 4 (01:24:40)
Season 21 Episode 3
Week 3 (01:24:39)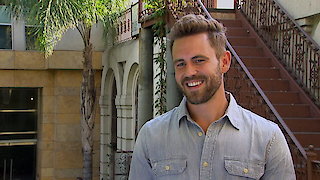 Season 21 Episode 2
Week 2 (01:24:03)
Season 21 Episode 1
Week 1 (01:24:50)
Season 21 Episode 0
Countdown to Nick
Season 20 Episode 12
After the Final Rose (39:00)

Watch Episodes
News
Clips & Extras
The Bachelor

Full Episode Guide
Season
21
5 full episodes, 29 clips available
The Backstreet Boys bring a group date card; Nick takes one lucky gal on an out-of-this-world trip on a Zero G plane; seven bachelorettes take part in a "Nickathalon"; a surprise pool bash takes an ugly turn.

One hopeful bachelorette conceals her secret history with Nick; 12 gals go to a wedding photo shoot with Nick; Nick whips away one lucky lady to a private yacht; Nick meets six women at Hollywood's Museum of Broken Relationships where each girl does a mimic breakup with Nick; Nick does something surprising that no one could have foreseen.

Season 21 opens with bachelor Nick Viall being introduced to 30 beautiful bachelorettes, each vying for his attention and the coveted first-impression rose. By the end of the first rose ceremony, only 22 women will remain.

Episode

0

-

Countdown to Nick

A close look at the newest bachelor, Nick Viall; bachelorette profiles; unforgettable arrival moments from the show's past.
Season
20
12 full episodes, 222 clips available
Episode

100

-

A Celebration of Love

On this special edition of The Bachelor, celebrate the highlights of the past 20 seasons and catch up with fan-favorites. Plus, Chris Harrison officiates Jade and Tanner's wedding.

Episode

12

-

After the Final Rose

Ben Higgins reviews the season in an interview with Chris Harrison. Also: The final two ladies talk about the outcome of the show; and the next Bachelorette is announced.

Ben struggles to decide between the final two ladies after introducing each of them to his parents and going on last dates with each woman. Confused and conflicted on the last day, Ben makes an unexpected phone call that could alter everything.

Episode

10

-

The Women Tell All

Ben Higgins comes up against 17 of the ladies he sent home as they talk about the season. In addition, a preview of the emotional last days of Ben's quest after revealing to two woman he is in love with them.

Ben and the six remaining ladies visit his hometown of Warsaw, Ind., where one lucky bachelorette is given a private tour by Ben. Later, Ben takes a date to Chicago's Wrigley Field. A group date for three women at a romantic farm ends in tears when only one of them gets a rose. One lady gets her first one-on-one date and a special surprise.

Ben takes the ladies to the Bahamas. He goes deep sea fishing with one bacelorette and then out for dinner with her, but she reveals something perplexing that hinders their relationship. Later, it's a group date on an island with pigs; and two rivals go on a two on one date with Ben on a secluded island.

Ben and the women head to Mexico City, where one lucky girl gets to accompany him on a hot air balloon ride over age-old pyramids. Also, nine ladies participate in a culinary contest. At the rose ceremony, the ladies discuss Olivia's behavior with Ben.

Ben and JoJo see Las Vegas in a helicopter; 12 bachelorettes perform an opening act for Terry Fator; Bacca receives a date card with a wedding dress; twins Haley and Emily go out with Ben; Olivia persists in annoying the other ladies.

Ben and Lauren B. take a bi-plane over the mansion, enjoy a dinner together and listen to a live concert of Lucy Angel. Also, 12 girls participate in a soccer competition coached by Alex Morgan and Kelley O'Hara; Jubilee has a rendezvous with Ben at a spa; and Ben hears of some sad news from home.

Ben makes 10 women fight for the title of homecoming queen. Also, Ice Cube and Kevin Hart appear on a date; Amos Lee, the signer, performs for Ben and one of the bachelorettes; and six of the women go to L.A.'s "Love Lab" to find out who will match best with Ben.

This all new season starts with 26-year-old Ben Higgins being introduced to 28 lovely single women fighting for his affection and for a first impression rose.
Season
19
13 full episodes
Season
18
17 full episodes
Season
17
13 full episodes
Season
16
12 full episodes
Season
15
12 full episodes
Season
14
11 full episodes
Season
13
11 full episodes
If You Like The Bachelor, Then Try...
Most Popular The Bachelor Episodes
Season 21 Episode 3

Week 3

1/16/2017

Season 21 Episode 2

Week 2

1/09/2017

Season 21 Episode 1

Week 1

1/02/2017

Season 20 Episode 1

Week 1

1/04/2016

Season 13 Episode 1

Week 1

1/05/2009
The Bachelor News
'Bachelor' Chris Soules and Whitney Bischoff Have Broken Up
The couple didn't live happily ever after in Iowa after all.
'Bachelor' Juan Pablo and Nikki Ferrell to Star in VH1's 'Couple's Therapy'
And here you were thinking that it would never work out between them. Juan Pablo, famous for his recent run on "The Bachelor" and for making pretty much everyone who watched said run of "The Bachelor" hate him, is headed to a new reality show. No, it's not to find a new soulmate; it's to fix the one he's got. Nikki Ferrell, who "won" the most recent season of "The Bachelor" will go on VH1's "Couple's Therapy" with Juan Pablo in an attempt to strengthen their relationship/collect one last paycheck before they both fad
ABC Officially Names Sean Lowe Next 'Bachelor'
Not coming out a winner on ABC's "The Bachelor" or "The Bachelorette" is hardly a total defeat. Often, it's not unlike being an "American Idol" contestant: in many instances, it opens doors just being an also-ran. Ask Sean Lowe, who became 2013's "Bachelor" after not even reaching 2012's "Bachelorette" finale.
View More News

The Bachelor Video Clips & Extras
Meet the Family
Clip (01:23)
The Bachelor Sneak Peek: Week 3
Clip (00:45)