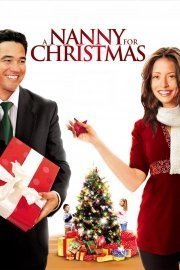 Watch A Nanny for Christmas
"Sometimes great gifts come in unexpected packages"
TV-PG
2010
1 hr 30 min
Ally (Emmanuelle Vaugier of TV's TWO AND A HALF MEN, TV's CSI: NY) is a smart young career woman who needs a new job. Samantha (Cynthia Gibb of FAME, GYPSY) is a busy Beverly Hills advertising executive/mom whose too-well-mannered kids need some fun in their lives. And Danny Donner (Dean Cain of TV's LOIS & CLARK) is the tough-guy owner of a chocolate company who wants a major ad campaign immediately. Could these three lives intertwining lead to the Christmas that changes everyone's worlds forever? Richard Ruccolo (TV's RITA ROCKS), Sierra McCormick (RAMONA AND BEEZUS), Jared Gilmore (TV's MAD MEN), and Sarah Thompson (TV's 7TH HEAVEN, TV's ANGEL) co-star in this surprising comedy about little white lies, big holiday wishes, and a woman who may just find love in the most unexpected places by becoming A Nanny For Christmas.