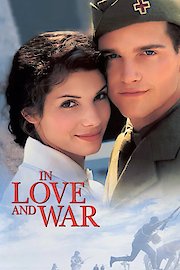 Watch In Love and War
"In war they found each other...In each other they found love..."
PG-13
1996
1 hr 53 min
In Love and War is an epic World War I historical romance film based on the book Hemingway in Love and War written by the man who served alongside Hemingway in the war, Henry S. Villard (Mackenzie Astin). Starring Chris O'Donnell as 18 year old Ernest Hemingway, the movie tells the story of Hemingway and Villard's experiences during the war as volunteer ambulance drivers. As a young soldier in Italy, Hemingway is injured after a bomb goes off on the front line. With a leg full of shrapnel that doctors want to amputate, he is sent to a military hospital in Germany where he shares a room with Villard. The two are cared for by Austrian nurse Agnes von Kurowsky, played by Sandra Bullock. Nurse von Kurowsky with whom Hemingway falls in love would later inspire the romantic heroin in four of Hemingway's own stories, including the classic novel A Farwell to Arms. In Love and War is directed and produced by Richard Attenborough and was entered into the Berlin International Film Festival in 1997.