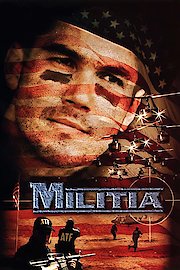 Watch Militia
R
2000
1 hr 28 min
Militia is a fast-paced thriller movie that was released in the year 2000. The movie stars Dean Cain, Jennifer Beals, and Frederic Forrest in the lead roles. It is directed by Jim Wynorski and written by Steve Latshaw. The film takes place in the United States of America at a time when society is rapidly deteriorating, and the government is having trouble keeping social order.
At the beginning of the movie, a group of radical anarchists kidnaps a prominent Washington politician. They demand that all political prisoners be released in exchange for his release. Following their demands, the FBI's Hostage Rescue Team is deployed to rescue the politician. However, the mission fails, and the kidnappers kill the hostage.
The government responds to this situation by forming a new division of law enforcement officers called the Militia. The main character, Dean Cain, plays Colonel Gunder. He is tasked with running the new division and training its recruits. Jennifer Beals is cast as Julie Sanders, a reporter who becomes intimately involved with the events of the story.
The story follows the Militia as they pursue the anarchist group responsible for the kidnapping. The group, known as the Citizens' Army, is highly organized and has significant support from various underground factions.
Over the course of the movie, the citizens of the United States become increasingly agitated, and riots break out across the country. The Militia faces increasing pressure to catch the kidnappers while dealing with their rising popularity.
As the story progresses, it becomes evident that there is a deeper conspiracy at play. The public is not getting the whole story from the government, and there is evidence of corruption within the forces of law and order.
The tone of the movie is dark and gritty. It is a reflection of the times it was made in, where society felt on the brink of collapse. The movie has a sense of urgency and tension that keeps the audience at the edge of their seat.
The acting is top-notch, with Dean Cain and Jennifer Beals delivering excellent performances. The supporting cast is also strong, with Frederic Forrest shining in his role as the governor of the state.
The movie is well-directed, with Jim Wynorski skillfully holding together the various plot threads. The action scenes are well choreographed, and the pacing is well balanced between the action and the plot developments.
Overall, Militia is an engaging thriller that showcases the talents of its cast and crew. It is a movie that is as relevant today as it was 20 years ago. It is a must-watch for all fans of the genre.
Militia is a 2000 action movie with a runtime of 1 hour and 28 minutes. It has received mostly poor reviews from critics and viewers, who have given it an IMDb score of 3.5.