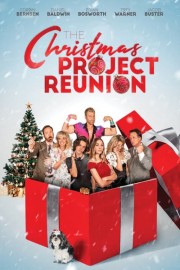 Watch The Christmas Project Reunion
2020
1 hr 28 min
The Christmas Project Reunion is a heartwarming family movie that was released in 2020. It is a sequel to The Christmas Project, which was released in 2016. The movie stars Corbin Bernsen, Daniel Baldwin, Brian Bosworth, and several other talented actors. The plot of the movie revolves around the Buckley family, who have gathered together for a Christmas reunion. The Buckley siblings are all grown up now and have families of their own. They have not seen each other in a long time, and they are excited to spend Christmas together.
However, things do not go according to plan. The family members are all dealing with their own problems and struggles. The siblings are fighting with each other, and the children are not getting along. The parents are trying their best to keep the family together, but it seems like they are fighting a losing battle.
In an effort to bring the family together, the parents come up with a plan. They decide to recreate an old family Christmas tradition that they used to do when the children were young. The tradition involves creating a scavenger hunt that leads the family members to various locations around town.
Each location is tied to a specific memory from the family's past. As they follow the clues and visit each location, the family members start to remember all of the good times that they had together. They reminisce about the past and reflect on how much they have grown and changed.
Along the way, the family members also discover new things about each other. They realize that they may have been judging each other unfairly and that they need to be more understanding and supportive of one another.
The Christmas Project Reunion is a heartwarming movie that will leave you feeling uplifted and inspired. It is a reminder of the importance of family, especially during the holiday season. It shows that even when things are tough, there is always a way to come together and support each other.
The movie also features some great performances from the talented cast. Corbin Bernsen, Daniel Baldwin, and Brian Bosworth all give standout performances, but the rest of the cast is equally impressive. They all bring their characters to life and make you feel invested in their stories.
Overall, The Christmas Project Reunion is a must-watch movie for anyone who loves family dramas and heartwarming holiday movies. It is a movie that will make you laugh, cry, and feel all warm and fuzzy inside. So grab some popcorn, snuggle up with your loved ones, and enjoy this beautiful movie together.
The Christmas Project Reunion is a 2020 comedy with a runtime of 1 hour and 28 minutes. It has received mostly poor reviews from critics and viewers, who have given it an IMDb score of 4.7.