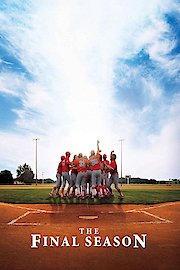 Watch The Final Season
"How Do You Want To Be Remembered?"
PG
2007
1 hr 54 min
43
The film entitled The Final Season is about the life and adventures of Kent Stock. The film starts in the early 1990's when Kent accepts to work as the head coach of the baseball team at the Norway High School. The school is well known by other institutions for its baseball team as well as the talented players. The team has won a total of nineteen State titles in the baseball competitions and this makes the administration very proud and passionate about the management of the team. As the new head coach for such a team, Kent faces the challenge to maintain the reputation or even take higher. He needs to make the players like and believe in him just like they loved and trusted their former coach. He also needs to convince them that he is capable to take care of the team. His main challenge is to successfully take the team through this final season before they merge with another school. The day of the finals finally comes during the summer of 1991. The team participates in this final season and the whole baseball tradition ends in a somber note as Norway school merges with Madison School. The characters in the film included popular and talented actors and actresses who are well known in the film industry for their roles in other popular films. They include Sean Astin starring as Kent Stock, Rachael Leigh starring as Polly, Tom Arnold starring as Burt, Powers Boothe starring as Jim Van, Brett Claywell starring as Patrick, Michael Angarano starring as Mitch, and Marshall Bell starring as Harvey and Danielle Savre starring as Cindy. The film was written by Art D'Alessandro and directed by David Mickey Evans. It was produced by Tony Wilson and Sports Action by ReelSpor. Music for the film was provided by Nathan Wang while Dan Stoloff took care of cinematography. The film was edited by Harry Kerimidas. Yari Film group was in charge of distributing the film.