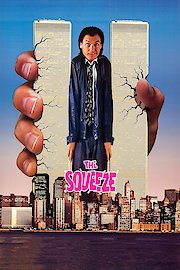 Watch The Squeeze
PG-13
1987
1 hr 41 min
The Squeeze is a thrilling action-packed movie from 1987, starring Michael Keaton, Rae Dawn Chong, and Ric Abernathy. The film follows the story of a notorious con artist named Harry Berg (Michael Keaton) who is a master of the "squeeze" -- a technique of scamming money from unsuspecting day traders. Harry is also a former golf pro who has lost all his money to gambling and, as a result, is now in debt to a group of dangerous loan sharks. Desperate to repay his debts, Harry decides to use his con artist skills to rip off a wealthy businessman named Alan Raimy (Ric Abernathy) who is heavily involved in the stock market.
Harry stumbles upon a way to cheat the stock market by exploiting a flaw in the computer system that controls the trading of stocks. With the help of his girlfriend Rachel (Rae Dawn Chong), Harry sets out to execute his scam, which involves manipulating the computer system to make it look like a certain stock is rising rapidly in price, causing others to buy it. Then when the price is at its highest, Harry sells the stock, pocketing the profits.
However, as Harry becomes deeper involved in his scheme, he realizes that things are not so easy, and the risk of being caught by the FBI or the loan sharks become increasingly significant. The tension builds as Harry and his girlfriend become increasingly entangled in a web of deceit and danger.
As they execute their scam, Harry and Rachel are pursued by both the loan sharks and the FBI, who have been tipped off about their activities. Harry must use all his skills as a con artist to stay one step ahead of the authorities and to keep himself and his girlfriend alive. The film climaxes in a thrilling confrontation between Harry and the loan sharks, which is a tense and exciting sequence that will keep you on the edge of your seat until the very end.
Overall, The Squeeze is a gripping thriller with a captivating storyline, excellent acting, and plenty of action-packed sequences. It's a classic '80s movie that is sure to hold your attention from beginning to end, and it's a must-watch for anyone who loves action and suspense. With its themes of greed, deception, and danger, it's also a prescient commentary on the excesses of Wall Street and the dangers of unchecked capitalism. Whether you're a fan of Michael Keaton, Rae Dawn Chong, or just great action movies, The Squeeze is a must-see film that you won't soon forget.
The Squeeze is a 1987 crime movie with a runtime of 1 hour and 41 minutes. It has received mostly poor reviews from critics and viewers, who have given it an IMDb score of 4.7.