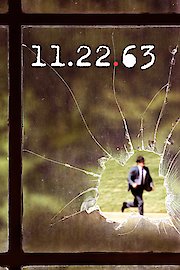 Watch 11.22.63
TV-MA
2016
1 Season
11.22.63 is a Hulu Original time-travel series which premiered on February 15, 2016. The show is adapted from Stephen King's 2011 novel of the same name, and is a thrilling sci-fi drama set in the late 1950s and early 1960s. The series is helmed by executive producer J.J. Abrams and stars James Franco, Sarah Gadon, and George Mackay in lead roles.
The show begins with Jake Epping (James Franco), a high school English teacher from Lisbon Falls, Maine, who is struggling with the aftermath of his divorce and the recent death of his father. One of Jake's closest friends, Al Templeton (Chris Cooper), introduces him to a time portal located at his local diner which leads directly to September 9, 1958. On the other end of the portal, Al has spent several years living in the past to try and prevent the assassination of President John F. Kennedy on November 22, 1963.
Al fails in his mission and returns to the present, dying soon after from cancer. He convinces Jake to take up his mission to prevent JFK's assassination by going back in time and changing events in the past. Having nothing to lose, Jake accepts the challenge and ventures back to 1958 Maine to embark on one of the most nerve-wracking and complicated missions in history.
Jake begins to adapt to small-town life in Jodie and sets up a cover identity as a high school English teacher. He meets several interesting people, including new love interest Sadie Dunhill (Sarah Gadon), a librarian who becomes the perfect partner to Jake for his mission. Jake also befriends Bill Turcotte (George Mackay), a mentally challenged young man who becomes his close confidant and partner in crime.
As Jake spends time in the past, he tries to prevent the historic assassination of JFK by discovering the shooter's identity. The show cleverly shifts from a small-town drama to a high-stakes suspense with history-changing consequences. While Jake's mission begins with good intentions, he soon realizes that every good action has unintended consequences.
The show's writers have done a remarkable job of recreating the past with great accuracy. The art direction, set design, and costumes are all spot on, transporting the audience back in time to the late 1950s and early 1960s. The attention to detail is remarkable and adds a layer of authenticity to the show.
One of the series' best aspects is James Franco's performance, wherein he is both charming and complex as Jake Epping. Franco's performance is nuanced and layered, and he is able to capture Jake's emotions and motivations perfectly. Franco portrays the character as a tough, gritty, and determined guy, who does not back down from a challenge even in the face of dire consequences.
Sarah Gadon is also remarkable as the stern yet alluring Sadie Dunhill. Gadon's performance as the librarian who becomes Jake's love interest is both refreshing and authentic. Gadon brings a sense of authenticity and depth to her character, making the romantic subplot more engaging than it would have been otherwise. Both Franco and Gadon share fantastic chemistry and their relationship forms a major part of the show's narrative.
George Mackay is also exceptional as the trustworthy but spirited Bill Turcotte. Mackay's portrayal of the character is both endearing and tragic, and he manages to create a bond with Jake and the audience alike. The supporting cast, including the likes of Lucy Fry, Leon Rippy, and T.R. Knight, are all fantastic and add depth to the show's narrative.
Overall, 11.22.63 is a gripping and exciting show. It expertly combines the time-travel and suspense genres to create a truly unique television experience. The show expertly uses history to explore themes such as love, loss, and identity. It is a compelling and thought-provoking series that will keep you engaged throughout its eight-episode run.
11.22.63 is a series that is currently running and has 1 seasons (9 episodes). The series first aired on February 15, 2016.