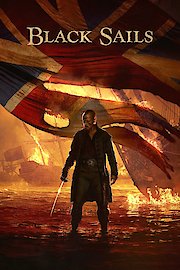 Watch Black Sails
TV-MA
2014
4 Seasons
Black Sails is a thrilling adventure drama that aired on Starz from 2014 to 2017. The series, which takes place in the 1700s, is set around the golden age of piracy, and tells the story of Captain Flint and his crew as they seek to secure their place in Nassau, the ultimate pirate's haven.
The show stars Toby Stephens as the enigmatic Captain Flint. A former Royal Navy officer with a dark and complicated past, Flint is a pirate through and through: brutal, cunning, and charismatic. He sees himself as a revolutionary, fighting against the corrupt forces of the British Empire that have cast him aside. Together with his loyal crew, he aims to build a new society in Nassau, one where pirates rule the waves.
Hannah New plays Eleanor Guthrie, the daughter of the wealthiest man in Nassau. Smart and ambitious, Eleanor is one of the few well-educated people on the island. She is also a savvy entrepreneur who runs a smuggling operation that connects Nassau with the outside world. Eleanor is a pivotal figure in the series, as she forms alliances with both pirates and British soldiers in order to protect her interests.
Other notable cast members include Luke Arnold as John Silver, a fast-talking and resourceful young man who becomes Flint's quartermaster; Jessica Parker Kennedy as Max, a prostitute who possesses a sharp mind and a talent for manipulation; Tom Hopper as Billy Bones, Flint's loyal first mate; and Zach McGowan as Charles Vane, a charismatic and dangerous pirate who clashes with Flint over the future of Nassau.
The show is known for its gripping action sequences, which include intense naval battles, sword fights, and gunplay. The show also features a fair amount of political intrigue, as the pirates and British forces maneuver for power and influence on the island.
One of the show's strengths is its richly drawn characters. Every member of the main cast is complex and layered, with their own motivations and desires. The relationships between the characters are also nuanced and interesting, with alliances and rivalries shifting constantly over the course of the series.
Another aspect of the show that stands out is its attention to historical detail. The costumes, sets, and props all reflect the time period, and the show does not shy away from depicting the brutality and harshness of life at sea. The show also weaves in real-life historical figures, such as Blackbeard and Anne Bonny, into its narrative.
Black Sails was generally well-received by critics during its run. The show was praised for its strong performances, thrilling action, and engrossing storylines. The show also garnered a dedicated fanbase, thanks in part to its engaging characters and immersive world-building.
Overall, Black Sails is a must-watch for anyone who loves adventure, action, and a good underdog story. The show is a thrilling ride from start to finish, with plenty of twists and turns along the way. With a talented cast and impressive production values, Black Sails is one of the best historical dramas of recent years.
Black Sails is a series that is currently running and has 4 seasons (39 episodes). The series first aired on January 25, 2014.