CINELAN 3 Minute Stories
The television series CINELAN 3 Minute Stories features several short documentary films that only last about three minutes. These short films are made by those looking to get into the industry. They start by showcasing this on the television show. Each show features different films.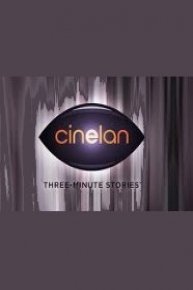 CINELAN 3 Minute Stories Full Episode Guide
Episode

54

-

Hidden from the Night

Hidden from the Night is a short documentary, which brings to life the colour, vivacity and diversity of a unique city on the south coast of England.

Episode

53

-

BED: A Place Called Home

Billie experiences joy and meaning even when her tumors make bed a place called home. Director Basil Shadid

Episode

52

-

DEMON the Biker Chihuahua

Demon the Biker Chihuahua is a well-mannered little dog that dresses up in leathers, a helmet, a bandana, and goggles and has logged over 20,000 miles on the motorcycle riding with his owners.

Episode

51

-

Liberty Randy

Directed by Ben Gonyo. Randy's job as a waver has him happily dancing at busy intersections. He spreads sunshine one wave at a time.

Episode

50

-

Super Fertile Derby Girl

Directed by Michael Patrei. See the other side of the fertility equation, as an unassuming roller derby girl becomes an egg donor for couples experiencing fertility issues.

Episode

49

-

Letterpress Amy

Directed by Ben Gonyo. In an era of high speed everything, it's nice to find a young woman taking her time.

Directed by Ben Gonyo. Meet four birds of prey who've been given a second chance in life thanks to Jen and the Wild Wings rescue program.

Episode

47

-

Women of the Rock

Directed by Ashka Wierzicka. The first female mine workers share their stories of the underground.

Mary, an older lesbian artist that "creates art no matter what's going on," shares some of her most desperate times, and the art that was inspired by them. Directed by Nerina Penzhorn

Episode

45

-

Haunted Beardslee Castle

Beardslee Castle is a fine dining restaurant in New York State known for its chilling tales of ghostly visitors and unearthly spirits. Directed by Michael Patrei

Episode

44

-

Georgia, Cognac and Women

The Georgian wine is often compared to the company of beautiful women. Directed by Yury Khashchavatski

Episode

43

-

Saving the Fading

After a change in advertising law, the hand-painted publicity murals of France have been left to fade away and an Irish photographer has made it his quest to document these deteriorating pieces of history. Directed by Dominic Hilton

Episode

42

-

Belarus: On the Farm

Episode

41

-

Divorce Coach

A woman's divorce leads her into a crusading new career. Director Mark Steensland.

Episode

40

-

The Transition

The advent of computerized trading is forcing floor traders to make a sobering choice: adapt or get out. In The Transition, we meet Rob Proniewski, a trader faced with such a decision. Director James Allen Smith.

Episode

39

-

Out of Siberia

A bright teenager leaves behind her secure and isolated home in an enclosed nuclear city in Siberia and takes on the challenge of a new life in Moscow.

Episode

38

-

Return Ticket from Baghdad

Randy is an 18 year-old kid who decided to escape the bad streets of Oakland by joining the Marines. We catch up with him back in Oakland and attempting to pick up the pieces of his life. Directed by Chris Wiltsee.

"Grey Gardens" meets "The Cove"? Kooky British marine philanthropist, Melanie Salmon, makes sea conservation more glamorous with London Fashion Week, Sharon Stone, and Chris Eubank. "Save the dolphins!" Director Valerie Shields.

Episode

34

-

Heavy Load in New York

Michael, Simon and Jim are three adults with learning disabilities who, with their support workers Mick and Paul, make up an unlikely punk band, Heavy Load. Director Jerry Rothwell.

Episode

30

-

The R.O.M.E.O.s, Part 3

THE ROMEOS is a short documentary film about long relationships - good conversation amongst old friends. Director Katy Chevigny

Episode

29

-

The R.O.M.E.O.s, Part 2

THE ROMEOS is a short documentary film about long relationships - good conversation amongst old friends. Director Katy Chevigny

Episode

28

-

Animals in Showbiz

Explore the wacky world of showbiz pets and the colorful people helping them reach for the stars. Director Jeremy Redleaf.

Although overtly 'about sex,' the film is really about what individual freedom means. Director Marc Silver

In this extraordinary film about life, loss and longing, Oscar-winning Director Ross Kauffman, explores the memories of John, a young man who set off on a bicycle trip to India to find himself - and was never heard from again. Director Ross Kauffman

Episode

25

-

The Work's The Thing

Paul Housley paints everyday objects he buys from charity shops, creating small scale canvases which find lyricism in mundane, blank objects like disposable razors and light bulbs. Directors Abigail Norris and Jerry Rothwell

Episode

24

-

The View From Madison Street

African-Americans from this largely-forgotten stretch of inner-city Chicago speak out about race, class and how neither candidate is addressing the issues of poverty that plague their community. Director Steve James

Episode

23

-

The Deadliest Man Alive

A CINELAN three-minute story. Filmmaker Floyd Webb first met John Keehan, aka Count Dante, in 1964. Director Floyd Webb

At their exclusive country club in Pennsylvania, four life-long Republican women challenge each others political views over 18 holes of golf. Director Cameron Hickey

Episode

21

-

Sideshow Picasso

Brooklyn painter Marie Roberts comes from a family long entrenched in Coney Island's Sideshow. Director Marilyn Agrelo

Episode

20

-

Repelling the Viewer

This unusual painter takes iconic images from classic paintings of the European masters and twists and turns them into satires of contemporary life. Directors Abigail Norris and Jerry Rothwell

Episode

19

-

The R.O.M.E.O.s, Part 1

The ROMEOs are Retired Old Men Eating Out, an informal club of retired lawyers, writers and intellectuals who passionately argue the issues of war and race driving the 2008 election, in a classic New York diner. Director Katy Chevigny

Episode

18

-

Paradise Regained

He was the painter who brought paradise to the infamous Chicago housing projects gangs and crime until they were finally torn down. Director Steve James

Episode

17

-

Paints On Ceiling

A famous Philadelphia mosaic and mural artist, Isaiah Zagar's recalls his defining moment of artistic epiphany and reveals the mind of a fascinating and complex man. Director Jeremiah Zagar

Episode

16

-

Night People

Late night NYC radio personality Bob Fass and his program 'Radio Unnameable' revolutionized free form FM radio. Devoted listener/activist/taxi driver John McDonagh is working the night shift and listening. Directors Paul Lovelace and Jessica Wolfson.

A manicurist draws on memories of her rural childhood to transform her customers' nails into small scenes of a life. Director John McCullagh

Episode

14

-

My Girl Can Fight

Father and daughter in East Los Angeles discover they are fighting for each other inside and outside the ring. Director Justin Frimmer

Episode

13

-

Moscow Cat Theatre

Creative Director Vladimir and daughter Maria combine their love of cats and stage to create a captivating act giving new meaning to the expression ?herding cats.' Director Marilyn Agrelo

Episode

12

-

Lunar Healing

Modern technology experiments with moonlight and its alleged healing power in the Sonoran desert. Director Kelly Loudenberg

Episode

11

-

Love in The Streets

Roy and Morag explode the myth of our collective imagination, that homelessness is shaped by the idea of someone who is single and lonely. Directors Ann-Eve Fillenbaum and Jerry Rothwell

Episode

10

-

Kitchen Diplomacy

An Iraqi-American restaurateur from San Diego, describes the contradictions of his identity in his adopted country, and why he supports Republican ticket. Director Senain Kheshgi

Episode

9

-

Kinda Sutra Abridged

Oscar-winning director Jessica Yu poses the questions: "Where exactly do babies come from? And how are they really made?" to a variety of adults and youngsters who explore their earliest understanding of sex, conception and how the two, uh, intersect.

Episode

8

-

I Remain the Same

Using a prosthetic limb, a young Chechen runner participates in New York's 5-kilometer race of Hope and Possibility in this story of triumph over adversity. Directed by Kiki Allgeier and Joanna Chejade-Bloom.

Episode

7

-

I Love Brixton

A vignette of London's Brixton with its vibrant urban life, and the faces that give it life. Director Richard Guard

Episode

6

-

Haikus of the Heart

David Rose holds one of the most intriguing, touching and amusing positions in journalism: editor of the Personals column of the London Review of Books. Director Grant Gee

Episode

5

-

Death's Chaplain

As minister to 95 death row inmates in a Texas penitentiary, Carroll Pickett watched as Billy Wayne White helped with his own execution. Director Steve James

A chance discovery of a co-worker's emotionally explicit blog sends an entire office into an obsessive frenzy over her story. Director Todd Rohal

Began in the 1970s as an experimental city and urban laboratory, Arcosanti continues its mission today by proposing an alternative to urban sprawl. Director Kelly Loudenberg

Episode

2

-

Ahmad Zahir for Beginners

Known as the Elvis of Afghanistan, Ahmad Zahir died in a car crash in the 1970s, fueling decades of speculation as to what really happened. Director Liz Mermin

Industry has "gone over seas," and the once proud icon and core of a community, The Bethlehem Steel Plant is currently being demolished to make way for a casino. Director Jesse Epstein
If You Like CINELAN 3 Minute Stories, Then Try...