Combat Pawn
Combat Pawn is a reality series taking place in and around the Guns Plus store on the outskirts of Fort Bragg, North Carolina. Centering on its diverse group of employees, Combat Pawn takes a look at their professional and personal lives while highlighting the weapons and military-inspired collectibles bought, sold, and pawned at their location.
The show stars Chris, the 14-year owner of Guns Plus, who built his store up from a tiny location within a strip mall. As his business expanded he hired a team of former law enforcement and military personnel to assist in day-to-day operations. Included in this group are the opinionated Martin, who has managed the store for 10 years, and former Green Beret Bernard, author of more than 1000 articles on all types of weaponry. Joining them are part-timer and straight speaking Ethan and highly intelligent Josh - known to the Guns Plus employees as the Redneck MacGyver. The last member of the Combat Pawn team is Chris' best friend Marvin, who draws ire from the other Guns Plus employees due to his volunteer status.
Viewers of Combat Pawn have seen the good and bad of everyone at Guns Plus. In the premiere episode, Bernard and Josh took on the task of modifying a top range sniper rifle for a paralyzed military veteran. In another episode Chris promises to deliver on an engraved pistol for a customer's wife. Other installments showed an angry Chris berating Ethan on an inoperative Browning machine gun and the Guns Plus employees taking part in a shootout with the Wounded Warriors.
It is produced by Zodiac USA in association with Clock Tower Productions.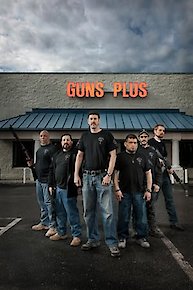 Combat Pawn Full Episode Guide
Episode

7

-

LeMat Revolver

The store is offered to buy a rare Confederate army revolver; a 150-year-old civil war relic or a brilliantly engineered fake.

Chris is irate that Ethan bought a rare Browning machine gun that doesn't work, but gunsmith Josh goes to work on it hoping to score a big profit for the store and pull his coworker out of the wringer.

Episode

5

-

Wounded Warriors

The staff join in a big shoot-out with the Wounded Warriors, a group of injured vets, and the day ends with Martin being challenged by the ace Warrior sharpshooter.

Episode

4

-

Warhorse Knife

Bernard reconnects with a long-lost treasure but anticipates it will be in someone else's hands in the end; the appearance of a rare palm pistol triggers a bidding war; trash talk at the shop reaches a tipping point.

Owner Chris promises a special engraving on a gun for the wife of a soldier; Ethan attempts to score a rare machine gun; and a jilted lover wants to unload a tricked-out Bushmaster rifle.

A possible security threat has the staff on alert and leads to a run-in between a manager and a salesman; a combat-vet-turned-gunsmith brings in his first handmade rifle; a father wants to purchase his 7-year-old daughter's first firearm.

The series premiere introduces Guns Plus, a pawn shop that deals exclusively with weapons and military items. In this episode a wounded soldier is looking to have his sniper rifle tailored to firing from his wheelchair.