Watch Deion's Family Playbook
This reality series follows former professional athlete Deion Sanders as he goes about his post-sports life, dealing with his family and trying to be a successful businessman. The series aired for three seasons between 2014 and 2015 on the Oprah Winfrey Network.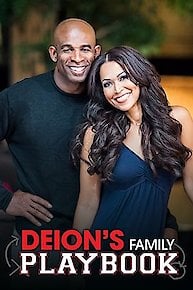 Deion's Family Playbook Full Episode Guide
Season
2
29 clips available
Episode

12

-

Last Days of Prime Prep

Episode

10

-

Civil Rights and Wrongs

Deion Sanders' hectic life also involves being a single father.

Episode

9

-

99 Problems but Shedeur's Got 1

Tracey reunites Deion with her mother Jackie on live television, thinking it would be a good idea.

Tracey and Deion have a hard time finding time to spend together.

Episode

7

-

Shilo's Gift Of Jab

Connie goes on a trip so Deion is left watching the kids.

Episode

6

-

Everybody's Hustling

Deion gives the kids chores to teach them to be responsible.

Episode

5

-

Connie Takes Charge

Tracey reunites Deion with her mother on television.

Episode

4

-

We're Not In Prosper Anymore

Episode

3

-

Packing Up Paradise

Deion and the family make the most of their last week in the mansion before the big move to a smaller home in just a few days.

Episode

2

-

No Place Like Home

Deion travels to Cleveland for NFL Hall of Fame week and somehow ends up with a role in Tracey's movie.
Season
1
29 clips available
Episode

10

-

Young and Restless in LA

Tracey gets ready for her new TV hosting job.

Episode

9

-

Snoop Dogg Knows Best

Snoop Dogg visits Deion, and Shilo hopes he'll feature on one of his tracks. Florida's Mom visits.

Episode

8

-

Cry Me A Shower

Deion and Tracey fall out while designing his new home.

Episode

7

-

Bed Bugs and Beyond

Deion spills big news that will shake the family.

Episode

6

-

Prime and Punishment

After Deion is let go at Prime Prep, he fights to get them to reverse the situation. Meanwhile, Deiondra helps Bossy get through her parents' split; and Shedeur shows off at a teen club.

Episode

5

-

Everybody Gets Benched

Episode

4

-

Mama Drama, Exes and Oprah

Deion and Tracey's ex-husband bond; Tracey's mom is curious about why she spends a lot of time in Dallas; Florida is taught how to drive by Deion.

Episode

3

-

Dropping Beats and Dropping Balls

Deion thinks Shilo is focusing too much on his music, which is hurting his football training. The unhealthy eating habits of Shelomi worry's Deion; Florida tries to impress a girl.

Episode

2

-

Bossy's Revenge

Deion's son Shilo misbehaves at school; Shelomi invites the ex of her brother to the house; Florida lies about his age to a college girl to impress her.

Episode

1

-

Life of Prime

Deion gets ready for the first big football game of the season for the charter school team he coaches; his son Shedeur struggles making friends at his new school.
Most Popular Deion's Family Playbook Episodes