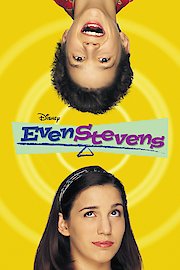 Watch Even Stevens
TV-G
2000
3 Seasons
Even Stevens is a classic Disney Channel TV show that aired from 2000 to 2003, popularized by the comedic geniuses Shia LaBeouf, Christy Carlson Romano, and A.J. Trauth. The show highlights the adventures of the middle-class American Stevens family who live in Sacramento, California. This family-centric sitcom gives a peak view of how it is like to go through the struggles and complexities of having a big family.
The show follows Louis Stevens, an outgoing 8th-grade student enrolled in a junior high school, who loves to create exciting schemes and plans with his best friend, Twitty (A.J. Trauth) more than his studies. On the other hand, Louis's younger sister, Ren Stevens (Christy Carlson Romano), is the complete opposite, and his rival in terms of being an overachiever - straight-A student, class president, and captain of everything except boys (or so she thought).
Even Stevens is a family-friendly show showcasing the Stevens family's daily lives and their interactions with each other. It presents scenes where siblings compete against each other in a friendly brawl, and how the parents (Tom and Eileen, played by Tom Virtue and Donna Pescow) try to keep their cool and eventually resolve their quarrels.
This Disney Channel offering was well-loved by its viewers due to its light and amusing nature. The character-driven humor of the show also made it stand out from other shows at that time. The show's creators, Matt Dearborn and Bryan Moore, were able to maintain a balance between hilarious jokes and heartfelt moments, which is what made the show unforgettable.
What's interesting about the show is how each episode features new and imaginative ways of Louis and his friends' misadventures, from making a replica of the mall and renaming to "Sicky Vicky Mode" when Vicky broke her leg to compete with Ren's science fair project, causing chaos at the county fair, and more!
Moreover, the show is not only about family dynamics, but it also talks about various teen issues. It tackles the struggles of growing up, discovering self-identity, teen friendships, and relationships, all in a lighthearted manner. One episode shows Louis try to win the heart of his secret crush, Tawny Dean, played by Margo Harshman, and how he tries to impress her by being someone he's not - all while his family is building an igloo on their front lawn!
Another episode shows Ren dealing with a bully and becoming more assertive, ultimately standing up for herself. Even Stevens has demonstrated that it is vital to tackle these issues that many young people still face today in a way that is easy to understand and relatable. And beyond the funny gags and witty puns, the show imparts valuable lessons to viewers.
The show had several notable guest stars who helped to make the show even more enjoyable. Among them were Ty Hodges, Hilary Duff, Tom Kenny, Kay Panabaker, and more! It's incredible how the show creators brought together an ensemble of young actors with powerful comedic timing and chemistry, which made the show even more delightful.
Overall, Even Stevens is a timeless classic that has endured the test of time. It remains relevant to this day, capturing the hearts of both young and old audiences. It sees the world through the lens of the Stevens family and their chaotic dynamics, warm relationships, silly shenanigans, and unforgettable moments. It's a show that will make its viewers laugh, cry and everything in between, and is sure not to disappoint any Disney Channel fanatics out there.
Even Stevens is a series that is currently running and has 3 seasons (65 episodes). The series first aired on June 17, 2000.