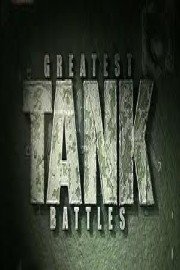 Watch Great Tank Battles
Great Tank Battles is an epic historical documentary series produced by Total Content Digital. The show explores some of the most iconic tank battles in military history, taking viewers on a journey through time to experience the brutal realities of war from a unique perspective.
Each episode focuses on a specific battle, providing a detailed narrative of the events that unfolded and the tactics employed by the opposing forces. From the early days of the tank in World War I to the massive armor clashes of World War II and beyond, Great Tank Battles covers a wide range of conflicts that shaped the course of history.
The series features expert analysis from military historians and veterans, who provide insight into the technological advancements and strategic innovations that shaped tank warfare over the years. Viewers will gain a deeper understanding of the challenges faced by tank crews, from the cramped and dangerous conditions inside the tanks to the grueling battles they fought on the frontlines.
Great Tank Battles is a highly visual and immersive experience, featuring stunning footage of tanks in action from various angles and perspectives. The show makes use of cutting-edge CGI to recreate the battles, allowing viewers to see the tanks and their crews in action as if they were actually there. The attention to detail in the recreation of the tanks and battlefields is truly impressive, making for a captivating and realistic viewing experience.
In addition to the comprehensive historical narrative, Great Tank Battles also includes personal stories of the soldiers who fought in these battles. These personal accounts provide a human perspective on the conflicts, highlighting the bravery and sacrifice of those who fought and died on the frontlines.
Overall, Great Tank Battles is a gripping and informative series that is sure to appeal to military history buffs and casual viewers alike. The show's combination of expert analysis, stunning visuals, and personal stories creates a compelling and unforgettable viewing experience. Whether you're a fan of tanks, military history, or just great television, Great Tank Battles is a must-see series that is sure to leave a lasting impression.