Growing a Greener World
Growing a Greener World is a groundbreaking television series that delivers the latest trends in eco-friendly living mixed with traditional gardening know-how to a modern audience. The series will inspire viewers of all ages with stunning HD video, a fresh and engaging style, and always a compelling story. Each episode will feature the people, organizations, and events that are making a difference in our world today by raising awareness and influencing others to better stewardship of the environment we all share.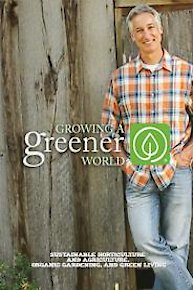 Growing a Greener World Full Episode Guide
Episode

20

-

Preserving the Harvest -- Capturing T...

Simple canning methods are taught.

Episode

19

-

Hope for Heroes: The Farmer Veteran C...

A veteran-turned-farmer talks about how the Farmer Veteran Coalition helped him and his family.

Episode

18

-

Controlling Garden Pests, Diseases, a...

Using all organic methods to combat garden pests, diseases and weeds.

Episode

17

-

The Private Garden of a Public Garden...

Horticulturists Dan Benarcik and Peggy Montgomery experiment with different plants and care for native selections at their home garden.

Episode

16

-

The Green Bronx Machine: The Power of...

Stephen Ritz teaches students about growing fresh fruits and vegetables in his classroom farm.

Episode

15

-

The Compost Pedallers

The Compost Pedallers in Austin, Texas, pick up compost from homes and businesses and transport it to farms and community gardens where it is used to grow more food.

Episode

14

-

Redeeming Your Ground

A small vegetable garden evolves into a livable and inviting backyard.

Episode

13

-

Growing Healthy Foods and Sustainable...

Daron Joffe, founder of Farmer D Organics, breaks down the walls of traditional farming.

Episode

12

-

Growing Big Flavors in Small Spaces

Urban homesteader Theresa Loe.

Episode

11

-

Red, White, and Green: America's Eart...

Fetzer Vineyards in California remains committed to being earth-friendly.

Episode

10

-

Saving Seeds for Future Generations: ...

The Seed Savers Exchange, headquartered at the 890-acre Heritage Farm in Decorah, Iowa, protects and preserves heirloom seeds and plants.

Episode

9

-

The Edible Schoolyard: A Class Withou...

The Edible Schoolyard in Berkeley, Calif., co-founded by chef Alice Waters, is an outdoor classroom that attracts teachers from around the world.

Episode

8

-

Beyond Veggies: Adding Fruit to Your ...

Experts at Stark Bro's Nurseries & Orchards, the oldest fruit nursery in the U.S., explain how to grow fruit in a backyard orchard.

Episode

7

-

Know Your Farmer: Supporting Communit...

The oldest and largest certified organic community-supported agriculture (CSA) program in New Jersey; small community co-op in New York.

Episode

6

-

Beyond Organic Gardening: The Princip...

Professor Will Hooker, North Carolina State University, practices permaculture in his home garden; a community in Georgia incorporates permaculture in daily farming and gardening practices.

Episode

5

-

Dominica: Island Ingenuity in Sustain...

More than two-thirds of Dominica Island is made up of protected rain forests

Episode

4

-

The 50-Mile Bouquet: Why Local Matter...

Jello Mold Farm, a small farm operation in Skagit Valley, Wash., produces organic and sustainably-grown cut flowers.

Episode

3

-

Masters of the Edible Landscape

Edible gardens; celebrity chef and television host Graham Kerr.

Episode

2

-

Regenerating Detroit Through Urban Ga...

Community gardens and urban farms help regenerate Detroit.

Episode

1

-

The Giving Garden: Ample Harvest Help...

Gary Oppenheimer, founder of AmpleHarvest.org.
Episode

26

-

Designing the Landscape

The Season 6 finale shows how a new landscape is designed and installed.

Episode

25

-

Debunking Gardening Myths With Linda ...

Common gardening myths are debunked.

Episode

24

-

Growing Without Soil: Hydroponics

Hydroponic gardening is examined.

Episode

23

-

Year-round Growing With Eliot Coleman

A Maine farm that grows vegetables year-round is visited.

Episode

22

-

Compost, Compost Everywhere: How It's...

A commercial facility that makes compost from yard waste and kitchen scraps; and a Seattle training facility that teaches how to compost.

Episode

21

-

The New Generation of Farmers: Thinki...

Sustainable practices employed by small-scale farmers are featured. Included: applying the techniques to one's own backyard.

Episode

20

-

Bringing Nature Home: How You Can Sus...

How gardens impact the diversity of life in one's yard and town; and on the planet.

Episode

19

-

Design Tips for a Small Space Garden

Small-space gardening is explored. Included: small gardens in the San Francisco area.

Episode

18

-

The Truth About Organic Gardening

Organic gardening is discussed.

Episode

17

-

Four Farmers & a Bus: Sol Food

Gardeners who teach about sustainable edible gardening while traveling the country in a biodiesel bus are featured.

Episode

16

-

A Primer on Pruning

Pruning is discussed. Included: five keys to pruning like a pro; common pruning mistakes; and promoting healthy plants through selective pruning.

Episode

15

-

The Rodale Institute, Champions of Or...

Maria and Maya Rodale discuss organic gardening.

Episode

14

-

Moss Is Boss

Moss is an eco-friendly plant that thrives in places where grass doesn't.

Episode

13

-

Aquaponics: Raising Fish and Plants T...

Growing food and raising fish together; aquaponics kits; desktop gardens grow mushrooms.

Episode

12

-

Practical Steps to a Weedless Garden

Dr. Lee Reich, horticulture professor and author, offers advice on growing strong landscapes with fewer weeds.

Episode

11

-

Annie's Annuals: Preserving Horticult...

A small retail nursery that specializes in plants overlooked by large commercial operations is visited; and heirloom tomatoes are turned into a spicy gazpacho. Also: biodegradable plant labels; recycling programs; and eco-friendly growing techniques.

Episode

10

-

Bringing Bees Back

Efforts to save the endangered honeybee are detailed.

Episode

9

-

Rooftop Farming in NYC

Two full-production one-acre organic farms on the rooftops of New York buildings.

Episode

8

-

The Business of Urban Backyard Food G...

Turning an urban backyard garden into a business is discussed.

Episode

7

-

Oh, Deer! Dealing With Garden Pests

Simple, low-cost deer barrier; natural and safe ways to repel common garden and landscape pests

Episode

6

-

Fan Favorites From 5 Years

Popular segments and stories from the past five years

Episode

5

-

Starting Seeds, A to Z

Starting seeds both inside and outside.

Episode

4

-

Creating Certified Wildlife Habitats

Making landscape wilder; Certified Wildlife Habitat school with outdoor garden classrooms.

Episode

3

-

Keeping Chickens 101

How to raise chickens in a backyard. Included: a simple structure for a chicken coop.

Episode

2

-

How to Make Compost

How to make compost; and use recycled pallets to build a compost bin.

Episode

1

-

A Year in the Life of a Beginning Bee...

The Season 6 premiere chronicles a year in the life of a new beekeeper: host Joe Lamp'l. Included: selecting the best equipment; taking possession of live bees and installing them in a proper hive; and harvesting honey.