Home by Novogratz
Home by Novogratz is a design show hosted by husband and wife, Robert and Cortney Novogratz. Robert and Cortney use their skills to give even the most ordinary home a custom makeover. The hosts learn about the job, come up with a plan, do a bit of shopping and work together to transform any home or apartment into a unique space.
Saturday 10:00 PM et/pt on HGTV

2 Seasons,

26

Episodes

July 16, 2011

/

10

Cast:

Tallulah Novogratz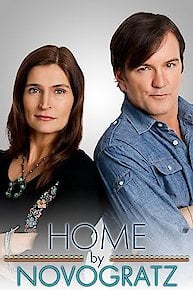 Home by Novogratz Full Episode Guide
Episode

13

-

Bing's Art Basel Miami VIP Party

Bob and Cortney head to Miami to decorate an outdoor pool deck for a VIP party.

Episode

12

-

Williamsburg Couple's Modern Meets Na...

Bob & Cortney meet with doctors Shane & Ryan, who are looking for the perfect natural and modern blend in their loft layout.

Episode

11

-

Masculine Mod East Village Bachelor P...

Courtney & Bob transform a bachelor pad.

Episode

10

-

Suzanne Vega's Upper West Side Two Be...

Cortney & Bob collaborate with their friend Grammy-award winner Suzanne Vega and plan a modern redesign to her pre-war two bedroom apartment in the Upper West Side.

Episode

9

-

Upper West Side Nursery and Boys' Bed...

Cortney & Bob meet with Karl & Melanie Haller an Upper West-side family with a three-year-old son, Griffin, and a baby boy on the way. The Hallers have two big projects for the Novogratz: They need a nursery for the new baby and they want Griffin to have a very cool big brother room.

Episode

8

-

Modern Brooklyn Duplex

Episode

7

-

Wendy Williams' Audience Holding Room...

Cortney & Bob transform the audience holding room for talk show host Wendy Williams. They add glitz and glam and brighten up the space with Wendy's favorite color - pink.

Episode

6

-

Long Island City Multi-Functional Liv...

Cortney & Bob meet with the Koch family to discuss the design of a multi-use living room, that needs to function as part living room, part dining room, part home office and part playroom for their daughter Samantha.

Episode

5

-

Long Island Kitchen Blowout

The Novogratz head to Long Island to oversee a gut renovation of an old house by the beach. They attempt to bring their unique blend of old and new, vintage and modern, natural and manufactured design, to this project in order to give the house a one of a kind beach mansion vibe.

Episode

4

-

Tony Hawk's Mammoth, Califiornia Livi...

Cortney & Bob head to snowy Mammoth, California to update legendary skateboarder Tony Hawk's '70s ski lodge.

Episode

3

-

Brooklyn Brownstone Kids Room

Cortney & Bob design a pair of kids' bedrooms in a classic four-story Brooklyn brownstone.

Episode

2

-

Vintage Industrial Gramercy Garden Ap...

Cortney & Bob are off to Gramercy in New York to meet with their client, Emmy Award winning TV producer David Perler. David hired Bob and Cortney to rearrange some walls and make an open floorplan living room/kitchen/dining and now he wants them to decorate his apartment to bring to life a vintage industrial vibe.

Episode

1

-

Pioneer Woman's Attic Space Transform...

The Novogratz family is off to Food Network's Ree Drummond's home to transform a drab attic storage room into a unique bedroom for her teenage daughters.
Episode

13

-

Hoboken Busy Bachelors

Dave and Brandon are young bachelors who are too busy with work that they've let their luxury apartment in Hoboken became a post collegiate hovel. The Novogratzes go bold with a bright blue paint that gets toned down with unique '2-D taxidermy' art pieces created by contemporary artist Michael De Feo. They hook the guys up with their most important request, a bar to take the condo from Animal House to Mad Men in a couple short days.

Episode

12

-

Babakul At Fred Segal In Santa Monica...

Cortney and Robert head to Los Angeles for their first-ever retail job for 'Babakul.' They want the 4000 square foot shop to make a big splash so they call in John Houshmand to make custom shelves out of birch wood, they design lightboxes to brand a brick focal wall, and they commission their artist/sculptor friend Ann Carrington to make a one of a kind work of art for a lounge area.

Cortney and Robert take all seven children to meet with One.1 Model Management to discuss print modeling opportunities for the Novogratz Family. Their agents tell them about an opportunity to design an apartment that is shared by four international models that come and go from shoot to shoot.

Episode

10

-

NYC Townhouse Staging Job

Frank Davi wants to sell a very unique West Village townhouse, but it will need a lot of work. He doesn't want to spend hundreds of thousands of dollars renovating the whole house, so he hires Cortney and Robert to stage his one of a kind living room for a media event real estate party to show the potential of the space to brokers and buyers.

Episode

9

-

Refurbishing the Novogratz Country Ho...

Cortney and Bob head to New England to fix up their country house with all seven kids accompanying them.

Episode

8

-

Bedroom for Triplets in Midtown Manha...

Cortney and Bob head to Hell's Kitchen in Midtown Manhattan to help two parents desperate to maximize their small living space for their triplets.

Episode

7

-

Paul Pierce's All Star Renovation At ...

NBA All Star Boston Celtic Paul Pierce asks Cortney and Robert to transform an old storage room at his high school alma mater Inglewood High and transform it into a state of the art student-athlete lounge.

Episode

6

-

Pat & Rika's Cozy Williamsburg Condo

Pat and Rika, new owners of their first place together, need Cortney and Robert's touch in making it industrial but cozy in the city.

Episode

5

-

Winegard Elementary Music Room

Winegard Elementary located in Orlando, FL won a competition for a $50,000 renovation and Novogratz Design is part of the prize and get to work putting their special touch on the school.

Episode

4

-

Jan & David's Manhattan Townhouse

Cortney and Bob bring life to Jan and David Cohen's townhouse.

Episode

3

-

Barry Family Condo in Long Beach, New...

Courtney and Robert Barry need the Novagratz touch on their 3-bedroom family condo in Long Branch, NJ.

Episode

2

-

NYV Townhouse Staging Job

Frank Davi gets help with his West Village townhouse he wants to sell.

Episode

1

-

Surfing Sisters Rockaway Chic

Cortney and Robert design a beach chic home for sisters who have a passion for surfing in Rockaway Beach.