Dina's Party
On the "Dina's Party" television program the preparation for elaborate social functions and event planning is shown in-depth. The show is very popular and is hosted by well-known socialite and reality show star Dina Manzo. Each episode of "Dina's Party" shows how Dina and the staff members of her event planning company prepare for special occasion events. Dina and her staff regularly plan and carry out well-orchestrated events in their clients' homes and at other locations.
Lots of behind the scenes on-location shots of the set-up and transformation of the various spaces where events are held are shown on this program. Whether it's a wedding reception, baby shower, anniversary party or rehearsal dinner Dina and her crew work hard at consistently presenting top notch events.
A lively atmosphere of teamwork in action is featured on every episode of"Dina's Party" and there are plenty of humorous moments. The viewer can learn about different types of skill appplications and design implementation by watching this show. From hammering nails and hanging sheetrock to painting walls and installing new furniture and lighting there is always something to learn on "Dina's Party".
In one episode of this show Dina and her crew create a reenactment of a New Jersey couple's wedding ceremony that was held in San Francisco. The event planning company creates a replication of the San Francisco location in the couple's backyard.
On another episode of "Dina's Party" Dina and her staff create a Las Vegas-themed birthday party for a married middle-aged man. They install crystal curtains and a temporary blown glass ceiling then bring in real slot machines and gambling tables. They also install beach-style cabanas in the couple's backyard.
Dina and her design staff transform a house into a vintage Hollywood-style nightclub complete with banana trees on one episode and create a vintage miniature ballroom and cocktail lounge in another home on another episode.
Saturday 7:30 PM et/pt on HGTV

2 Seasons,

24

Episodes

August 15, 2011

/

10

Cast:

Dina Manzo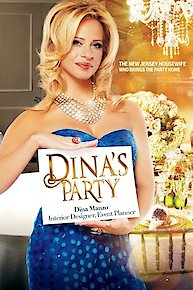 Dina's Party Full Episode Guide
Episode

11

-

A man wants to throw a birthday party...

Episode

10

-

A woman celebrates the end of a diffi...

Episode

9

-

Dina Manzo transforms a family room i...

Jaimie and Steve are getting married and it's the second time around for them both. Like the Brady Bunch, they are merging their families, so she's moved in his home with her children.

Episode

8

-

Dina Manzo designs a family room and ...

Dina Manzo designs a family room and throws a Polish-style family reunion to celebrate the new space.

Episode

7

-

Dina Manzo throws a whimsical anniver...

Dina Manzo throws a whimsical anniversary party complete with romance and surprises.

Episode

6

-

Get ready to raise your glass as Dina...

Dina Manzo brings a wine country feel to a New Jersey dinner party. New to the neighborhood, Annette and Greg want to get to know their neighbors over a fabulous meal with expert wine pairings.

Episode

5

-

Dina and the Jets

Romance and surprise are the themes of this 15th wedding anniversary party as designer/event planner Dina Manzo brings her design and event planning expertise to the home of Ileana and Angelo Cascio.

Episode

4

-

Dina stages a house and throws an ope...

Homeowners Courtlord and Elodie Michales ask Dina to stage their home and throw an open house party to give their property some buzz.

Episode

3

-

Designer/event planner Dina Manzo thr...

Drill Sergeant Dina Manzo and her party planning troops invade Homeowners Kim and John Fio Rito's home to throw a military-themed 40th birthday party for John, a military veteran and graduate of West Point.

Episode

2

-

Designer/Event Planner Dina Manzo thr...

Homeowners Courtlord and Elodie Michales ask Dina to stage their house and throw an open house party to get the property some buzz.

Episode

1

-

Engagement/Open House Party for

Dina plans a beautiful engagement/open house part for "The Biggest Loser" contestants, Alexandra and Antoine.
Episode

13

-

A Big Pink New Jersey Wedding

Dina Manzo plans a backyard wedding for a true New Jersey bride.

Episode

12

-

Elegant Winter Wonderland Holiday Par...

Dina Manzo plans an elegant, winter wonderland holiday party.

Episode

11

-

Sports Themed Benefit Event

Dina plans a sports-themed benefit with TV personality Joumana Kidd.

Episode

10

-

Outdoor Hamptons Dinner

Socialite and magazine editor Devorah Rose throws big impersonal parties in the Hamptons, but desires to change things up a bit from the usual by hosting a more intimate gathering.

Episode

9

-

Moroccan Anniversary Party

Dina transforms a backyard into a Moroccan Oasis for a wedding anniversary.

Episode

8

-

Vintage Jewelry Line Launch Party

Dina Manzo throws a launch party for two stay at home moms who just started their own accessory line.

Episode

7

-

Co-ed Baby Shower

Kevin and Alexia are expectant parents and were thrilled of the news of the pregnancy. They want to share the event with all their friends and family, women and men! Dina tries to please both the men and the women at the baby shower.

Episode

6

-

Fashionista Clothing Swap Party

Dina Manzo changes Lissa's familyroom into a stylish contemporary boutique for Lissa and Claudia's clothing swap party.

Episode

5

-

Copacabana House Warming

Dina Manzo plans a Copacabana house warming party for new homeowners Eva De Oleo and Omar Linton. They want an old Hollywood inspired party to show off their new place to friends and family. Dina brings in the glamour of old Hollywood with over the top Copacabana elements like a walking Carmen Miranda table, feather centerpieces and custom banana trees. As a surprise, she also throws a Jamaican after party in the basement with a custom built bar for a house-warming gift.

Episode

4

-

Wedding Reception Re-Do

Twelve years ago, Johnny and Marie San Pietro's wedding was a disaster. Johnny got food poisoning, and an earthquake ruined their wedding pictures at San Francisco's Palace of Fine Arts. Dina Manzo captures the feel of the original wedding venue by recreating the Palace of Fine Arts in their New Jersey backyard!

Episode

3

-

Las Vegas Birthday Party

Kerry Matlosz feels terrible about forgetting to throw her husband Ben a 40th birthday party last year. Dina Manzo helps her make it up to him with a high end Las Vegas themed birthday party. Inspired by Las Vegas luxury hotels, Dina recreates the look with a glass ceiling, crystal curtains, gaming tables, slot machines and poolside cabanas.

Dina Manzo and her prom committee have a challenge to throw a prom party for adults only! Jim and Antonella O'Day want to throw a nostalgic prom themed party at their home in New Jersey that will incorporate their European wedding anniversary trip. Dina creates a memorable prom with sparkly back-drops, extravagant balloon arches, a European outdoor cafe, dance floor, and the classic photo op area.

Episode

1

-

Spaghetti Western Bon Voyage

In the series premiere, Dina Manzo creates a spaghetti western-themed bon voyage party resulting in a backyard transformation for a party to remember.