HGTV'd
The HGTV'd series is a show produced by the Home & Garden Television cable television network that operates out of the United States and Canada. The series features remodels with an aim to improve the homes of those who enter to win a visit from an HGTV design star.
Each episode features a designer traveling across the country to surprise fans with an over-the-top makeover. Participants apply to be on the show by sending in a 3 to 4 minute video featuring themselves and the space they would like redone.
Participants are chosen after every application is reviewed for a specific region. However, the location could be changed if the producers choose to select a particularly interesting fan. They usually feature elements like large rooms that could be transformed within a limited time frame and always deal with design, as opposed to infrastructure remodeling.
Known for being a family-oriented show, each episode aims to make big, bold statements, like great rooms where families can gather. A typical episode might include a Design Star show winner uncluttering a family room so that the family can better use it as it was intended. For example, a boy's nursery was changed into a more appropriate multipurpose room, where everyone in the family could enjoy the space. The existing nursery's potential was lost as a room overflowing with toys, books and mismatched, uncomfortable furniture. Because of this, the space was treated more like a storage room than a living space.
The room also did not reflect the occupant's eclectic taste. Using a stylist's eye, a designer transformed the space using bold, bright colors, comfortable furnishings and other artistic touches. A vibrant wallpaper might be added to create a gallery style artful statement.
The show features instructive ideas such as distributing clutter in useful ways by stylishly organizing and carving out spaces for designated activities. For example, a workspace corner, media center and children's play area may be created. Separately, these areas could be used by individuals, while the media centerpiece is a great place for the family to gather.
There are also unique and unexpected designs created, such as transforming an at-home coffee bar into a creative, karaoke-style entertainment and living space.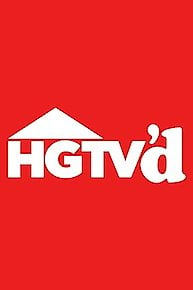 HGTV'd Full Episode Guide
Episode

1

-

Antonio Ballatore Transforms '50s Kit...

HGTV'd joins forces with talented designer Antonio Ballatore in scenic Salt Lake City to help engaged couple, Ana and Todd transform their 1950s living room and kitchen into an updated kitchen with a great room.
Episode

12

-

Texas-Sized Bonus Space Gets A Big Ci...

A Texas-sized bonus space gets a big city makeover, transforming into a Chic, Indoor/Outdoor Lounge.

Episode

11

-

Ahmed Hassan Transforms Barren Backya...

HGTV'D and landscape designer Ahmed Hassan take on a daunting task to overhaul the Clegg family's big and barren backyard in the middle of Texas. The challenge is how to turn this oversized blank slate into a stylish, functional outdoor oasis that works for the entire family.

Episode

10

-

Carter Oosterhouse Transforms Boring ...

After neglecting their boring bonus room for years, Chris Zozaski and Amanda Bailey are ready for a change. This hip young couple's wish is to transform this unused space into an entertainment hub and home movie theater. Carter combines the glamour of Old Hollywood with modern, high-tech amenities. This way, he can capture their cool, fun style, while giving them state of the art functionality.

Episode

9

-

Cluttered Family Room Transformed Int...

HGTV'd designer Emily Henderson tackles the lackluster, cluttered family room of Steve and John, who are the proud papas of two adopted sons.They recently turned the boys' old nursery into a multipurpose room. The room doesn't reflect their love of art and eclectic taste. Emily transforms the space with the use of bold colors, artistic touches, and comfy furniture. From vibrant teal wallpaper to a gallery style art wall, Emily quickly turns the room from forgotten to fabulous!

Episode

8

-

A Bonus Room Makeover Turns Out a Sop...

Ricky and Michelle Cardenas have two young daughters who have quickly overtaken their house. They long for a kid-free, toy-free retreat. They want to transform an unused, upstairs bonus room into a Mexican cantina-inspired lounge, media room and office. By the end of the makeover, all of the Cardena's dreams and more are fulfilled.

Episode

7

-

Outdated Basement Gets the Ultimate R...

Episode

6

-

HGTV'd Joins Forces with Ellen DeGene...

HGTV'd Joins Forces with Ellen DeGeneres to Give a Military Family the Ultimate Home & Yard Makeover

Episode

5

-

Cluttered Family Room and Office Spac...

A cluttered family room and office space gets a luxurious, travel inspired makeover.

Episode

4

-

Garage Makeover Turns into An Over th...

Avid travelers and ultimate HGTV fans, Jennifer and Kevin Berson have remodeled most of their house with elements directly from their favorite HGTV shows. However, with the arrival of their first child, the Berson's family room and Jen's office was left cluttered and unfinished. Enter Kim Myles! Kim's goal is to turn the cluttered hodge-podge of a room into a high-brow, luxurious, yet comfortable space. Her Regency-inspired transformation includes rich colors and textiles, custom furniture, a custom focal point chandelier, a unique art screen covering the media center, inspired office space furnishings, and a custom antique door art installation. The end result is a jaw-dropping space that is both functional and breathtaking.

Episode

3

-

A 1890's Victorian Great Room Transfo...

As parents of three young girls, Ryan & Erin Fletter are long overdue for a space they can reclaim as their own in their 1890"²s Victorian home.

Episode

2

-

Family of Twelve Gets An Amazing Mult...

The Mars Family of 12 has outgrown their home several times. With ten kids ranging in age from five to twenty, they have gone through many expansion projects, one of which was adding on a new kitchen. That left the old kitchen area unused and filled with junk. Superstar designer Sabrina Soto is taking on the challege of transforming that desolate space into a unique multi-purpose room that would meet the whole family's needs for comfort, functionality and fun. With a few surprises thrown in, including a fish tank, a custom-made coffee bar, and a gaming area, custom ping-pong table door and rich textures and strong colors, all of the Mars' dreams for the room come true.

Episode

1

-

Princess Party Pad Makeover

New homeowner Kandria Williams loves to entertain her family and friends with an old-fashioned Karaoke party, but her current living room just doesn't sing like it should. Enter David Bromstad who comes to the rescue as he transforms Kandi's boring and bland space into a luxurious, colorful and over the top princess pad by day and Karaoke palace at night! David creates coves in the ceiling for dramatic chandeliers, creates unique Braille walls that hide a state-of-the-art Karaoke system, adds feminine wall paper to bring in texture and installs leather flooring. He also brings in unique furniture in dramatic tones, including a custom coffee table that doubles as an LED-lit dance floor to create an inviting space that can also transform itself into the ultimate lounge for entertaining.