Homestead Rescue Hacks Revealed
Homestead Rescue Hacks Revealed (also known as "Homestead Hacks") is a spin-off series from the Discovery Channel's "Homestead Rescue" series that aired in 2016.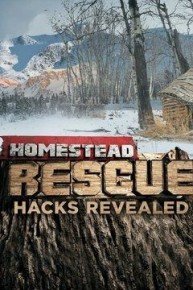 Homestead Rescue Hacks Revealed Full Episode Guide
Marty Raney looks back on the Ettinger homestead in Montana, where the family faces predators and a lack of food and water.

The Raneys must convince two young homesteaders to reign in their free-range ideals in order to salvage their off-grid dream.

Marty reflects on the Garcia homestead in Colorado, where homesteaders live in fear of predator attacks and an unreliable power source.

New homesteaders Josh and Kimberley Zabec left their comfortable middle class lives to start a free-range pig farm, but face hardship as predators kill their livestock.

Marty revisits the struggling Russell family in Pennsylvania.

The Raneys face their toughest homesteading challenge yet, a headstrong Alaskan couple in desperate need of help.