Legend Of The Condor Hero
The Legend of the Condor Hero is an anime adaptation of, The Return of the Condor Heroes novel Louis Cha. Set during the 13th century during the Mongol invasion of China, the story focuses on Youka, a young martial arts fighter. Youka is torn between the conflict between the Southern Song Dynasty and the Mongols as he seeks out his love, Shouryuujo.
Nippon Animation produced the series along with Jade Animation which is TVB's animation studio. The two companies produced the show by splitting the production for the first season. Nippon Animation focused on script, design and initial animation, while Jade Animation performed post-production work. The original run of the series was broadcast on TVB from October, 2001 to April of 2002, and ending in three seasons totaling 78 episodes.
In the first few episodes, a young Youka is forced to learn martial arts in the Zenshinkyou Temple after fighting with local children. After giving up on the styles taught at the temple, Youka chooses an ancient martial arts style Gyokujo Shinkei instead. This style of combat is taught by a beautiful female master named Shouryuujo. During the years training they fall in love, but eventually conflict arises and Youka must seek out Shouryuujo and defeat her evil sister Ribakushuu. During this time Mongol hoardes have already conquered the Jin Dynasty and are targeting the Southern Song Dynasty.
The names for the characters are adapted for the anime from the original novel and sometimes overlap. Youka in the anime is also Yang Guo in the novel, and Shouryuujo is adapted from Xiaolongnu. Each show ran 30 minutes in length as opposed to the hour long episodes of the live action adaptation.
1 Season,

42

Episodes

December 30, 2008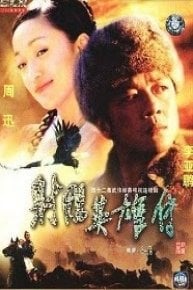 Legend Of The Condor Hero Full Episode Guide
If You Like Legend Of The Condor Hero, Then Try...