Lockup Extended Stay: Wabash
Take a look inside Wabash Indiana's prison. Film crews film behind the scenes of the prison walls. Some inmates are given their own personal video cameras to film themselves. Hear real life stories from the inmates and how they landed in Wabash. Some of these people will serve years and others will never see the outside world again. See their struggles dealing with a life behind bars. Watch as the least little thing can break into a brawl among prisoners and the people that work there. An interesting and exciting show to watch about real life people doing their time.
1 Season,

6

Episodes

November 26, 2011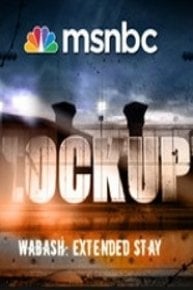 Lockup Extended Stay: Wabash Full Episode Guide
Episode

6

-

Father Figure

Wabash Valley Correctional Facility is a maximum security prison on the western edge of Indiana. It's the centerpiece of the rural town of Carlisle, where the inmate population of nearly 2200 outnumbers local residents 4 to 1. Many of Indiana's most violent offenders are sent here. In this hour, the killer of a corrections officer fights to be freed from 16 years of solitary confinement, and boyhood friends struggle to parent their kids from behind prison walls. But one, cut-off from visits with his son, is on a razor's edge. Also, a convicted murderer seeks legitimacy for a religion prison officials suspect is a front for white supremacist gangs. And we've turned our cameras over to the inmates to share personal thoughts in the privacy of their cells.

With more than 2,000 inmates, the Wabash Valley Correctional Facility in southwestern Indiana has a larger population and more acreage than the rest of Carlisle, the small town in which it's located. And while Carlisle might be a remnant of a simpler time, inside the twin security fences of Wabash is evidence of how some aspects of society have grown harder. In this hour, one inmate walks a fine line between heaven and hell. And after a decade in confinement, one of Indiana's most infamous inmates moves to general population.

Episode

4

-

Close Quarters

Indiana's Wabash Valley Correctional Facility is an isolated fortress with three officers for every 200 inmates. In this hour, some inmates find themselves in racial conflict, while others seek conflict elsewhere. And, we've turned a camera over to the inmates, to record personal thoughts in private.

We profile two brothers who are paying a harsh penalty for their dealings in Meth. But Wabash also houses men doing time for far more serious crimes -- men like Jeremy Blanchard, who has served a little more than one year of a 195-year sentence. But Blanchard's facial tattoos will forever commemorate both his crime -- triple murder -- and the moniker the local media gave him, the Kokomo Slayer. Also, in this hour, a routine cell search reveals an inmate on the edge, and prison officials intervene. And we turn some of our cameras over to the inmates for a personal glimpse of their lives in prison.

Episode

1

-

Sticks and Stone

On the western edge of southern Indiana is the Wabash Valley town of Carlisle, where Main Street conjures images of a bygone era. And except for the daily passing of the CSX Freight Line, this one-light town could be all but forgotten. Just a couple miles down US 41 however is evidence that Carlisle is anything but. Surrounded by little else but big skies the Wabash Valley Correctional Facility houses more than 2,000 convicted felons, including some of the highest security prisoners in the state. It is a fortress among farms. In this episode, one of Indiana's most infamous inmates tries to convince prison officials he's changed, and corrections staff investigate a potential escape plot. We've also given one of our cameras to the inmates, to tell their own stories, and one of them turns out to be a very familiar face.